Weekly Current Affairs Quiz: 28 October to 02 November 2019
Jagran Josh aims to help every competitive exam aspirant to revise at ease with Current Affairs Quizzes section.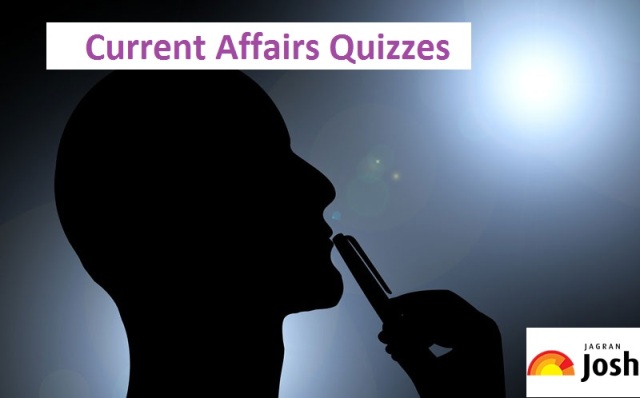 Current Affairs Quizzes
28 October to 03 November 2019: Jagran Josh aims to help every competitive exam aspirant to revise at ease with Current Affairs Quizzes section. The week's updated quizzes cover topics like Icon of Golden Jubilee of IFFI, COP25 and 35th ASEAN Summit among others.
1. Which Bollywood actor will be awarded 'Icon of Golden Jubilee of IFFI' award this year?
a) Amitabh Bachchan
b) Rajinikanth
c) Pawan Kalyan
d) Chiranjeevi
2. Which among the following actors will be awarded the Lifetime Achievement Award at the International Film Festival of India 2019?
a) Isabelle Hupert
b) Meryl Streep
c) Mohanlal
d) Rajinikanth
3. How many MoUs have been signed between India and Germany?
a) 17
b) 15
c) 20
d) 19
4. Which nation has recently committed to tackling money-laundering issues along with India?
a) France
b) Japan
c) US
d) China
5. Which country is hosting COP25 Summit?
a) Germany
b) Argentina
c) Spain
d) Colombia
Also Read | What is UCCN: Mumbai and Hyderabad recently joins the list
6. Which of the following cities is hosting the 35th ASEAN Summit?
a) New Delhi
b) Shanghai
c) Bangkok
d) Kathmandu
7. Choose the name of the organization which revealed that 1.3 million Indian payment cards are wrongly up for sale on the Dark Web.
a) ZDNet
b) Microsoft
c) United Nations
d) Moody's
8. On which ground first day-night test match will be played between Bangladesh and India?
a) Arun Jaitley Stadium
b) Eden Gardens Stadium
c) Wankhede Stadium
d) Nehru Stadium
9. Kindly choose the name of the country which cancelled hosting of APEC and COP25 Summits?
a) Argentina
b) Peru
c) Chile
d) Greece
10. Gurudas Dasgupta was Deputy General Secretary of which party who recently passed away at the age of 83?
a) CPI
b) INC
c) TMC
d) BJP
Answers
1. (b) Rajinikanth
On November 2, 2019, Union Minister of Information & Broadcasting Prakash Javadekar announced that Indian Superstar S Rajinikanth has been selected for the newly constituted award 'Icon of Golden Jubilee of IFFI'.
2. (a) Isabelle Huppert
Prakash Javdekar announced that French actor Isabelle Hupert will be awarded Lifetime Achievement award at the Golden Jubilee of International Film Festival of India (IFFI). She will be conferred for her remarkable artistic skills and outstanding contribution to Cinema.
3. (a) 17
German Chancellor Angela Merkel was on two day's visit to India and both countries signed 17 MoUs during her visit. These agreements were included various areas like Ayurveda and yoga, migration, occupational diseases, start-ups and maritime technology.
4. (c) US
India and America have recently showcased their commitment to boost cooperation in tackling money laundering. It was 7th meeting of the Economic and Financial Partnership (EFP) between both countries where they said that they will also combat terrorism financing.
5. (c) Spain
Chile has withdrawn its hosting of COP25 Summit due to nation-wide unrest. Now, Spain will organise the COP 25 Summit. Spain will be host the program from December 2-13 in Madrid on the same dates as the original schedule.
6. (c) Bangkok
Bangkok is hosting 35th ASEAN Summit from October 31, 2019, to November 4, 2019. PM Modi will be attending the summit on November 3-4, 2019.
7. (a) ZDNet
According to a recent report released by ZDNet, about 1.3 million Indian debit and credit cards are on the on Joker's Stash. It is one of the card shops on the dark web.
8. (b) Eden Gardens Stadium
As per the media reports, India's first day-night Test match between India and Bangladesh will be played at the Eden Gardens Stadium (Kolkata) from 22 November. It will be played by a pink ball for the first time.
9. (c) Chile
COP25, United Nations Climate Change Conference, has been cancelled by Chile due to anti-government protest in the country. Chile has also cancelled hosting of the Asia-Pacific Economic Cooperation (APEC) summit.
10. (a) CPI
Gurudas Dasgupta was a veteran leader of the Communist Party of India (CPI). He passed away in Kolkata on October 31, 2019. Gurudas Dasgupta (83) was suffering from heart and kidney-related health issues.
Also Read | New Map of India: Govt releases new political map with UTs of J&K, Ladakh
Also Read | Rajinikanth to be awarded Icon of Golden Jubilee, French actor to receive Lifetime Achievement award at IFFI
Take Weekly Tests on app for exam prep and compete with others. Download Current Affairs and GK app
एग्जाम की तैयारी के लिए ऐप पर वीकली टेस्ट लें और दूसरों के साथ प्रतिस्पर्धा करें। डाउनलोड करें करेंट अफेयर्स ऐप
Android
IOS