What do we know about new COVID variant Omicron?- Two cases detected in India
Omicron in India: Three primary and two secondary contacts of the second Omicron case in India have tested positive for the virus and have been isolated. Their samples have been sent for genome sequencing and the results are awaited.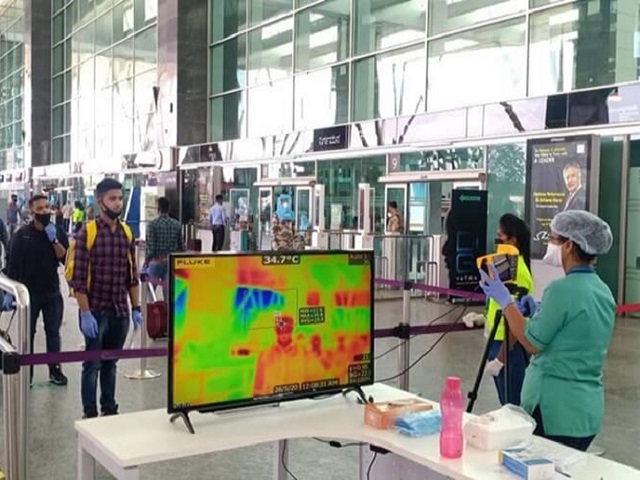 Two Omicron cases detected in Karnataka, India
Covid new variant: Two cases of Omicron were detected in Karnataka, India on December 2, 2021. One of the two patients is a 66-year-old male, who is fully vaccinated and had returned from South Africa via Dubai. The second infected perion is a 46-year-old male, according to Bruhat Bengaluru Mahanagara Palike (BBMP).
Three primary and two secondary contacts of the 46-year-old person had tested positive for the virus and they have all been isolated. Their samples have been sent for genome sequencing and the results are awaited.
Omicron cases in India- All you need to know!
1. 66-year-old male
The patient had travelled from South Africa on November 20, 2021 with a negative report and was screened and tested at the Bangalore aiport. He had checked into a hotel upon his arrival and his test reports came positive.
He was found to be asymptomatic and has been advised to self isolate in the hotel. His samples were collected and sent for genomic sequencing through BBMP.
The person had 24 primary contacts and all are asymptomatic. They were all tested and their reports have come negative. The person also had about 240 secondary contacts, who have all tested negative. He had travelled to Dubai as well.
2. 46-year-old male
The person had developed fever and body ache and underwent RTPCR test on November 22, 2021 and was declared positive. He had low CT value so his sample was sent for genomic sequencing.
He stayed in home isolation between November 22-24 and was admitted at a hospital on November 25th. He was discharged on November 27th after getting 3 days of treatment.
He has about 13 primary contacts and 205 secondary contacts. Among them, three primary and two secondary contacts have tested positive between November 22-25th. All have been isolated.
Details of the two patients who have been detected positive for #Omicron variant of COVID19. pic.twitter.com/orGGRnGSMv

— ANI (@ANI) December 3, 2021
What do we know about new COVID variant?
What is it called?
The World Health Organization named the new COVID variant as Omicron. The variant was initially referred to as B.1.1.529. As per the WHO system of naming, such variants are assigned a Greek letter that does not associate them with the location from where they were first detected.
When was Omicron variant first detected?
The new COVID variant was first detected on November 23, 2021 and it was highlighted as a concern due to its large number of mutations that could possibly lead it to evade immunity. The variant has been linked to a spike in the number of cases in the Gauteng province of South Africa in the past two weeks.
However, it is not necessarily that the variant originated there. The earliest sample that shows the variant was reportedly collected from Botswana on November 11.
Read more here: WHO designates heavily mutated strain as 'variant of Concern'; names it 'Omicron'
Why is the new COVID variant concerning?
The new COVID variant was designated as a variant of concern upon the advice of the WHO Technical Advisory Group on SARS-CoV-2 Virus due to its concerning mutations.
The new COVID variant Omicron reportedly has over 30 mutations on its spike protein, which is used by the virus to unlock our body's cells. This is almost double than the number of mutations carried by the Delta variant, which caused havoc across the world earlier this year.
The variant's high mutation capability has raised concerns that the antibodies from previous infections may not be enough to fight off this new variant. This means that the virus is more likely to cause reinfections.
The new #COVID19 virus variant - Omicron - has a large number of mutations, some of which are concerning. This is why we need to speed up our efforts to deliver on #VaccinEquity ASAP and protect the most vulnerable everywhere. https://t.co/b9QBMJXtJl

— Tedros Adhanom Ghebreyesus (@DrTedros) November 26, 2021
Is Omicron more transmissible ?
As per WHO, it is not yet clear whether Omicron can more easily spread from person to person compared to other variants, including Delta. While the number of positive cases have risen in areas of South Africa affected by this variant, studies are underway to understand if it is because of Omicron or other factors.
Can Omicron cause severe Covid?
• There is no data yet to suggest whether Omicron can cause more severe COVID in comparison to other variants including Delta.
• So far, all COVID-19 variants including the Delta variant can cause severe disease or death, in the most vulnerable people, and thus prevention is always key, as per WHO.
• Dr Angelique Coetzee, a South African doctor who first flagged the new COVID variant said that the patients she has examined so far have been exhibiting "milder" symptoms than those affected by more prevalent Delta variant.
• The South African doctor said that the Omicron variant most likely is milder than the Delta variant at the primary healthcare level. At the hospital level, the picture might change but she mentioned that these are very early days as there is not a lot of admissions yet at the hospitals.
• She though pointed out that Omicron has more than 30 mutations and is very different from Delta or Beta variant in mutations.
Omicron Symptoms
There is no official data to suggest that Omicron variant has different symptoms than those from other COVID variants. However, the South African doctor who chairs the South African Medical Association said that fatigue, body aches and pains are some of the symptoms of Omicron case.
The other symptoms of those testing positive for Omicron include severe headaches and tiredness. None of the patients so far have mentioned loss of smell/taste or severely blocked of the nose or increase in body temperature, which were symptoms seen in patients affected by other strains of COVID-19.
As per the medical expert, "If you are not clinically aware of the symptoms then you will easily miss the symptoms. "
Will COVID vaccines be effective against Omicron COVID variant?
Though researchers don't have enough data to confirm whether vaccines will be effective against this variant or not, there are hints that the vaccines could be less effective against the new COVID variant.
Some of the omicron's mutations are already known to help the virus evade the immune system, to resist antibodies and avoid detection by some of the body's frontline defenders. However, WHO stressed on the importance of vaccination stating that vaccines remain critical to reducing severe disease and death, including against the current dominant COVID variant, Delta.
The South African doctor also emphasised that vaccines will protect people against the disease at this stage because irrespective of age group and co-morbidities, people who have been inoculated against COVID-19 exhibited milder symptoms on being infected with Omicron.
Can Omicron cause reinfection?
WHO informed that as per preliminary evidence, there may be an increased risk of reinfection with Omicron. This means that those who have had COVID-19 previously could become re-infected more easily with Omicron, as compared to other variants of concern. The information, however, remains limited.
How to know whether one is infected with Omicron variant?
According to the South African doctor, who was the first to detect the new variant, RT-PCR tests will be able to pick it up. She said that the rapid tests will be able to confirm whether a person has COVID and if clinical symptoms are not same as Delta, it can be safely assumed that it is Omicron variant.
#WATCH | South African Medical Association Chairperson Dr Angelique Coetzee, the first to detect the new COVID-19 variant #Omicron, enlisting symptoms & guidelines pic.twitter.com/WgOprbZm3x

— ANI (@ANI) December 3, 2021
How to protect ourselves from Omicron variant?
We can prevent getting ourselves infected by avoiding large gatherings, getting ourselves vaccinated and wearing masks and maintaining hand hygiene.
Which countries have reported cases of new Omicron COVID variant?
So far, over 29 countries across the world have reported confirmed cases of the new COVID variant. The new COVID variant was first detected in South Africa.
South Africa's National Institute of Communicable Diseases (NICD) had reported the new variant for the first time on November 25. Dr Coetzee had first noted people coming in with symptoms of extreme fatigue, body ache and headaches around November 18th, which upon testing led to the discovery of the new Omicron variant.
Read more: List of Countries with Omicron Variant- Two Omicron cases detected in India, says ICMR DG Balram Bhargava
Take Weekly Tests on app for exam prep and compete with others. Download Current Affairs and GK app
एग्जाम की तैयारी के लिए ऐप पर वीकली टेस्ट लें और दूसरों के साथ प्रतिस्पर्धा करें। डाउनलोड करें करेंट अफेयर्स ऐप
Android
IOS