World Teachers Day 2019: Everything you need to know
World Teachers Day 2019 is observed with an aim to look after situations of the teachers worldwide.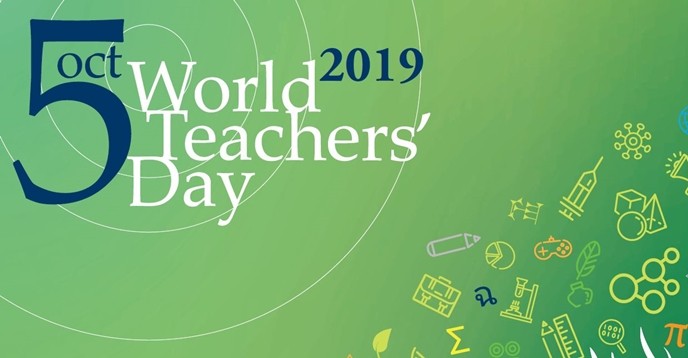 Image: UNESCO
World Teachers Day 2019: This day is observed on October 5 every year with an aim to improve teachers' situation in the world. It was decided in the meeting between UNESCO and the International Labor Organization in the year 1966.
World Teachers Day 2019 is not only a special day for teachers but also for students. On this day, the teachers and retired teachers are honoured for their special contribution. In the year 1966 ILO and UNESCO in their recommendations had said to make proper guidelines regarding the status of teachers' rights, responsibilities, their initial preparation, further education, recruitment, employment and teaching.
Theme: World Teachers Day 2019
The Theme of World Teachers Day 2019 is Young Teachers: The Future of the Profession. Its objective is to suggest government to make teaching a profession of the first choice for young people. On this occasion, UNESCO has invited school principals, teacher unions, parent-teacher associations, education officials, school management and trainers to share their wisdom.
Also Read: International Coffee Day 2019: All you need to know
Importance of World Teachers Day 2019
World Teachers Day 2019 is an occasion to celebrate the respected profession of teaching. It is an occasion when we should understand the values, challenges, roles and duties of a teacher in our daily life. In some countries, the public's negative perception of teachers is such that education staff regularly faces the threat of violence.
These challenges and transformations in the 21st century are very real. UNESCO said that we must take time to look at the future of the profession and the role of young teachers in it - taking onboard the changing climate of education and schooling, the need to draw in and retain a new generation of dedicated educators, and to prepare them for the 21st century challenges of 'teaching in diversity' and 'diversity in teaching.'
History of World Teachers Day
In 1966 this day was started by UNESCO as a signature campaign aimed at improving the status of teachers and students. Under this recommendation, UNESCO monitors the status of teachers and the standards related to them all over the world, including the policy of education personnel, education personnel recruitment, initial training of education personnel, employment, and working condition of teachers.
Also Read: World Tourism Day 2019: Know about host country, theme and significance
Also Read: What is International Day of Peace 2019: All you need to know
Download our Current Affairs & GK app for Competitive exam preparation. Click here for latest Current Affairs: Android|IOS