Amazing facts about Prime Minister's Residence
The official residence and principal workplace of the Prime Minister of India is 7 Lok Kalyan Marg (earlier 7 Race Course Road). Here he lives and holds most of his official or political meetings. It is situated at 7 Lok Kalyan Marg, New Delhi and the official name of the PM's residence complex is Panchavati (it was also the forest name of Lord Rama). The entire Lok Kalyan Marg is also named as Delhi Race Course, which is now closed to the public. Rajiv Gandhi was the first PM to stay at Lok Kalyan Marg in 1984 and now it is the present residence of Narendra Modi since 26th May 2014.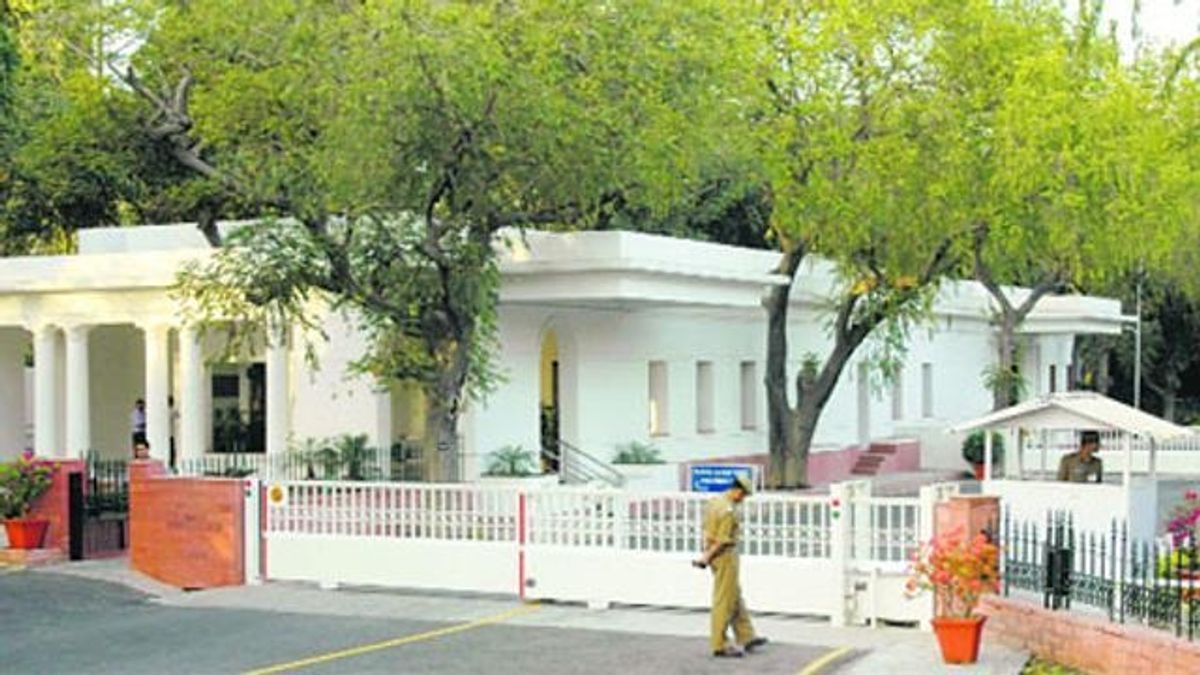 Amazing facts about Prime Minister's Residence
7 Lok Kalyan Marg spreads over 12 acres of land, comprising five bungalows in Lutyen's Delhi (built in 1980), which are Prime Minister office –cum-residence zone and security establishment, including one occupied by Special Protection Group (SPG) and another being a guest house, though all are collectively called 7 Lok Kalyan Marg.
The entire Lok Kalyan Marg is also named as Delhi Race Course, which is now closed to the public. Rajiv Gandhi was the first PM to stay at Lok Kalyan Marg in 1984 and now it is the present residence of Narendra Modi since 26th May 2014. Whereas protocol is the system of rules governing formal occasions or the accepted way to behave in a particular situation. SPG is headed by Secretary; decide protocols for PM activities, developing operating procedures and delineating responsibilities of multiple agencies involved in various aspects of security. These provisions are contained in the Blue Book which lays down the security guidelines for the protection of the PM.
Benefits given to former Prime Minister and President of India
Interesting facts about the residence & protocol of PM:
• The bungalows of the Prime Minister's residence at 7 Lok Kalyan Marg is designed by Robert Tor Russell, who was the part of British architect Edwin Lutyen's team, when he was designing New Delhi in the 1920s and 1930s.
• Do you know that 7 Lok Kalyan Marg became the Prime Minister's official residence during Prime Minister VP Singh's tenure? He permanently converted the place as the PM's residence. Before him, the Prime Ministers lived at the other bungalows allotted to them as MPs.
Source: www.google.co.in
• 7 Lok Kalyan Marg consists of 5 bungalows 1, 3, 5, 7 and 9 lined with putranjiva trees; 5 Lok Kalyan Marg at present is the Private Residential Zone for our PM and 7th is his office. Bungalow 9 is occupied by the Special Protection Group (SPG), the elite force responsible for the Prime Minister's security, is housed and also has a tennis court. Bungalow 3 is the guest house for the PM's guests. Bungalow 1,Lok Kalyan Marg is a helipad for the service of PM which is being used since 2003.
• These bungalows are not big bungalows. His house consists of two bedrooms, an additional room, a dining room and the main living room that can accommodate about 30 people.
• Interestingly, around 2 km long underground tunnel which connects the Indian Prime Minister's residence to Safdarjung Airport where WIP helicopters land was constructed to reduce the traffic congestion. It is constructed beyond Kamal Ataturk Marg, Golf Course and Safdarjung Tomb and then an underground drive to surface at the helicopter hanger at the airport. Work of this tunnel was begun in 2010 and was completed by July 2014. Also, Narendra Modi is the first PM to use it.
Source:www.i.dailymail.co.uk
Read more about Prime Minister of India
• You know that the lawns in 7 Lok Kalyan Marg beat everything else. They are massive, manicured and big enough to run a horse. The abundant gulmohar, semal and arjuna trees grown in the premises are also the home to several birds, including peacocks. And there is only one entrance to 7 Lok Kalyan Marg and that too is guarded by SPG.
Source: www.google.com
• The workplace at 7 Lok Kalyan Marg has two small rooms on either side as you enter for each 2 personal secretaries. Visitor room is on the right side. Further ahead is a chamber to meet the guests. Adjacent to that is the living space for larger meetings, behind which is the dining room where breakfast and lunch meetings are hosted.
• A corridor from 7 Lok Kalyan Marg takes you to panchavati which can be segmented into two or three conference rooms or a larger banquet hall. On the walls are artworks loaned by the National Gallery of Modern Art (NGMA). During visits PM collects a no. of gifts, received paintings, mementos, metallic bowls etc which are either displayed at 7 Lok Kalyan Marg or sent to toshakhana (Treasure house)
• When you enter Lok Kalyan Marg the first building that you enter is 9 RCR. Further ahead is the parking and then the reception area. Beyond this is the even more heavily guarded enclosed space that houses 7, 5, 3 and 1 Lok Kalyan Marg. Even relatives can't be dropped without unannounced. Friends also can't come up to meet PM. Only those visitors whose names have been given to SPG by the PM's personal secretaries are allowed in. This rule applied to everyone including security adviser, top bureaucrats, relatives and guests. And visitors are expected to carry an identity card.
Source:www.images.indianexpress.com
• Once this barrier is crossed, SPG ferries the visitor to the PM. There is a dedicated fleet of cars- Tata Nanos, at one point of time for that. And the whole area is no-fly zone. Even the residential bungalow has an additional security and nearby high-rise hotel Samrat the top four floors are taken over by the government.
• This fenced fortress offers many perks that many other big bungalows can only dream of like it has a power station, doctors and nurses from All India Institute of Medical Sciences on duty round the clock and an ambulance on standby that always accompanies the PM's motorcade- it include six BMW's. This all was made to order at the Vajpayee tenure. Two BMW's are used by the PM in Delhi, two are for VIP guests and the remaining two are flown with the PM wherever he travels in the country.
Source:www.google.com
• Amazing is that films also be seen in 7 Lok Kalyan Marg not only arts and paintings. In 2006, soon after Lage Raho Munna Bhai released, the director of UFO movies organised a private screening at 7 Lok Kalyan Marg. Later private screening of Taare Zameen Par and Peepli Live were also organised.
Source: www.archivepmo.nic.in
What do you know about Prime Minister's Office of India?
• Even Barbers, tailors and stylists too are a phone call away from the residence. Also to keep 7 Lok Kalyan Marg functioning efficiently requires an army of workers. Besides the secretaries staff, it has a support staff of about 50 gardeners, peons and electricians. They are employed after a thorough background check. Staffs come every day and leaves after the day is over. Some of the staff here has been around for decades.
• Air India provides the air services to Indian PM via its official aircraft 'Air India One'.The flight number is always AI 1. 'Air India one' is a Boeing 747-400 aircraft, which is primarily used for PM's foreign trips. The VVIP gear of flight includes a bedroom suite, a lounge and a six-seater office. The plane remains equipped with satellite phones, 4 pilots and advance weapons onboard.The flight is monitored from Delhi's Palam Air Force Station. AI one has multiple anti-missile shields and a secure communication chamber with SAT link. For domestic Air routes, IAF has 3 Business jets for PM called Rajdoot, Rajhans and Rajkamal.
Source:www.www.aero-news.net
• IB and State/UT Police were responsible for coordination, collection and dissemination of intelligence affecting VIP security.
• State/UT Police and SPG are responsible for providing physical security arrangements for the PM while IB provides intelligence inputs to these operational agencies.
• SPG comprises of ring round teams controlling the access of outsiders to Indian PM. They undergo rigid training similar to the one adopted by United States Secret Service.
Source: www.newseastwest.com
• PM has to wear bullet-proof jacket at his public appearances.
• Do you know that PM Manmohan Singh's wife has become the first SPG protectee to have women commandos in her immediate security cordon.
Do you know how India got her name as "Bharat"