A 665-member contingency from India is participating in the 19th edition of the Asian Games held in Hangzhou, China. India has won several medals in various sports and there are many athletes who have created history in the quadrennial sports tournament. One of the record makers is an equestrian player, Anush Agarwalla, who has not only showcased exceptional skills but has also brought pride to the nation.
India's dressage team clinched a gold medal in equestrian sports at the games, breaking a drought of 41 years. The dressage team comprised- Anush Agarwalla (Etro), Hriday Vipul Chheda (ChemXPro Emerald), Divyakriti Singh (Adrenalin Firfod) and Sudipti Hajela (Chinski).
---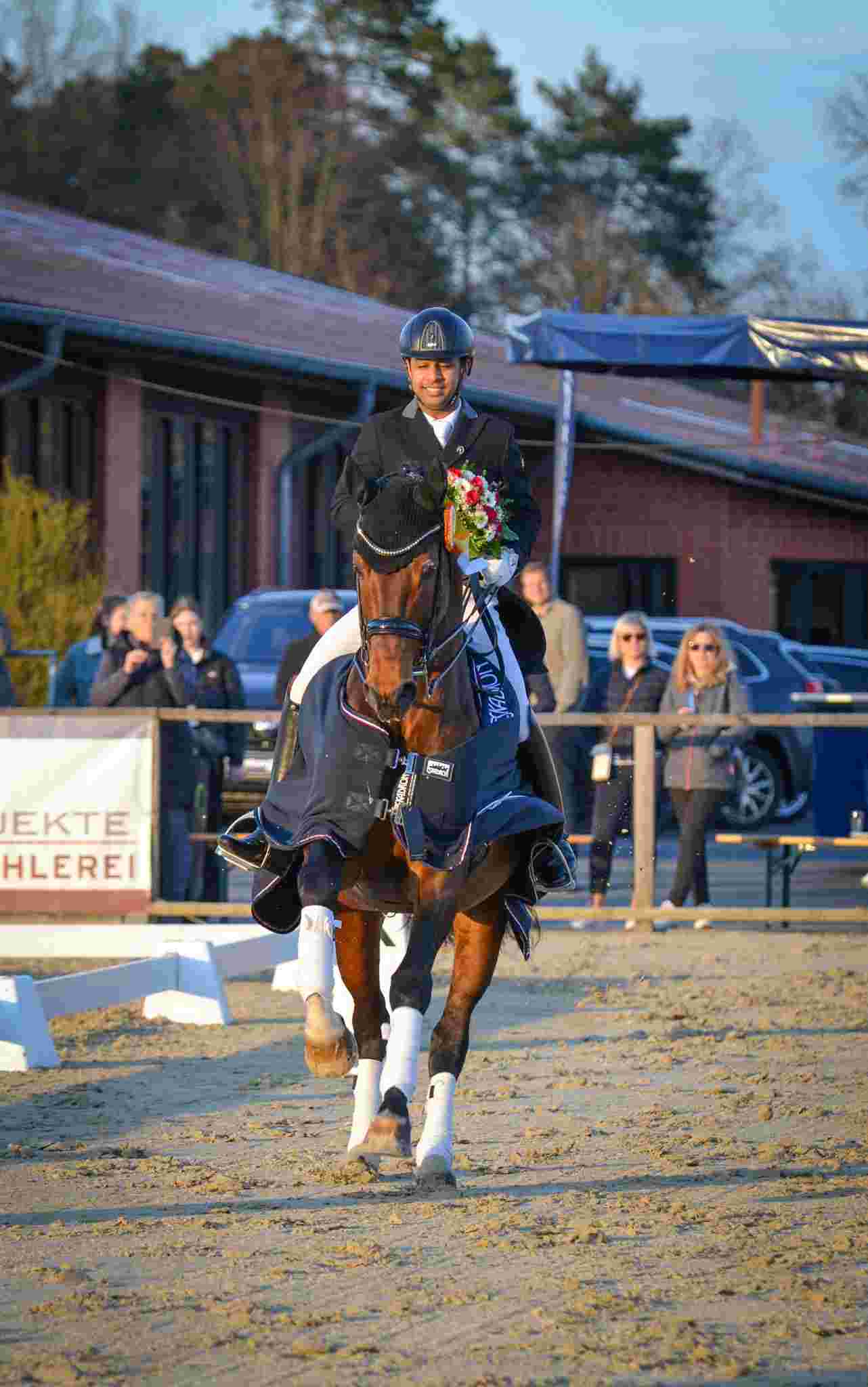 Early Life
Anush Agarwalla, born on November 23, 1999, in Kolkata, India, has now become a remarkable figure in the world of equestrian sports. His recent triumph at the Asian Games has brought the spotlight on this young and talented rider, making him a rising star in the international equestrian scene.
A Journey of Dedication
Anush Agarwalla's journey from a casual weekend rider to an international equestrian star is nothing short of inspiring. His parents introduced him to horseback riding at the tender age of 3 at Kolkata's Tollygunge Club. Little did they know that this introduction would ignite a passion that would take their son to the world stage.
At the age of 8, he began formal riding lessons and quickly progressed to local children's events. His dreams extended beyond the local competitions; he aspired to represent India at prestigious sporting events such as the Asian Games and the Olympics. To pursue this dream, he relocated to New Delhi at the age of 11, all while managing his education at La Martiniere for Boys. His hard work bore fruit with silver and gold medals at the esteemed Delhi Horse Show in 2014.
At the age of 16, he got accepted to Sri Ram School in Aravalli for his higher secondary education. His determination knew no bounds and led him to Germany, where he trained under the mentorship of Olympic gold medalist Mr. Hubertus Schmidt. Overcoming linguistic and cultural barriers, Anush became India's youngest Grand Prix rider and secured his spot in the World Equestrian Championships.
Overcoming Challenges
Anush Agarwalla's journey was not without its challenges, including the disruptions brought about by the pandemic. However, his commitment to his craft never wavered. He achieved a significant milestone by winning at the S-Level, an accomplishment unprecedented for any Indian equestrian.
While narrowly missing the opportunity to represent India at the Tokyo Olympics, Anush became the first Indian rider to qualify for the 2022 World Games in Herning, Copenhagen. This year marks another milestone as Anush spearheads an Indian equestrian team of four riders at the Asian Games.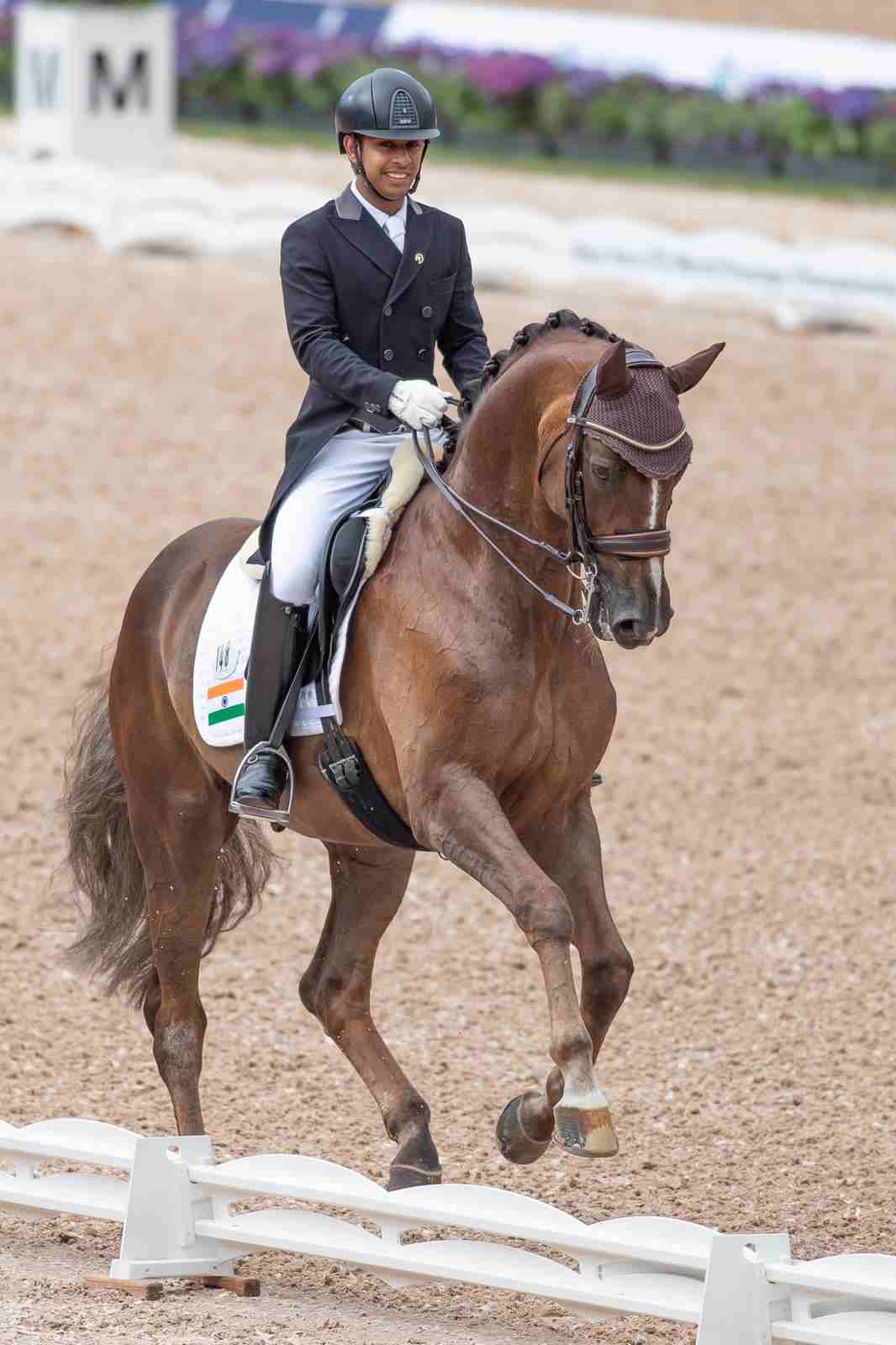 2023 Asian Games Success
India's Anush Agarwalla etched his name in history with a groundbreaking achievement at the Asian Games. The young equestrian sensation secured a bronze medal in the individual dressage event, marking a significant personal milestone and a historic moment for India. This accolade represents India's first individual medal in equestrian sports at such a prestigious international event. Anush's impressive journey didn't stop there; he went on to secure another bronze medal in the Dressage Individual Intermediate I Freestyle event, reaffirming his unwavering excellence in this demanding discipline. His dedication and tireless efforts have catapulted him to stardom within India's equestrian community. At just 24 years old, Anush has cemented his place in the annals of equestrian history. He triumphed over formidable opponents from China and Hong Kong in a thrilling contest alongside his talented teammates. The victory garnered praise from none other than Prime Minister Narendra Modi, who extended his heartfelt congratulations to the team for their remarkable achievement.
A Vision for the Future
As Anush Agarwalla stands on the verge of the Asian Games and the aspiring goal of the 2024 Olympics, he envisions every stride as a step closer to redefining the history of Indian equestrian sports. His journey from a leisure rider to a global contender exemplifies the power of dedication, perseverance, and the determination to make India proud on international platforms.
He looks forward to the ongoing Asian Games in Hangzhou and the 2024 Olympics with unwavering determination, saying, "Passion consistently pushes boundaries. My journey in equestrian sports has equipped me with unwavering determination, unwavering familial support, and opportunities to continually test my limits."
As he continues to scale new heights in the world of equestrian sports, he serves as an inspiration for aspiring riders across India and the globe. Anush Agarwalla is more than just an emerging star; he symbolizes the limitless potential within India's equestrian landscape.
Here is an exclusive interview with Anush, where he shares his journey and struggles:
---
Related Stories
---