Basant Panchami 2023: History, Significance, Wishes, Greetings, WhatsApp & Facebook Status, Quotes & More
Basant Panchami, also called Saraswati Puja in honor of the Hindu goddess Saraswati, is a festival that marks the preparation for the arrival of spring. Check this article to wish your friends and families the best of words.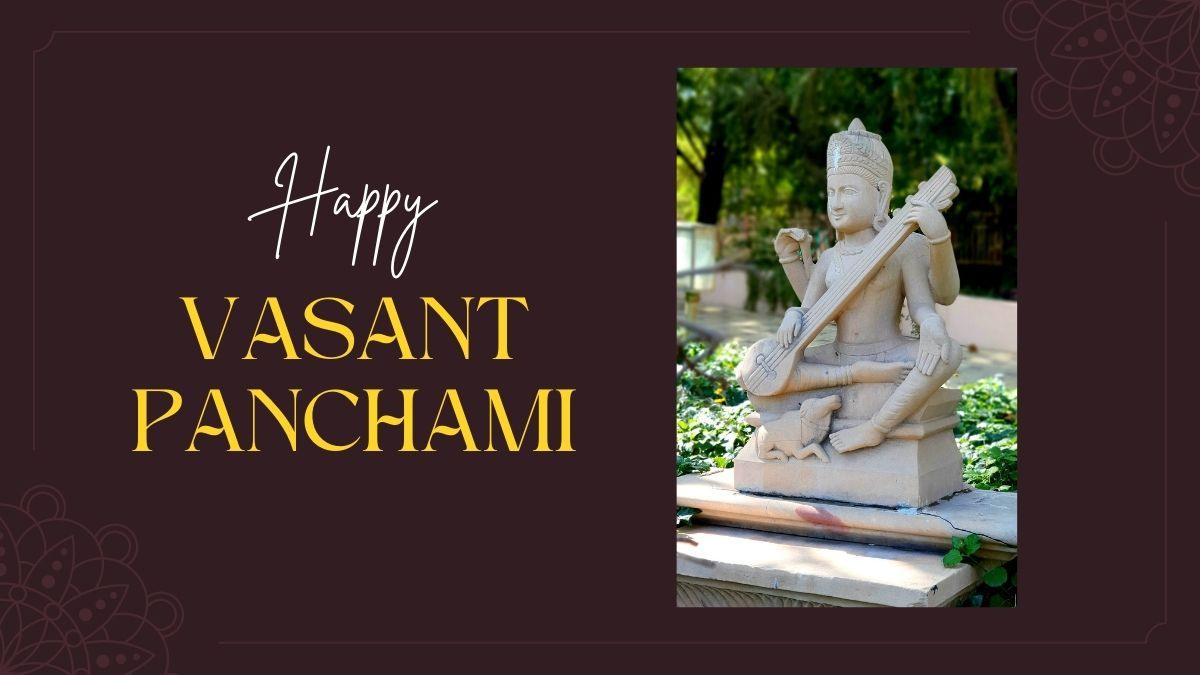 Happy Basant Panchami 2023
The Indian festival of Basant Panchami, also known as Saraswati Puja, marks the beginning of the spring festival. The festival typically takes place between the end of January and the beginning of February. The Panchami Tithi this year will start at 12:34 pm on January 25, according to drikpanchang, and will end at 10:28 am on January 26.
Basant Panchami 2023: History
According to legend, Kalidasa had intended to commit suicide by drowning himself in a river after learning that his wife had been abandoned. Goddess Saraswati asked Kalidasa to take a bath in the water as she emerged from the water just as he was about to do that. After that, his life changed as he was endowed with wisdom and rose to become a great poet.
According to mythology, Kamadeva once interrupted Lord Shiva's meditation while he was immersed in it after the death of his wife Sati. This story is based on the Hindu god of love Kama. So that Shiva could re-establish contact with the outside world and become aware of Maa Parvati's efforts on his behalf, seers approached Kama to rouse him from his meditation.
Kama agreed and used his sugarcane bow to launch arrows at Shiva which was made of flowers and bees. Kama was reduced to ashes by Lord Shiva after opening his third eye in rage. After Rati (his wife) completed her 40-day penance, Shiva agreed to resurrect him on Basant Panchami. He allegedly later gave birth to the son of Lord Krishna named Pradumna.
Basant Panchami 2023: Significance
Basant Panchami announces marks the beginning of spring. On this day, the colour yellow has a lot of significance. People dress in yellow to commemorate the holiday, worship the goddess Saraswati, and eat customary foods. Since mustard fields and knowledge are both associated with the colour yellow, it also represents the beginning of spring.
Basant Panchami 2023: Wishes
"Happy Basant Panchami! On this auspicious day, may Goddess Saraswati bless you and your family with infinite wisdom and prosperity."

"May your life turn into happy shades as you dance to the beautiful tunes of nature in the upcoming spring season. Happy Basant Panchami 2023."

"Today, we pray to Goddess Saraswati and our divine deities, Vasant and Kamdeva. On Basant Panchami, I hope they fulfil all your wishes and desires."

"On this delightful occasion, may Goddess Saraswati shower blessings, knowledge, and wealth on you and your loved ones."

"As we celebrate the arrival of Basant, I hope all the great works you begin in 2023 become successful. Wishing you a happy Saraswati Puja!"

"May the goddess remove darkness and negativity and brighten your life with the glow of knowledge and peace."
Basant Panchami 2023: WhatsApp & Facebook Status
May this Basant Panchami bring you the good news of prosperity, hope, happiness, and the strive for more knowledge.

May you never run out of being curious to be more knowledgeable. Happy Basant Panchami.

Happy Basant Panchami to you and your family. Here's to new beginnings and prosperity.

Knowledge can chisel young minds to brilliance. This Basant Panchami, let's worship knowledge.

Happy Basant Panchami. On this day, let's pledge to make knowledge the primary motive of our lives and know the power it holds.
Basant Panchami 2023: Quotes
"While motherhood and warship were associated with Parvati and Durga, Tantra was associated with Kali, food, and agriculture to Annapurna, knowledge, and education to Saraswati, and, of course, luck and money to Lakshmi."-

Sapan Saxena, The Tenth Riddle
"Wisdom is the right use of knowledge. To know is not to be wise. Many men know a great deal and are all the greater fools for it. There is no fool so great a fool as a knowing fool. But to know how to use knowledge is to have wisdom."- Charles Spurgeon
"Knowledge is power. Information is power. The secreting or hoarding of knowledge or information may be an act of tyranny camouflaged as humility."- Robin Morgan
"Ignorance is the curse of God; knowledge is the wing wherewith we fly to heaven."- William Shakespeare
"Knowledge is the eye of desire and can become the pilot of the soul."- Will Durant
According to local Sufi traditions, the poet Amir Khusrau observed Hindu women carrying yellow flowers to a temple on Basant and noticed that they were dressed in yellow. He adopted their custom to bring happiness to Nizamuddin Aulia because his nephew had recently passed away and he was still grieving, and the Chishti order of Sufi Indian Muslims still follow this tradition today.
Vasant Panchami also signals the beginning of the forty-day countdown to Holika and Holi. Since any season transitions for 40 days before entering its peak, the Vasant Utsava (festival) on Panchami is observed forty days before spring.