Bihar at a Glance: Fact Finding
Bihar is located in the eastern part of the country. It is an entirely landlocked state that lies mid-way between the humid West Bengal in the east and the sub humid Uttar Pradesh in the west It is bounded by Nepal in the north and by Jharkhand in the south. Read ahead to know other important details about the Bihar state.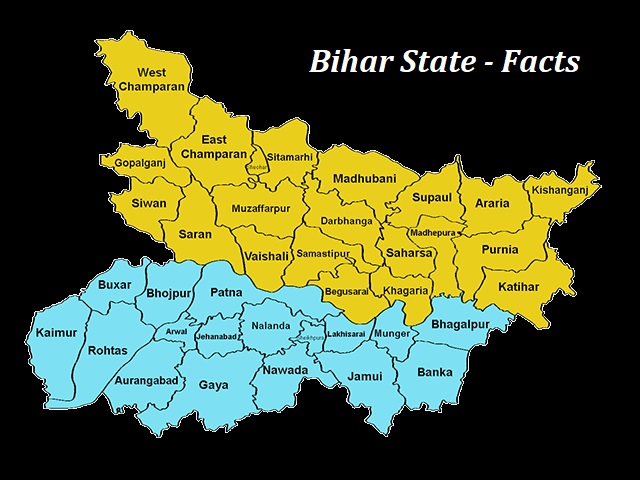 Bihar at a Glance: Fact finding
Bihar is a state in East India, bordering Nepal. It is divided by the River Ganges, which floods its fertile plains. The name Bihar is derived from the Sanskrit and Pali word, Vihara which means "abode". The region roughly encompassing the present state was dotted with Buddhist vihara, the abodes of Buddhist monks in the ancient and medieval periods. It is the 13th largest state, with an area of 94,163 km2 (36,357 sq mi) and the 3rd largest by population. It is contiguous with Uttar Pradesh to its west, Nepal to the north, the northern part of West Bengal to the east, and Jharkhand to the south.
List of Tribal Revolt in Bihar
Source: socialdosa.com www.gis.bih.nic.in
Area

99,200 sq. kms

Population

10,38,04,637 (2011 census)

Establishment

1 April 1936

Language

Hindi and Urdu are the official languages of the State. Other languages of the state are Bhojpuri (38.5 million speakers), Maithili (25 million), Magahi (20 million), Bajjika (8.7 million), and Angika (0.7 million), of which only Maithili is recognized in the Eighth Schedule of the Constitution.

Climate

Avg. temperature 27 °C (81 °F),Summer 34 °C (93 °F),Winter 10 °C (50 °F),Precipitation 1,200 mm (47 in)

Capital

Patna

Members of Lok Sabha

40

Airports

Bokaro, Darbhanga, Gaya, Madhubani, Purnea, Saharsa, Muzaffarpur

Religious (Segmentation of Population) census 2011

Hindus- 82.7%

Muslims-16.9%

Christians-0.1%

Others-0.3%

Festivals

Apart from Chhath, all major festivals of India are celebrated in Bihar, such as Makar Sankranti, Saraswati Puja, Holi, Eid-ul-Fitr, Eid-ul-Adha (often called Eid-ul-Zuha in the Indian Subcontinent), Muharram, Ram Navami, Rath yatra, Rakshabandhan, Maha Shivaratri, Durga Puja, Diwali, Laxmi Puja, Christmas, Mahavir Jayanti

Economy Size

SGDP $67.254 billion(2014-15)

By sectors, its composition is:

Agriculture = 22%

Industry = 5%

Services = 73%.

Literacy

Districts

38

Legislature

Bicameral

Sex Ratio (as per 2011 census)

916 Females Per Thousand Males

Principal Folk Dances

Jhijhian Dance, Jat-Jatin Dance, Kajari Dance, Sohar-Khilouna Dance, Holi Dance, Jhumeri Dance, Harvesting Dance

Principal Crops

Paddy, Wheat, Mango, oilseeds, Tobacco, Guava, Litchi, Pineapple, Brinjal, Cauliflower, Bhindi, and Cabbage, etc.

Rivers

Ganga, Sone, Kosi, Gandak, Sarayu

Principal Minerals

Bihar is a producer of Steatite (945 tonnes), Pyrites (9,539 tonnes/year), Quartzite (14,865 tonnes/year), Crude Mica (53 tonnes/year), Limeston (4,78,000 tonnes/year). Bihar has also some good resource of Bauxite in Jamui district, Cement Morter in Bhabhua, Dolomite in Bhabhua, Glass sand in Bhabhua, Mica in Muzaffarpur, Nawada, Jamui, Gaya and salt in Gaya and Jamui.

Tourist Spot & Historical Places

Excavation

Kumhrar

Agam Kuan

Barabar Caves

Nalanda

Vikramashila

Ancient

Vishnupada Temple

Mahabodhi Temple

Sasaram

Pataliputra

Brahmayoni Hill

Forts

Rohtasgarh Fort

Sasaram Fort

Palamu Fort

Jalalgarh Fort

RajMahal

Munger Fort