B. S. Yeddyurappa: Biography and Political Career
B.S. Yeddyurappa is sworn in as the Chief Minister of Karnataka fourth time. For the first time he became the Chief Minister of Karnataka in 2008. In South Indian state, he was the CM of BJP. He has been elected MLA for the record 7th time. Let us find out more about B.S. Yeddyurappa, his early life, political career etc.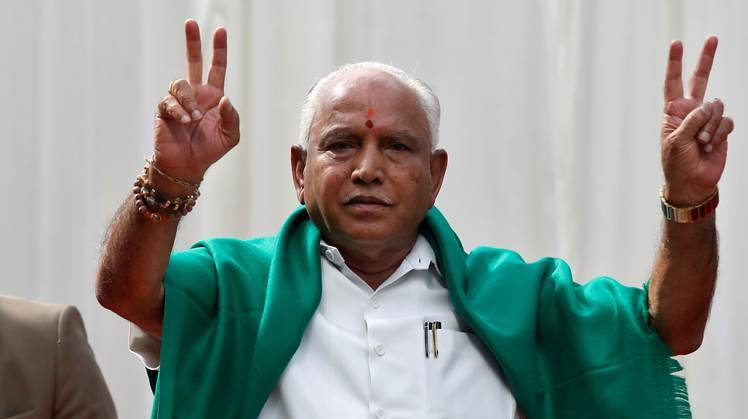 B. S. Yeddyurappa
Personal Information:
Full Name: Bookanakere Siddalingappa Yeddyurappa
Father: Late. Sri. Siddalingappa
Mother: Late. Smt Puttathayamma
Date and place of Birth: 27 February 1943 (age 76) Bookanakere, Kingdom of Mysore, British India
Wife's Name: Late Smt. Maithra Devi
Children: B. Y. Raghavendra, B. Y. Vijayendra and 3 daughters
Education: Bachelor of Arts (BA)
Nick Name: "Raithara Bandhu"
Plotical Journey:
RSS worker: since 1965
1. First time Member of Legislative Assembly in July, 1983
2. He elected Member of Legislative Assembly for the 7th time in May 2013.
3.He became President of Karnataka State BJP Unit in 1988.
4. He became the Chief Minister of Karnataka on 30th May 2008.
5. He was nominated as BJP's National Vice-President on 16th Aug 2014.
6. Assembly Constituency: Shikaripura, Shivamogga District, Karnataka State, India
As of now B. S. Yeddyurappa is a big name in the BJP in the southern region. He is all set to become the next Chief Minister of Karnataka.
He had been associated with the Rashtriya Swayamsevak Sangh from his college days. His political journey started with student movement.
In 1975, he was elected President of the Town Municipality of Shikaripura. He was imprisoned for 45 days during emergency imposed by the Indira Gandhi in 1975.
In 1980, he was appointed President of the Shikaripura taluk unit of the BJP and later in 1988, he became the State President of the BJP in Karnataka.
Yeddyurappa took oath as Chief Minister of Karnataka on 12-11-2007 to head the first ever BJP led Coalition Government in South India. But on 30th May 2008 he was the first ever BJP Chief Minister in South India. But he resigned in 2011 after being indicted over a corruption case; acquitted in 2016.
He resigned from the BJP citing bad behaviour of the BJP High Command and formed his new party the Karnataka Janata Paksha.
Although he merged his party with the BJP in 2014 and elected to the 16th Lok Sabha from the Shimoga constituency. He again elected for the Karnataka Legislative Assembly in May 2018 and sworn in as the the Chief Minister of Karnataka. But he has to resigned within two days because of short majority in the house.
Now the opportunity knock once more and he is all set to take the oath of Chief Minister of Karnataka for the record 4th time. Let see how long this new government survive.
The List of Chief Ministers of Karnataka