Brain Teaser For Fun: What is so mysterious about this Attic? Can You Find All the Hidden Mistakes in this picture within 19 seconds?
Attics are usually for storage, but this one looks a bit strange. Take this challenge to test your cognitive abilities and visual sharpness. Good Luck!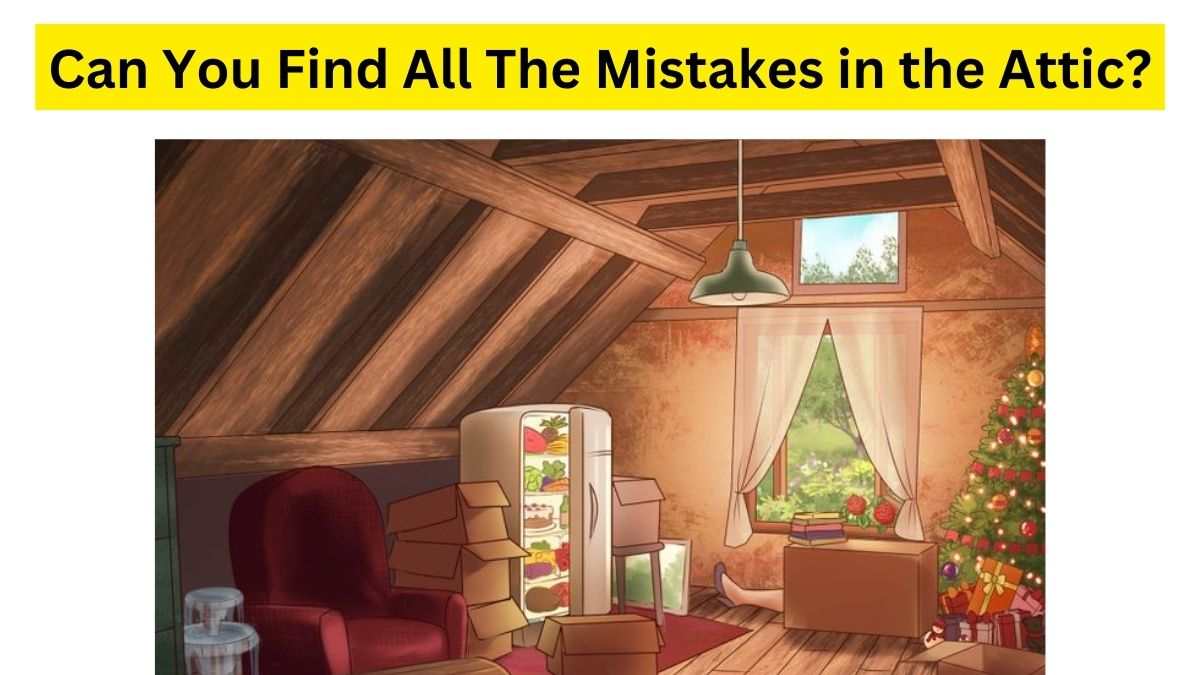 Check how quick you are to find all the mistakes.
An attic is a space found directly below the pitched roof of a house or other building; an attic may also be called a sky parlor or a garret. And in this brain teaser, you need to look for all the possible mistakes visible in the picture. A brain teaser will test your abilities like creativity and observational skills instead of mathematical formulas and equations. As a result, it will strengthen the connection between brain cells, increase mental agility, and help with short-term memory issues. Enough of words, coming back to action, your task is to find all the mistakes in the picture.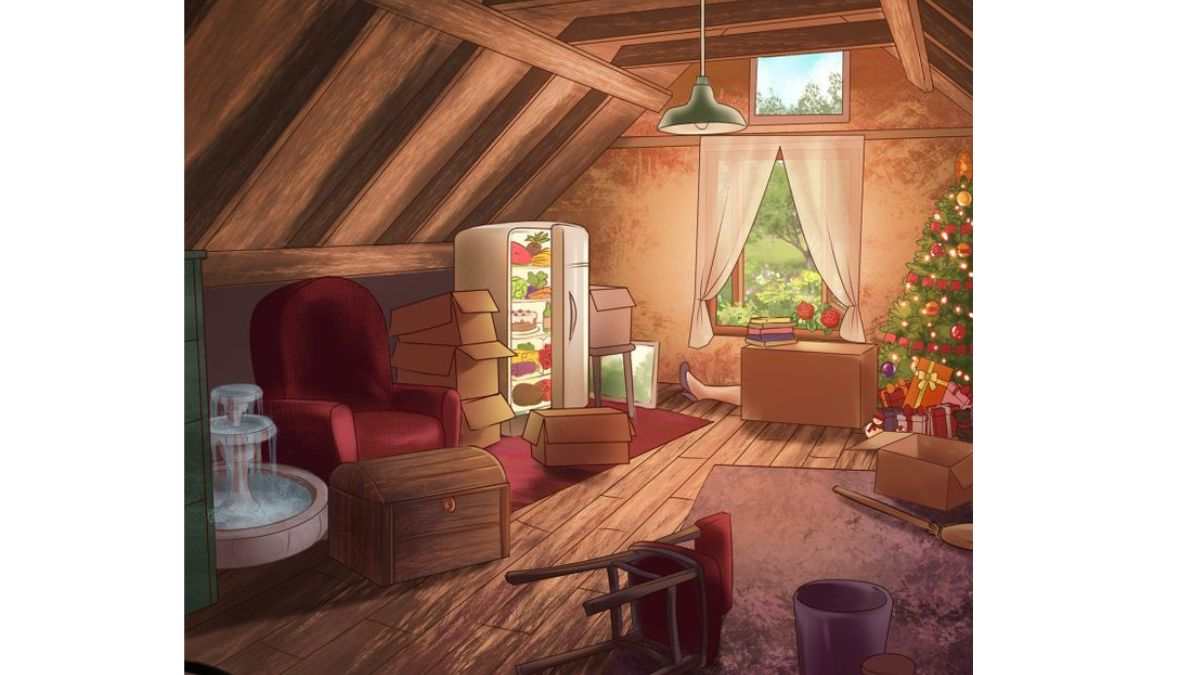 Source: Brightside.com
Can You Find All The Mistakes In The Attic Picture?
Brain Teasers require an unconventional way of thinking, however, sometimes also involve an excellent creative approach and logical reasoning. In contrast to the above image, you need to use your qualitative sharpness and cognitive skills to find all the mistakes in the image of the attic. Seriously, it is very simple, all you need to do is strain your brain power, and focus on all the corners.
And this simple mental exercise can reveal a bundle of knowledge about the function and abilities of your brain.
Brain Teaser For IQ Test: Can You Spot 'Dory' from Finding Nemo within 30 seconds in this picture? Try Your Luck!
Look for the Brain Teaser answer here:
Essentially, a brainteaser is a puzzle that requires creative and logical thinking. Your capacity to think and decision-making will thus improve with each trial. The brain game will also help you solve problems and develop critical intuitions.
Remember, your goal is to find all the mistakes in the picture puzzle. Easy, Right?
But I forgot to tell you, you just have 20 seconds, and you have already lost a second while reading this.
Tick…
Tock…
Tick…
Brain Teaser For IQ Test: Only 2% of Genius can find the person from the future in this Billion Year Old Picture. Try Your Luck!
Enough of suspense and the low-key music in the background, let's jump to the answer.
The image shows an attic. And your task is to find all the mistakes in the picture. And to conclude your task, divide the image into sections(imaginary) and go through all the rows and columns, use all your skills like logical reasoning, observational power, and abilities.
Do You Know?
The Attic architectural style is where the word "attic" originates from, in the Greek region of Attica. The term referred to "a low decorative façade above the main story of a building" and, as used in the phrase "attic order", had originally indicated a small decorative column above a building's main façade.
Brain Teaser For IQ Test: It's A Dare For You To Find the Red Ruby Woo Lipstick hidden in Kitchen within 36 seconds. Try Your Luck!
Coming back to the Brain Teaser…
I Am Sure You Are Done!
It Was Easy!
But if you are still struggling with the answer, please look at the picture below to find the mistakes in the image of the attic.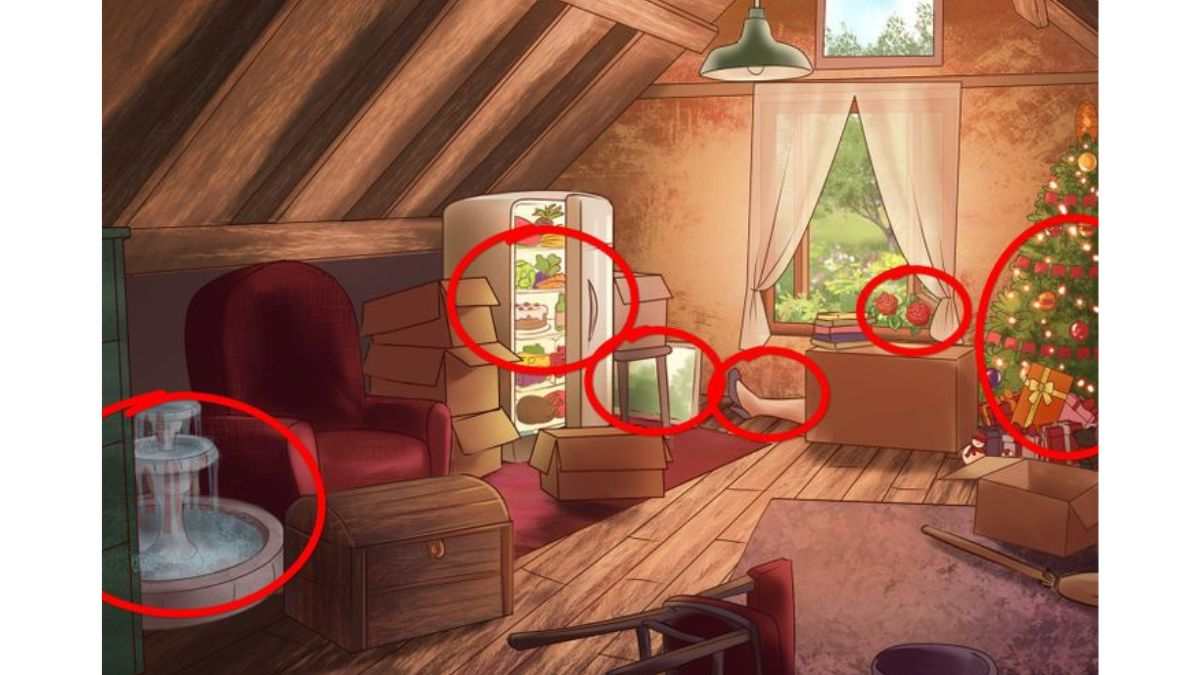 Source: Brightside.com
What's that active fountain doing in the attic?

A fridge full of groceries and bakery items should be kept in the refrigerator.

The scenery needs to be wrapped and kept well.

Whattt! Is that a real women's leg?

That beautiful Christmas tree can elevate the living room.

Roses can look better in the garden than the attic.
It was Fun, right? Bookmark JagranJosh to enjoy more of these, and improve your cognitive, and problem-solving skills and memory sharpness.
Brain Teaser For Fun: Complete Mess! Can you spot all the Hidden Mistakes in this image of Hall within 6 minutes?