Brain teaser puzzles test the reader's critical thinking and problem-solving skills by challenging them to solve a problem. These challenges have the potential to boost intelligence and improve concentration.
A brain teaser challenge mostly involves solving a puzzle, cracking a code, finding a hidden object/ mistake, or detecting the fault in the image.
Regular practise of such challenges helps enhance problem-solving skills and also provides a healthy workout for the brain.
Do you have the sharpest mind among all?
Let's find out!
Also read:
Genius IQ Test: Find the mistake in the family picture in 6 seconds!
Genius IQ Test - Find the Correct Lock in 9 Seconds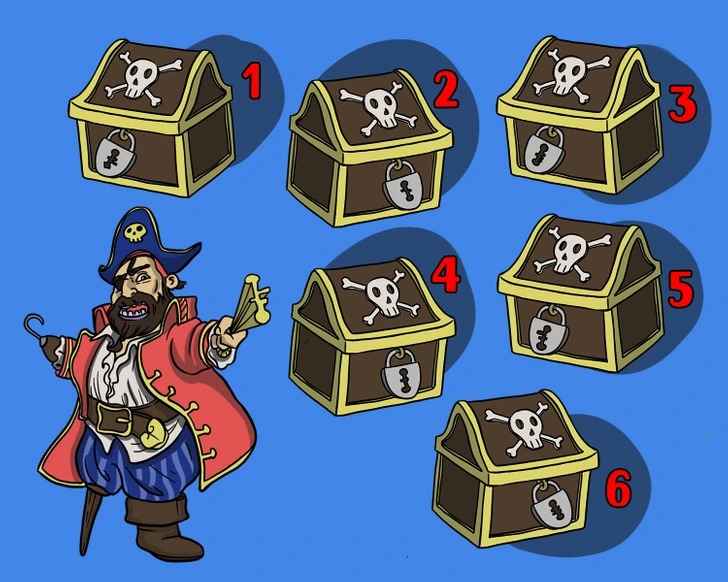 Source: Brightside
In the image shared above, you can see a pirate standing near six different locked treasure chests with a key in his hand.
The challenge for the readers is to find the correct lock for the key.
This brain teaser is going to test your visual and logical thinking skills.
Your time starts now!
Look at the image and study the pattern of the key carefully.
Have you found the correct lock?
Hurry up; time is running out.
And..
Time's up.
Congratulations to those readers who were able to determine the correct lock.
Those who couldn't can scroll below for the solution.
Also read:
Spot 3 differences between the veg sub pictures in 11 seconds!
Find Correct Lock in 9 Seconds: Solution
The correct lock is the one that is placed on the 5th treasure chest.
If you loved solving this brain teaser, share it with your friends and family and see who performs the best.
Also, check out some more cool challenges in our recommended reading section below:
Recommended Reading
You have the sharpest eyes if you can spot the different bird in 5 seconds!
Test your visual acuity by finding a syringe in the operation theatre in 7 seconds!