Coronavirus in India: Cure and Preventive measures
Novel coronavirus is spreading rapidly across other nations, including the US, South Korea, Italy, Iran, India, etc. Coronavirus fears spread in the whole world. On 5 March 2020, Coronavirus cases in India reported up to 29.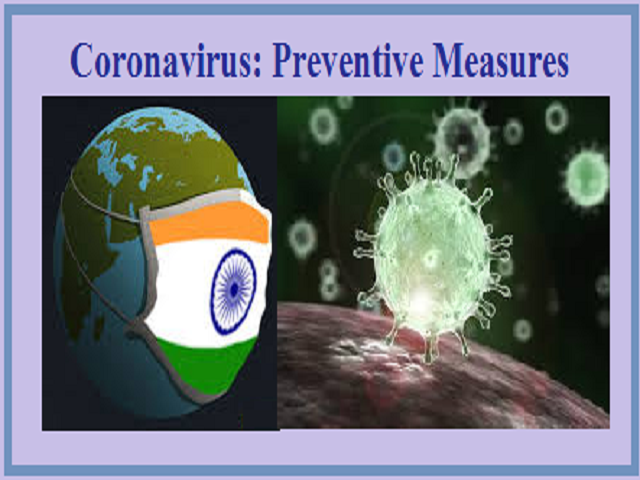 Coronavirus in India: Cure and Preventive Measures
Currently, there is no vaccine to prevent COVID-19. But there are some preventive measures that can be taken to prevent illness. Let us have a look!
As we know that coronaviruses are a large family of viruses, causing illness in people and others that circulate among animals, including camels, cats, and bats. Due to coronavirus more than 3100 people are killed and more than 93,000 are infected around the world.
Coronavirus (COVID-19): Preventive measures
- Regularly wash and clean your hands either with an alcohol-based hand rub or with soap and water. This practice will kill viruses that may be on your hands. According to CDC, wash your hand for at least 20 seconds especially after going to the bathroom; before eating; and after blowing your nose, coughing, or sneezing.
- If anyone is coughing or sneezing, maintain at least 1 metre or 3 feet distance between yourself and that person. The reason behind it is that while coughing or sneezing small liquid droplets spray from nose or mouth which may contain a virus. If there is a minimal gap between you and that person then these small droplets can enter into your body while breathing, including COVID-19 virus if that person has the disease.
- Avoid touching eyes, nose and mouth. It is so because hands touch so many things around us and might be a virus that can be picked up via hands. Once contaminated, the virus can be transferred into your eyes, nose or mouth. Therefore, from there, a virus can enter the body and can make you sick.
What is the impact of Coronavirus on the Indian Economy?
- If you are suffering from fever, cough, and difficulty in breathing then seek medical care as soon as possible. This way you will get proper advice and cure from the doctor and protect you and also help to prevent the spread of viruses and other infections.
Stay home when you are sick because this way you will be able to stop the spread of the virus.
- While coughing or sneezing cover your mouth with a tissue and then throw it in the trash or dustbin.
- Clean and disinfect your home and objects touched by you. Clean it by using a spray or wipe.
- Some recommendations are given by the Centers for Disease Control and Prevention (CDC) for using a facemask:
(i) It is not recommended by CDC that people who are well and wearing a facemask to protect themselves from respiratory diseases, including COVID-19.
(ii) According to the CDC, facemasks should be used by those people who show symptoms of COVID-19 to help to prevent the spread of the disease to others. Facemasks use is also necessary for health workers and people who are taking care of someone in close settings.
-Everyday clean all "high-touch" surfaces like tabletops, bathroom fittings, toilets, phones, tablets, etc. Also, clean those surfaces that may have blood, stool, or body fluids on them. According to the label instructions, use a household cleaning spray or wipe. Wear gloves while using cleaning products and ventilation should also be good.
GK Questions and Answers on Coronavirus (COVID-19)
People who are suspected or confirmed with COVID-19
- Monitor your symptoms and take good health care.
- Stay home to get medical care.
- Stay away from people and animals at your home.
- Do not share your personal household items.
- Clean your hands often.
- Cover your cough and sneezes.
- If necessary then only allow visitors at home.
- Wear disposable gloves while handling solid items. It is also important that all disposable items like facemasks, disposable gloves, and other contaminated items in a lined container before disposing of them with other household waste. Clean or sanitise your hands immediately after throwing these items.
- Remember to wash your hands immediately, if they are visibly dirty.
How to cope up with stress during the coronavirus outbreak?
- During a crisis, it is normal to feel sad, stressed, confused, scared or angry. In this situation, it is recommended by WHO that talk to people, friends, and family.
- Maintain a healthy lifestyle at home like proper diet, sleep, exercise and social contacts with loved ones at home and via email and phone with other family and friends.
- To deal with the emotions, don't use alcohol, smoking or other drugs. It will be better to talk to a health worker or counsellor. Generate a plan about how to seek help for physical and mental health needs if required.
- For taking precautions, gather and try to grasp all necessary information required to lower the risk of the disease.
- Don't spend much time watching or listening to media coverage and getting upset.
- Draw skills that you have used in the past that may help you to manage your stress level and use these skills as much as you can at the challenging time of this outbreak.
Now you may have come to know about the precautions or preventive measures that can be taken for COVID-19.
Coronavirus (COVID-19): Origin, Symptoms, Types and Infected countries