What is DNA Technology Regulation Bill 2018?
DNA Technology Regulation Bill 2018 allows regulated use of genetic information to establish the identity of various categories of persons like offenders, suspects, undertrials etc. What are the features of DNA technology Bill, what is DNA technology, recombinant DNA technology, how it works, uses of DNA technology, what is DNA etc. Let us study through this article.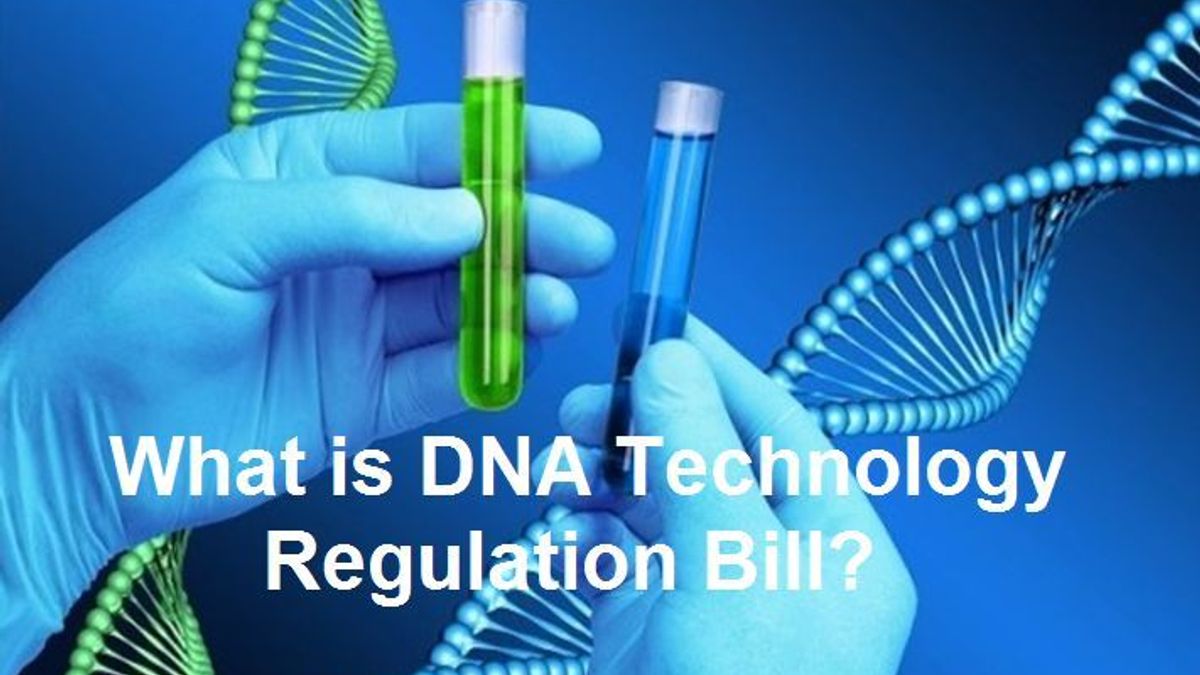 What is DNA Technology Regulation Bill 2018?
As we know that Lok Sabha has passes DNA Technology Regulation Bill 2018 to establish the identity of persons in criminal matters listed and civil matters. The Bill provides the regulation and application of DNA technology for establishing the identity of persons indulged in several crimes and also includes offenders, victims, suspects and undertrials etc.
Do you know that the idea for a DNA Bill was first advanced by the Department of Biotechnology (DBT) in 2003 at the time of Atal Behari Vajpayee as Prime Minister? Also, four years later, a DNA Profiling Advisory Committee put together by DBT had drafted the Human DNA profiling Bill and series of changes took place till 2012. Then in January 2013, the government had created a committee to examine the 2012 draft. This draft finished in 2014 and circulated it within the Ministry of Science and Technology. In January 2015 it was further sent to the Legislative Department of the Ministry of Law and Justice.
Key features of the DNA Technology Regulation Bill 2018
- The Bill regulates the use of DNA technology for establishing the identity of persons in respect of matters which are included in the IPC 1860, as well as offences under other laws such as the Immoral Traffic (Prevention) Act 1956, the Medical termination of Pregnancy Act, 1971, the Protection of Civil Rights Act, 1955 and the Motor Vehicles Act, 1988 and for civil matters like emigration or immigration, parentage disputes, transplantation of human organs etc.
- A DNA Regulatory Board will be established for analysing the samples of DNA to establish the identity of an individual.
- A National DNA Data Bank and Regional DNA Data Bank will be established which will maintain the following indices like crime scene index, suspects or undertrials index, offenders index, missing persons index and unknown deceased persons index.
Note: There are two major components in the Bill in discharging the specific duties. They are DNA databanks and the DNA Regulatory Board. There will be two kinds of databanks: a national data bank and multiple regional data bank.
What is the difference between DNA and RNA
- The Regulatory Board will comprise 12 members. Some of them will be expert in the field of biological sciences; some are the director-general of the National Investigation Agency, the directors of CBI, the heads of the Centre for DNA Fingerprinting and Diagnostic etc.
- For collecting the samples of DNA written consent of the individual is required. But for offences with punishment of more than seven years of imprisonment or death consent is not required.
- The Bill provides for the removal of DNA profiles of suspects on filing of a police report or court order, and of undertrials on the basis of a court order.
- In identifying missing persons and in criminal investigations DNA profiling will be used and for that also consent of the individual is required.
- DNA laboratories are required to share DNA data with the Data Banks. But in the bill it is not cleared that DNA profiles for civil matters will also be stored in the Data Banks. As, storage of these profiles in the Data Bank may violate the right to privacy.
- DNA profiles are prepared by the DNA laboratories and then they share it with DNA Data Bank. All the processes by which DNA profiles may be removed from the Data Banks are also specified in the Bill.
- The bill will speed the process of the delivery of the justice and an increased conviction rate.
- It will help in cross-matching the persons who have been reported missing; establish the identity of victims in mass disasters etc.
- Forensic DNA profiling will help in solving cases that are categorised in affecting the human body like murder, rape, human trafficking etc., against property also like theft, burglary etc.
Some fears are also there for the misuse of this bill and it is that DNA technology could be misused by the investigative agencies while collecting DNA samples. So, proper precautions should be taken and DNA should be collected under the provisions mentioned in the DNA Bill.
What is DNA?
DNA is a deoxyribonucleic acid and is a hereditary material in all living organism. It is located in the nucleus of cell which is known as nuclear DNA. But small amount of DNA is also found in the mitochondria known as mitochondrial DNA and carries the genetic information.
Therefore, we can say that Deoxyribonucleic acid or DNA is a molecule that contains the instructions of an organism which needs to develop, live and reproduce. These instructions are found in every cell and are passed down from parents to their children.
Note: DNA was first observed by a German biochemist named Frederich Miescher in 1869. Further James Watson, Francis Crick, Maurice Wilkins and Rosalind Franklin find out the structure of DNA - a double helix and can carry biological information. For this Watson, Crick and Wilkins were awarded with the Nobel Prize in Medicine in 1962.
How Genetics define the hereditary characteristics of human?
What is DNA Technology?
DNA Technology is a series of procedures used to join together or recombine together the segments of DNA. Then, a recombinant DNA is constructed or recombined from 2 segments or more. Also, under certain conditions, a recombinant DNA molecule can enter a cell and replicate there on its own and integrated into a chromosome.
No doubt this technology has revolutionised the modern science. DNA or an organism's genetic material is inherited from one generation to another and give certain clues that unlocked the certain mysteries behind the human behaviour, disease, evolution, aging etc. Therefore, DNA technology includes cloning, PCR, recombinant DNA technology, DNA fingerprinting, gene therapy, DNA profiling etc.
Recombinant DNA technology impacted various fields from medicine to agriculture. Genetically altered plants are also created by the help of this technology and due to it they withstand harsher environmental conditions and pesticides to yield larger crops. It also advances medicines like treatment for cancer, production of insulin, other vaccines etc. It is also used in the field of animal husbandry which led to the development of transgenic animals and clones.
So, the discovery of DNA technology revolutionised the development in Biological science and led to a series of changes. It has generated new opportunities whether in medicines, diseases etc.
GK descriptive Questions and Answers on Biotechnology