All about Firoz Shah Tughlaq- History, Life, Tenure and Achievements
Firoz Shah Tughlaq was a Turkish leader who was born in 1309 and was in power in Delhi from 1351 to 1388. Ghiyasuddin Tughlaq was the first ruler of this dynasty. Know all about him and Delhi Sultanate here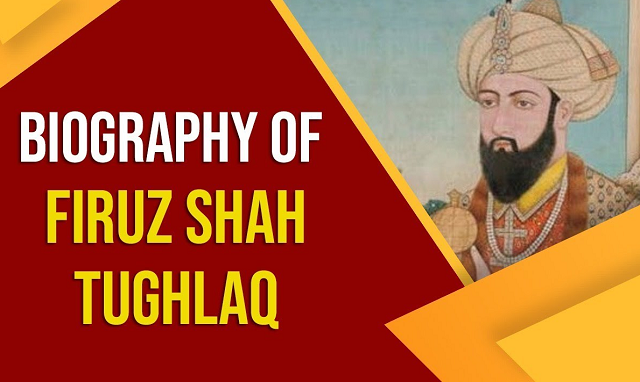 Firoz Shah Tughlaq
Firoz Shah Tughlaq: Life
Firoz Shah Tuglaq was a Turkish leader who was born in 1309. He ruled Delhi from 1351 to 1388. He was the son of a Hindu princess from Dipalpur and his father's name was Rajab.
Rajab was the younger sibling of Ghazi Malik who carried the title of Sipahsalar to the dynasty. Take a look at the timeline of the rulers of the Tuglaq Dynasty.
The Tughlaq Dynasty
Ghiyasuddin Tughlaq
1320-24 AD
Muhammad Tughlaq
1324-51 AD
Firoz Shah Tughlaq
1351-88 AD
Mohammad Khan
1388 AD
Ghiyassuddin Tughlaq Shah II
1388 AD
Abu Baqr
1389-90 AD
Nasiruddin Muhammad
1390-94 AD
Humayun
1394-95 AD
Nasiruddin Mahmud
1395-1412 AD
Firoz Shah Tughlaq's tenure:
He was the third ruler of Tughlaq dynasty after the death of Mohammad-bin Tughlaq.
Mohammad-bin Tughlaq Son of Ghiyasuddin Tughlaq ascended the throne in 1325.
He passed away in Thatta while battling in Sindh against Taghi, a Turkish slave.
After his demise the nobles and specialists at the court chose Muhammad's cousin Firoz ShahTughlaq as the next Sultan, in 1351.
He wrote his autobiography called Futuhat-e-firozshahi. We have most of the information from this.
Firoz Shah Tughlaq's Rule
Firoz Shah was majorly dependent on his commander, Malik Maqbul (who accepted Islam after he was arrested).
Sultan used to call him khan-i-jahan which meant real ruler.
Malik acted as a ruler when Firoz Shah went on expeditions.
He chose not to reconquer territories that had split away to keep other regions from taking their autonomy.
He gave various imperative concessions to the scholars and boycotted practices which the standard scholars considered un-Islamic.
He barred the Muslim females from going out to pray at the graves of holy people.
He is said to have mistreated various Muslim groups which were viewed as unorthodox by the scholars.
Firoz provided the principal of inheritance to the armed forces. Officers were permitted to rest and enjoy and send their children to the army on their place. The officers were not paid in real money but through land revenue income of towns. This novel strategy of installment prompted numerous misuses.
He destroyed Hindu temples, their books and literature. The Islamic literature was translated to either Sanskrit or Persian language.
Firoz Shah Tughlaq: Achievements
He worked majorly in the development of infrastructure such as schools, hospitals, river canals, reservoirs, rest houses etc.
He established an office for poor and deprived individuals called Diwan-i-Khairat
He established a department of slave known as Diwan-i-Bundagan
He made the Iqtadari framework hereditary.
He is known to have established four new towns- Firozabad, Fatebabad, Jaunpur and Hissar.
He imposed Jaziya on the Brahmins for the first time.
He established several hospitals calling them as Darul-Shifa, Bimaristan or Shifa Khana, in Delhi.
He constructed waterways for watering system from:
Yamuna to the city of Hissar
the Sutlej to the Ghaggar
the Ghaggar to Firuzabad
Mandvi and Sirmour Hills to Hansi in Haryana.
Firoz Shah breathed his last in 1388 and the Tughlaq dynasty could not find its stand after him. He was the last known leader of the dynasty which was overcome after him.
Also Read| Jews vs Arabs in Israel: What made the two communities rise up against each other?
Israel- Palestine Conflict: Major reasons, history, timeline of events and recent updates here