History of Modern India: Complete Study Material
Here, we have compiled a comprehensive study material on History of Modern India with five major chapters like Decline of Mughal and Maratha Empire, Rise of the Regional States and European Power, British Paramountcy and Acts, 18th Century Revolts and Reform, and Indian National Movement. All the topics under each chapter are covered in detail in the form of Study notes.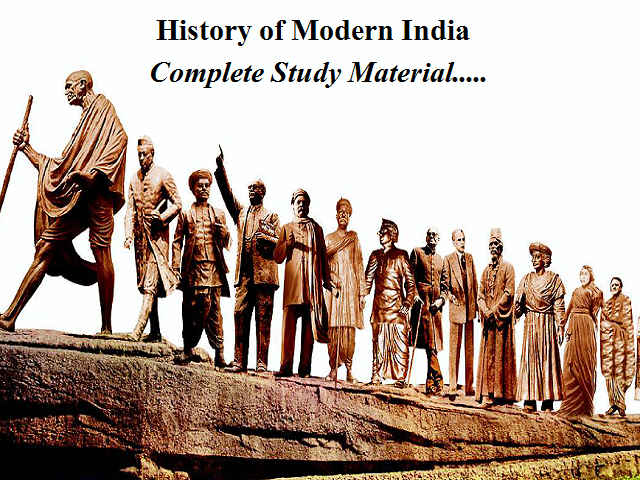 Indian History
"History of Modern India" topic as a part of History is a very important section as far as the Syllabus of any competitive examination is possible, especially Civil Services exams.
Keeping the Importance of this topic in mind, we have compiled the study material of "History of Modern India" into 5 Sections for better understanding of the stages of development in Modern India, why certain events happened and analysis of the consequences of such developments that paves an impact on our society, economy and our political system.
In this Study Material we cater the requirements of not only the school going students but also for those who are pursuing their degree courses and even for those who are preparing for competitive examination.
History of Modern India Complete Study Material
1. Modern History: Decline of Mughal and Maratha Empire
1.1 Successors of Mughal: Detailed Overview
1.2 Chhatrapati Shivaji Maharaj: History |Biography| Administration
1.3 The Successors of Shivaji
1.4 Maratha Administration
1.5 Peshwas under Maratha Empire: Detailed Overview
1.6 List of Officers in Mughal Administration
2. Modern History: Rise of the Regional States and European Power
2.1 History of the Punjab | Sikh Warrior
2.2 History of Rajputs: Rajput Provinces of India
2.3 History of Mysore State
2.4 The Awadh | Historic Region of Northern India
2.5 Independent Rulers of Bengal during 17th Century
2.6 History of Hyderabad State & Nizams of Hyderabad
2.7 History of Jats State during 17th Century
2.8 Establishment of the Portugal Dominion
2.9 Establishment of the Dutch Dominion
2.10 Arrival of the French and establishment of French East India Company
2.11 Arrival of the British & Establishment of British East India Company
3. Modern History: British Paramountcy and Acts
3.1 Battle of Buxar: Its Causes and Consequences
3.2 Key Points on Subsidiary Alliance
3.3 Doctrine of Lapse: Meaning, Objective & its Impact
3.4 The Regulating Act, 1773: Key Features
3.5 Key features of Pitt's India Act of 1784
3.6 Charter Act of 1793: Importance & its key Features
3.7 Features of the Charter Act of 1813
3.8 Main features of The Charter Act of 1833
3.9 Charter Act of 1853: Main features
3.10 Government of India Act 1858: Key Features
3.11 Indian Council Act of 1861
3.12 Main Features of Indian Council Act 1892
3.13 Indian council act 1909 | Minto-Morley Reforms: Main Features
3.14 Government of India Act 1935: Main Features
3.15 Government of India Act, 1919 | Montagu-Chelmsford Reforms: Main Features of the Act
4. Modern History: 18th Century Revolts and Reform
4.1 Ramakrishna Mission and Vivekananda: Contribution in Social Reform
4.2 Ishwar Chandra Vidhya Sagar: Ideas and Teachings
4.3 Vivian Derozio | Young Bengal Movement: Ideas, Objectives and Teaching
4.4 Ram Mohan Roy| Brahmo Samaj: Significance & Objectives
4.5 The Revolt of 1857: Causes, Nature, Importance and Outcomes
4.6 Social Legislation under British Rule
4.7 Reform Movements in Southern India
4.8 Reform Movements in Western India
4.9 Syed Ahmad Khan | Aligarh Movement: Consequences & Objectives
4.10 Muslim Socio-Religious Movements in India
4.11 Theosophical Society: Roles and Features of the movement in India
5. Modern History: Indian National Movement
5.1 Development of Education during British Period in India
5.2 Development of Indian Press during British Rule in India
5.3 Indian National Congress: Sessions, Contributions & Resolutions
5.4 Jallianwala Bagh Massacre: Causes & its Impact
5.5 The Moderate: Meaning and their Works
5.6 The Extremist and Partition of Bengal
5.7 Formation of Muslim League and its Objectives
5.8 Anti-Rowlatt Satyagraha
5.9 Swadeshi Movement and its impact on India
5.10 The Anarchical and Revolutionary Crime Act, 1919
5.11 Non-Cooperation Movement |Khilafat Movement: Causes & Results
5.12 Aims of Swaraj Party and its Work
5.13 Muddinman Committee (1924)
5.14 Butler Committee
5.15 The Simon Commission: Report & Recommendations
5.16 Key Features of Nehru Report
5.17 Jinnah's '14 Points'
5.18 Civil Disobedience Movement
5.19 Gandhi-Irwin Pact
5.20 Communal Awards & Poona Pact
5.21 August Offer
5.22 Individual Satyagraha
5.23 Cripps Mission
5.24 Quit India movement
5.25 Subhas Chandra Bose and INA (Azad Hind Fauz)
5.26 Rajagopalachari Formula (1944 AD)
5.27 Desai - Liaquat Proposals (AD 1945)
5.28 Wavell Plan and Shimla Conference
5.29 Cabinet Mission Plan: Impact & Purpose
5.30 Interim Government: First Government of Independent India
5.31 The Constituent Assembly of India: Features & its Committees
5.32 Indian Independence Act 1947|Lord Mountbatten Plan: Main Features
Apart from this, you can refer to the following study material about Indian History:
If you like this Study Material Please share it with your friends and feel free to share your feedback.