Important Passes in India
A mountain pass is a navigable route through a mountain range or over a ridge. Passes have played a key role in trade, war, and both human and animal migration throughout history. Let us have a look at some important passes in India.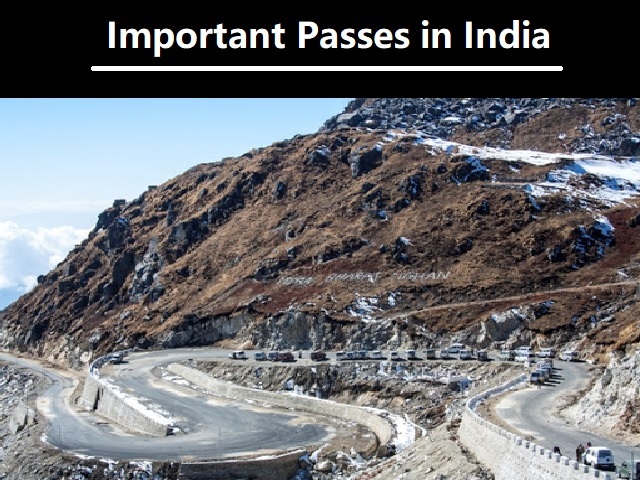 Important Passes in India
Mountain Passes are often found just above the source of a river, constituting a drainage divide. A pass may be very short, consisting of steep slopes to the top of the pass, or maybe a valley many kilometers long, whose highest point might only be identifiable by surveying.
Some of the most important passes in the country are Zoji La (Pass), Banihal Pass, Shipki La (Pass), Bara-Lacha Pass, Rohtang Pass, Mana Pass, Niti Pass, Nathu La (Pass), Jalap La (Pass).
Important Passes in India
• Zoji La (Pass)-It is in the Zaskar range of Jammu & Kashmir. The road route from Srinagar to Leh goes through this pass. It has been created by the Indus River.
• Banihal Pass-Banihal Pass is a mountain pass across the Pir Panjal Range at a maximum elevation of 2,832 m. It connects the Kashmir Valley in the union territory of Jammu and Kashmir to the outer Himalayas and the plains to the south. In the Kashmiri language, "Banihāl" means blizzard.
• Shipki La (Pass)-Shipki La is a mountain pass and border post with a dozen buildings of significant size on the India-China border. The river Sutlej enters India near this pass.
• Bara-Lacha Pass- Bara-lacha la also known as Bara-lacha Pass, is a high mountain pass in the Zanskar range, connecting Lahaul district in Himachal Pradesh to Leh district in Ladakh, situated along the Leh–Manali Highway.
• Rohtang Pass-It is a high mountain pass on the eastern end of the Pir Panjal Range of the Himalayas around 51 km from Manali. It connects the Kullu Valley with the Lahaul and Spiti Valleys of Himachal Pradesh, India.
• Mana Pass-The pass is one of the highest vehicle-accessible passes in the world, containing a road constructed in the 2005-2010 period for the Indian military by the Border Roads Organisation. Mana Pass is the last point between India and China Border.
• Niti Pass-The Niti Pass located at 5800 meters connects India with Tibet. The pass is located in Uttarakhand.
• Nathu La (Pass)-Nathu La is a mountain pass in the Himalayas in East Sikkim district. It connects the Indian state of Sikkim with China's Tibet Autonomous Region. Nathu means "listening ears" and La means "pass" in Tibetan.
• Jalep La (Pass)-Jelep La or Jelep Pass, elevation 4,267 m or 13,999 ft, is a high mountain pass between East Sikkim District, Sikkim, India and Tibet Autonomous Region, China. It is on a route that connects Lhasa to India.
Mountain Passes in India
| | | | |
| --- | --- | --- | --- |
| Name | State | Height (ft) | Between/ Separating |
| Asirgarh | Madhya Pradesh | | |
| Auden's Col | Uttarakhand | 17,552 | |
| Banihal Pass | Jammu and Kashmir (Jammu, Kashmir) | 9,291 | Jammu & Kashmir |
| Bara-lacha-la | Himachal Pradesh | 16,400 | |
| Bomdila | Arunachal Pradesh | | |
| Changla Pass | Jammu and Kashmir (Ladakh) | 17,585 | Leh & Changthang |
| Chanshal Pass | Himachal Pradesh | 14,830 | |
| Dehra Compass | Jammu and Kashmir (Ladakh) | | |
| Debsa Pass | Himachal Pradesh | 17,520 | |
| Diphu Pass | Arunachal Pradesh | 4,587 | |
| Dongkhala | Sikkim | 12,000 | |
| Dhumdhar Kandi Pass | Uttarakhand | | |
| Fotu La | Jammu and Kashmir (Ladakh) | 13,451 | |
| Goecha La | Sikkim | 16,207 | |
| Haldighati Pass | Rajasthan | | |
| Indrahar Pass | Himachal Pradesh | 14,473 | |
| Jelep La | Sikkim | 14,300 | |
| Khardung La | Jammu and Kashmir (Ladakh) | 17,582 | Leh & Nubra |
| Kongka Pass | Jammu and Kashmir (Ladakh) | 16,965 | Ladakh & Aksai Chin |
| Lanak Pass | Jammu and Kashmir (Ladakh) | 17,933 | Ladakh & Tibet |
| Kunzum Pass | Himachal Pradesh (Lahaul and Spiti) | 14,931 | Lahaul & Spiti |
| Karakoram Pass | Jammu and Kashmir (Ladakh) | | Ladakh & Xinjiang |
| Lipulekh Pass | Uttarakhand | 17,500 | |
| Lungalacha La | Jammu and Kashmir (Ladakh) | 16,600 | |
| Lamkhaga Pass | Himachal Pradesh | 17,336 | |
| Marsimik La | Jammu and Kashmir (Ladakh) | 18,314 | |
| Mayali Pass | Uttarakhand | 16,371 | |
| Nama Pass | Uttarakhand | 18,399 | |
| Namika La | Jammu and Kashmir (Ladakh) | 12,139 | |
| Nathu La | Sikkim | 14,140 | Sikkim & Tibet |
| Palakkad Gap | Kerala | 750 | Kerala & Tamil Nadu |
| Thamarassery Pass | Wayanad Kerala | 1,700 | Malabar & Mysore |
| Shenkottai pass | Kollam Kerala | 690 | Travancore & Tamil Nadu |
| Pensi La | Jammu and Kashmir (Ladakh) | | |
| Rezang La | Jammu and Kashmir (Ladakh) | | |
| Rohtang Pass | Himachal Pradesh | 13,051 | Manali & Lahaul |
| Sasser la | Jammu and Kashmir (Ladakh) | 17,753 | Nubra & Siachen Glacier |
| Sela Pass | Arunachal Pradesh | 14,000 | |
| Shipki La | Himachal Pradesh | | |
| Sia La | Jammu and Kashmir (Siachen Glacier) | 18,337 | |
| Shingo La | Jammu and Kashmir (Ladakh) | | |
| Spangur Gap | Jammu and Kashmir (Ladakh) | | |
| Gyong La | Jammu and Kashmir (Siachen Glacier) | 18,655 | |
| Bilafond La | Jammu and Kashmir (Siachen Glacier) | 17,881 | |
| Sin La | Uttarakhand | | |
| Tanglang La | Jammu and Kashmir (Ladakh) | 17,583 | |
| Traill's Pass | Uttarakhand | 17,100 | |
| Zojila Pass | Jammu and Kashmir (Kashmir, Ladakh) | 12,400 | Kashmir & Ladakh |