Indian Railways eco-friendly initiative: All you need to know
Do you know that Indian Railways is going to take an eco-friendly initiative and that is to ban single-use plastic materials on Railway premises including trains from 2nd October? Let us read more about this.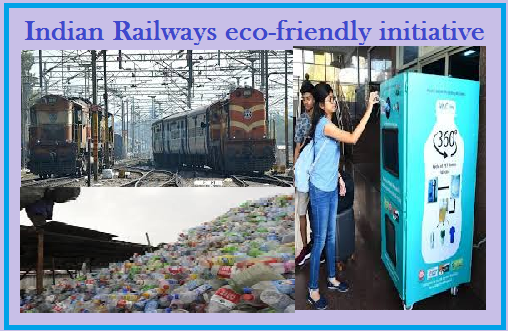 Eco friendly Indian Railways initiative
Ban of single-use plastic decision has been taken by the Prime Minister Narendra Modi's Independence Day speech where he urged and explained the need to eliminate single use of plastic in India from 2nd October.
No doubt this step of Indian Railways is bio eco-friendly which will minimise the generation of plastic waste. In a press release Railways Ministry directed all the Railway units across the country to ban single-use plastic material with less than 50 micron thickness and it will be effect from 2nd October, 2019.
Instructions issued by the Railway Ministry for the same are mentioned below:
- Single use plastic material is ban by Indian Railways.
- Vendors of Indian Railways have been directed to avoid the use of plastic carry bags.
- Even the employees of Indian Railways are also directed to reduce, reuse and refuse plastic products.
- To reduce plastic footprint vendors have been asked to use inexpensive reusable bags.
What are Broad Gauge, Metre Gauge and Narrow Gauge in Indian Railway?
- IRCTC would implement the practice of return of plastic drinking water bottles as part of Extended Producer Responsibility.
- At Indian Railway Stations and Premises, plastic crushing bottles will be provided.
- According to the Railway Board, in the first phase 1,853 plastic water bottle crushing machines will be installed at 360 major stations.
Harmful effects of Plastic
- Plastics are non-biodegradable that is they last forever. In fact, it is said that 33 percent of all plastic like water bottles, bags and straws are used just once and thrown away.
- Plastics affect the health of human beings. The toxic chemicals present in the plastic affects our health. They expose in our blood and tissues and causes cancers, birth defects, impaired immunity, endocrine disruption etc.
- Do you know that plastics spoil the groundwater? In United States thousands of landfills are buried inside the earth and the toxic chemicals from plastics drain out and seep into the groundwater, in lakes and rivers.
- Chemicals in the plastics give them rigidity or flexibility and on the other hand we can say that these chemicals are oily poisons that repel water and stick to petroleum based objects like plastic debris. Therefore, toxic chemicals that come out from plastics accumulate on other plastics. So we can say that plastic attracts other pollutants.
- Plastic nowadays also affecting and threatening wildlife. Animals eat plastic as a food and feed it to the young ones as plastic found littered in extremely remote areas of the Earth.
- Plastic affects our food chain. Planktons, tiniest creatures in the oceans eat microplastics and absorb hazardous chemicals. And larger animals eat smaller ones and indirectly consuming plastic. In this way plastic poisons the food chain.
No doubt, everything whether tourism, recreation, business, the health of humans, animals etc. all suffer due to plastic pollution. Plastic in humans are causing serious illness which at a time is not curable. Therefore, from 2nd October, Indian Railways is taking a good step but it will be successful when we will support them not only in Railways but also in our daily life. We should reduce, reuse and refuse plastic products.
Train 18, 2nd Vande Bharat Express: All you need to know
Indian Railways Suvidha Train: Ticket booking, Ticket Cancellation and Refund Rules