IPL 2023 Live Cricket Score: CSK vs GT Final Match Scorecard CSK win by five wickets
Live Cricket Score: Batting first, GT scores 214/4. Check the live score and updates of the thrilling match between Chennai Super Kings and Gujarat Titans in the IPL 2023 finals.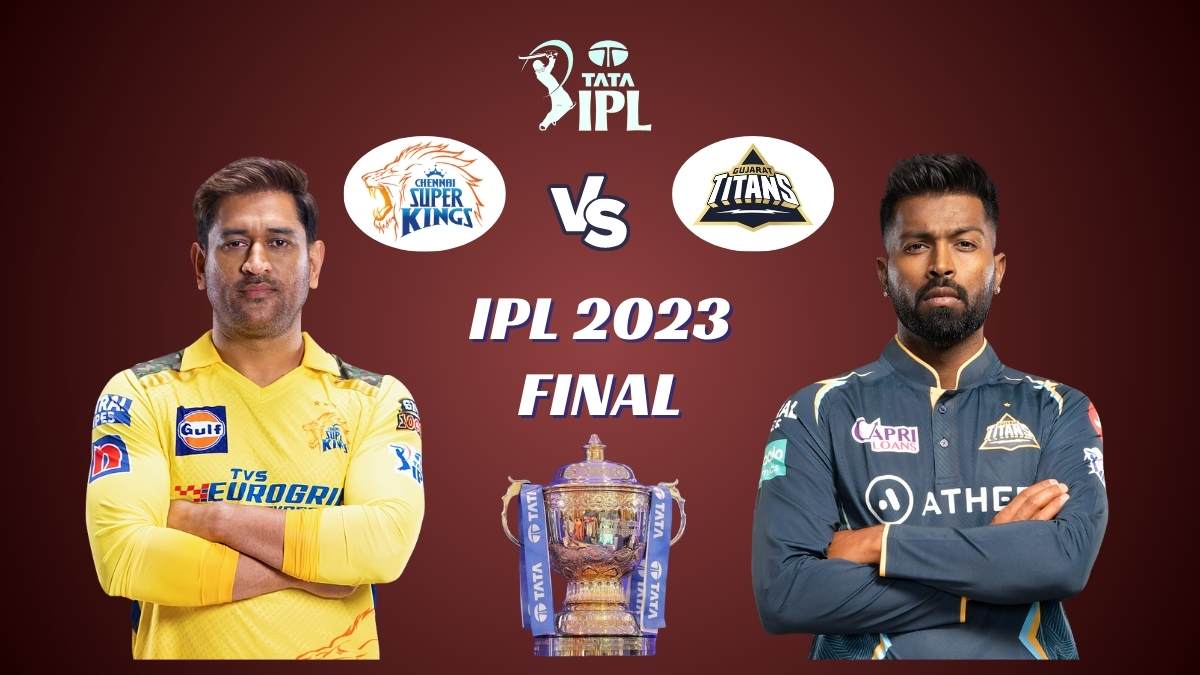 Get here live cricket score updates for IPL Final Match between CSK vs GT
IPL fans are eagerly awaiting the thrilling final match between Chennai Super Kings (CSK) and Gujarat Titans (GT) in the IPL 2023 tournament. As the excitement builds up, cricket enthusiasts around the world are searching for the latest updates and live scores of this highly anticipated match. Here, we provide you with all the necessary information to stay updated with the CSK vs GT final match scorecard, along with live updates for runs, wickets, stats, and records.
IPL 2023 has witnessed some exhilarating cricket matches, and the final showdown promises to be no exception. With the top two teams battling it out for the coveted IPL title, fans can expect a thrilling encounter filled with breathtaking moments.
CSK vs GT- Live Match
The Final Resumed at 12:10 AM
Chennai Super Kings Win by Five Wickets
Mohit Sharma began the final over with four masterful deliveries but faltered on the last two. That was all Jadeja needed to capitalise. The CSK finisher hit a six and a four off the last two balls to win Chennai Super Kings its fifth IPL title.
Updated as on May 30 at 1:55 AM
CSK and GT remain toe-to-toe: 150/5 (12 overs)
Mohit Sharma turned the tide for GT with two consecutive wickets of Ambati Rayudu and MS Dhoni. However, Jadeja and Dube still remain on the field.
Updated as on May 30 at 1:20 AM
CSK is edging towards their fifth IPL title: 112/2 (10 overs)
GT bowlers except Noor Ahmad, are providing negligible resistance to CSK. Ajinkya Rahane is going for the big shots as Shivam Dube finds his form.
Updated as on May 30 at 1:00 AM
CSK after strategic timeout: 72/0 (6 overs)
GT bowlers Noor Ahmad and Josh Little delivered good spells after the powerplay but CSK openers Gaikwad and Conway maintain the required run rate.
Updated as on May 30 at 12:36 AM
CSK is well-ahead after the powerplay.
Gaikwad and Conway began hitting boundaries from the start and registered an incredible 52/0 total in the powerplay of 4 overs.
CSK openers Ruturaj Gaikwad and Devon Conway came to bat again and showed no intentions of pacing the game.
The IPL 2023 final between CSK and GT resumed after a two-hour delay.
Updated as on May 30 at 12:26 AM
Match paused from rain!
It was the start of Chennai's innings with Gaikwad and Conway on the crease, and Mohammad Shami on attack. 3 balls in and Chennai had scored a boundary. Unfortunately, rain pelted down unexpectedly and the match had to pause.
Updated as on May 29 at 21:59 pm.
GT scores 214/4
The last over of the Titan's innings proved to be the most thrilling as they lost two wickets. Rashid Khan came to the crease after Sudarshan and is declared out in the last ball of the innings.
Updated as on May 29 at 9:19 pm.
Sudarshan OUT!
LBW'd off Pathirana, Sudarshan is out. The batter was in an amazing form today, scoring 96 off 74 balls. Rashid Khan comes in.
Updated as on May 29 at 9:15 pm.
Gujarat crosses 200
With two hard-hitting batsmen, Sudarshan and Pandya on the crease, the Titans cross the 200 runs milestone. The last over of their innings starts with two back-to-back sixes by Sudarshan.
updated as on May 29, at 9:09 pm.
Sudarshan scores 50!

Sudarshan completes his half-century in 33 balls, scoring two consecutive boundaries.
Updated as on May 29, at 8:48 pm.
And OUT again!
Wriddhiman Saha, upon facing a good length ball that pitched on the off stump, attempted a slog shot but ended up getting caught by MS Dhoni off the bowling of Deepak Chahar, resulting in a wicket.
Updated as on May 29 at 8:39 pm.
Shaha completes half-century
Wridhimann Shaha scores 53 off 37 balls. It seems that as long as the opening batsman is on the crease, GT will continue on their rampage.
Updated as on May 29 at 8:34 pm.
GT completes Century
In 11.1 overs, with Shaha and Sudarshan at the crease, the Titans cross the century milestone, with the loss of one wicket only. Shaha continues to be a challenge for CSK's bowlers.
Updated as on May 29 at 8:23 pm.
And OUT!
Wicket-keeper Dhoni comes to CSK's rescue, stumping Shubman Gill. Dhoni takes his 300th wicket in his 250th IPL match.
Updated as on May 29 at 8:05 pm.
GT completes Half-century
Opening bastmen Gilla and Shaha have the half-century milestone for the titans in just 32 balls.
Updated as on May 29 at 7:59
CSK vs GT: Shaha and Gill Shine
GT's opening duo Shaha and Gill shine brightly, scoring multiple boundaries in a single over. Shubhman Gill is now the second highest run scorer in IPL 2023.
Updated on May 29 at 7:52 pm.
Toss Time!
Captain Dhoni won the toss and decided to field. Gujarat Titans will bat first when the match begins at 7:30 pm.
Updated as on May 29 at 7:02 pm.
Get the Latest Updates Here
GT- 214/4
20th over summary: Pathirana takes over the last over of GT's innings, giving away two consecutive sixes. delivering a yorker ball that pitched on the middle stump, Sudharsan played an on drive on the front foot. However, his shot resulted in a wicket as he was declared LBW by the umpire. GT made an appeal and Sudarshan is out. Rashid Khan comes in, tries to hit a boundary on the last ball and is caught by Ruturaj Gaikwad. GT finishes 214/4.
19th over summary: Pandya greets Deshpande with an impressive six. Pandya scores another six, ending the second-last over of Gujarat's innings with 200/2.
18th over summary: Pathirana is on attack. Sudarshan's and Pandya's partnership reaches 45 off 20 balls. The score is 181/2 with a current rate of 10.6. If the momentum of the Titans continues like this, they will reach a score of 200+.
17th over summary: Tushar Deshpande takes over, giving four consecutive boundaries, a six and three fours, to Sudarshan. A really expensive over for Chennai as GT gets 20 runs in a single over. The score reaches 173/2.
16th over summary: Pathirana comes in. Sudarshan completes his half-century in 33 balls. Two consecutive boundaries given by Pathirana. the score is 153/2.
15th over summary: Only two sixes scored in this over, both by Sudharshan. The score is 143-2.
Captain Hardik Pandya arrives on the crease, Theekshana is on attack.
14th over summary: Chahar gives an economical over, providing a much-needed relief for Chennai. Saha is out c Dhoni b Chahar. The score is 131/2.
Deepak Chahar takes over from Jadeja .
13th over summary: Jadeja is on the attack. Shaha completes his half-century. The score is 124/1.
12th over summary: Matheesha Pathirana gives two wide and two boundaries to the Titans. An expensive over for Chennai. GT is at 108/1.
11th over summary: Jadeja comes in and Saha scores a cut shot of 4 runs on the first ball. The overall score is 96/1.
10th over summary: Maheesh Theekshana bowls to Sudarshan and Shaha. No boundaries scored this over. The score is 86/1.
9th over summary: GT's run rate is affected after Gill's wicket. Only one boundary scored. The score is 80/1.
Ravindra Jadeja takes the ball again.
8th over summary: GT is at 72/1.
Sai Sudharsan arrives at the pitch. CSK's Maheesh Theekshana takes over the bowling.
7th over summary: Shubman Gill is out, toppled by Dhoni. GT is at 67 with 1 loss.
Ravindra Jadeja takes the bowling helm.
6th over summary: The score is 62 with no loss.
5th over summary: Saha and Gill cross the half-century milestone is 32 balls, proving to be expensive for CSK's bowlers. The score is 62 with no loss.
4th over summary: Shaha comes in hot, proving to be a challenge for CSK bowlers. GT is at 49 with 0 loss.
3rd over summary: The score is 39/0.
2nd Over Summary: Shaha scores 3 boundaries in the second over, one six and two fours. GT is at 24 with no loss.
First over Summary: Subhman Gill score 2 Runs, along with Shah's 2 Runs.
Saha and Shubman Gill are at the crease. Saha is on strike. Chahar will open the attack.
Read - [Today] IPL 2023 Points Table List: Team Rankings, Net Run Rate and Standings
To ensure you don't miss a single detail of the CSK vs GT final match, we present you with live cricket score updates. Stay tuned to this article as we bring you real-time action, providing ball-by-ball updates and comprehensive match statistics. From runs scored to wickets taken, our live scorecard will keep you informed throughout the game.
As the players battle it out on the field, expect to witness breathtaking sixes, crafty bowling spells, and exceptional fielding moments. We'll be sure to highlight the standout performances and noteworthy records set during the game.
Stay connected with us to experience the excitement of the IPL 2023 final as it unfolds. Whether you're unable to watch the match live or just want to stay updated on the go, our live cricket score updates will ensure you're always in the loop.
Recommended:
Players contesting in most IPL finals
11 - MS Dhoni
8 - Suresh Raina
8 - Ambati Rayudu
8 - Ravindra Jadeja
Most appearances in IPL playoffs
28 - MS Dhoni
24 - Suresh Raina
23 - Ravindra Jadeja
23 - Ambati Rayudu
What happens if it rains on reserve day as well?
The 2023 IPL final between CSK and GT will be played without any restrictions on the reserve day: May 29, 2023.
However, rain is expected for the reserve day as well. If rain makes playing impossible, the game will be forfeited and the team higher up on the points table will be declared the winner.
If the toss happens before 9:35 PM, the match will begin without any reductions in overs. After that, the overs will continue to reduce. There's a chance that the 2023 IPL winner is decided through a super over.
Updated as on May 29, 2023 at 10:35 AM
CONFIRMED! IPL 2023 Final will be played on Monday, May 29, 2023
The #Final of the #TATAIPL 2023 has been moved to the reserve day on 29th May - 7:30 PM IST at the Narendra Modi Stadium, Ahmedabad.

Physical tickets for today will be valid tomorrow. We request you to keep the tickets safe & intact. #CSKvGT pic.twitter.com/d3DrPVrIVD

— IndianPremierLeague (@IPL) May 28, 2023

For the first time in the history of the Indian Premier League, the final will be played on a reserve day. However, rain is expected on May 29 as well.

Updated as on May 28, 2023 at 10:55 PM
---
CSK vs GT Match May Continue Tomorrow if Rain Doesn't Stop
CSK vs GT IPL Final: Rain Continues
It's still raining in Ahmedabad. After a brief pause, heavy showers returned and the pitch was covered again.
There's no confirmation from BCCI regarding the fate of the match, in case the rain doesn't stop.
Updated as on May 28, 2023 at 10:15 PM
CSK vs GT Toss Delayed
The much-anticipated IPL 2023 Final between Chennai Super Kings and Gujarat Titans suffers a slight setback.
The Toss has been delayed due to rain in Ahmedabad, Gujarat.
Updated as on May 28, 2023 at 6:55 PM
Ambati Rayudu Announces Retirement
Long-time CSK regular and veteran player Ambati Rayudu has announced his retirement. The IPL 2023 Final between CSK and GT will be his last match in the tournament.
Rayudu has been instrumental in CSK's recent success.
Updated as on May 28, 2023 at 6:15 PM
Rain has reduced and officials are checking the field. Fans have also begun returning to their seats.
However, more rain is expected on May 29 as well in case the match fails to take place today.
Update: as on May 28, 2023 at 8:35 PM