Union Territory of Jammu & Kashmir: Facts at a Glance
Jammu and Kashmir has become an Union territory since 31 October 2019. So total area of the JK as a UT has been reduced to just 42,241 km2. There will be 29 districts in the Jammu and Kashmir. The legislature will be Unicameral and assembly seats shall be 114, Rajya Sabha seats 4 and Lok Sabha seats 5.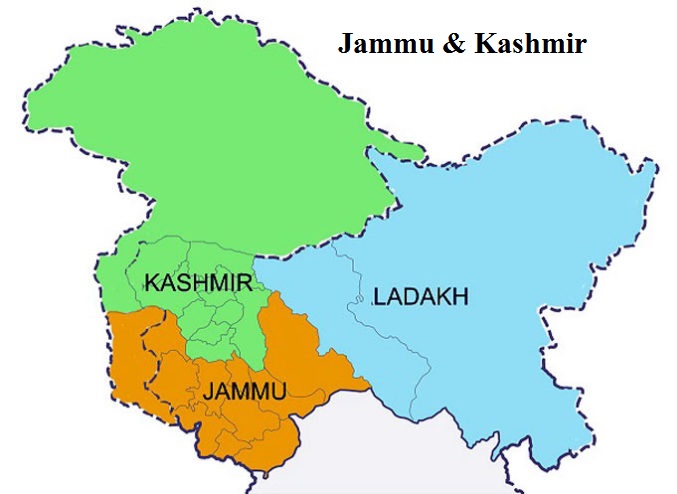 Jammu & Kashmir
Jammu & Kashmir a Union Territory is located primarily in the Himalayan Mountains and shares a border with the states of Himachal Pradesh and Punjab to the south.
The economy of Jammu and Kashmir is primarily services and agriculture-oriented. The horticulture industry is also very developed in the state.
Tourist arrival in the Jammu and Kashmir state stood at 14.32 million in 2017 out of which
79.77 thousand were foreign tourists and 14.24 million were domestic tourists.
Let's read this article to know some exam-oriented facts about the Union Territory of Jammu and Kashmir.
Facts about Jammu & Kashmir:
1. Area

42,241 km2

2. Population

1.24 cr (2011 census)

3.Establishment

26 Oct, 1947 UT:-31 October 2019

4. Principal & Official Languages

The official language of the state is Urdu. Other languages are Kashmiri, Dogri, Pahari, Balti, Ladakhi, Punjabi, Gurji, Dadri

5. Neighboring States

Himachal Pradesh, Punjab

6. Capital

Srinagar (Summer), Jammu (Winter)

7. Members of Parliament

Lok Sabha- 5, Rajya Sabha- 4

8. Legislature

Unicameral, 114 Seats

9. Airports

Jammu, Srinagar

10. Major Cities

Srinagar, Jammu, Anantnag,, Udhampur, Baramula, Sopore, Bandipura and Leh

11. Festivals

Assuj, Lohri, Sinh Sankranti,Bahu Mela In Jammu, Id-Ul-Fitr, Id-Ul-Juha, Milad-Ul-Nabi, Muharram, Hemis in Laddakh

12. Economy Size

Rs. 1.01 lakh crore Budget for 2020-21.

J&K is best known for Horticulture products, Temperate Fruits, Apple, Peach Plum, Cherry, Almond Etc.

Its 80% population is dependent on Agriculture and 45% economic revenue is from Agro-Horticulture sales

13. Literacy

83.45%

14. Districts

20

15.Sex Ratio (as per 2011 census)

880/Thousand male

16. Principal Dances

Rouf (women-romance and heroic), Kudra ( Dogra men), Hemis Gumpa, Chakri

17. Principal Rivers

Indus, Jhelum, Chinab, Ravi and Sindh

18. Principal Minerals

Coal, Copper, Zinc, Lead, Limestone, Bauxite And Lignite, Mica

19.Passes

Zoji la, Pir Panjal, Great Himalaya, Zaskar, Laddakh (little Tibet),

20. Tourist & Historical Places

Apharwat Peak (Gulmarg), Shankaracharya Hill (Srinagar), Dal Lake (Srinagar), Gulmarg Gondola (Gulmarg), Indira Gandhi Tulip Garden (Srinagar), Nigeen Lake (Srinagar), Mughal Gardens (Srinagar), Amarnath Cave (Anantnag), Zojila Pass (Sonamarg),Gulmarg Alpine Guides (Gulmarg).

21.Lakes

Wular, Achal, Dal, Pangong, Moriri, And Kar

22. State density

653 person/ km2

23. Child Sex Ratio

795/ 1000 male Child
It is expected that after the abolition of article 370 (except section 1) the Jammu and Kashmir will be a normal state like others. Now it is expected that real estate companies will start their operations in the J&K and the same thing will be repeated in other sectors as well. So in the near future, the Union Territory of Jammu and Kashmir will experience a rapid round of holistic development.
Article 370 Scrapped: Impacts on Jammu & Kashmir
What is the difference between State and Union Territory in India?