List Of Coal Mines In India
Coal mining is the Extraction of coal deposits from the Earth's surface and from underground. Find out about the list of Coal Mines in India here with the states and categories.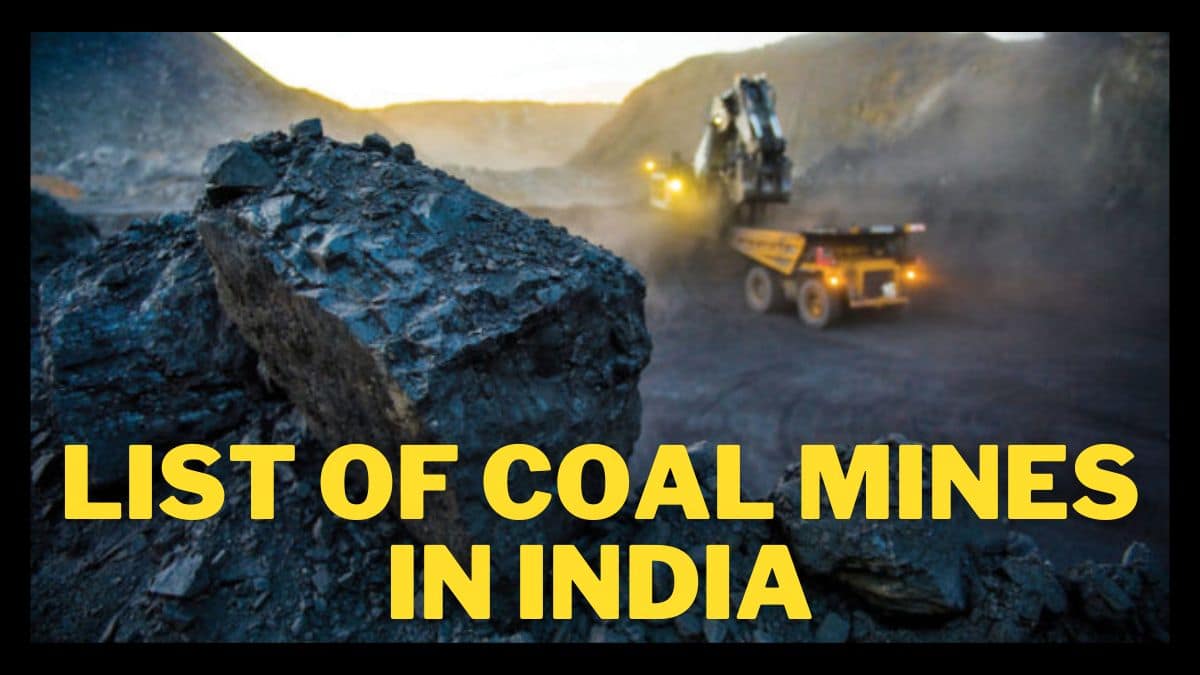 List of major Coal Mines in India
Coal mining: In simple words, Coal mining is the Extraction of coal deposits from the Earth's surface and from underground. Since coal was the primary energy source for fueling the Industrial Revolution, industrial growth led to the large-scale exploitation of coal deposits.
During the late 20th century, open pit mines superseded underground mines as the lead source of coal in the industrial nations.
Due to the advancement of technology, the mining of coal from surface and underground deposits today is a highly productive and mechanized operation.
India's first coal field is Raniganj where coal mining began during the East India Company in 1774.
Since India is rich in ancient hard rocks, it is a reserve of various types of mineral resources.
READ| Who Is Greta Thunberg? Why Was The Swedish Activist Arrested In Germany?
Distribution of coal in India is in the following two categories:
Gondwana Coalfields which are 250 million years old
Tertiary Coalfields are 15 to 60 million years old.
The Gondwana Coalfields-
Makes up 98% of the total coal reserves in India

Makes up 99% of the coal production in India.

Coal from here is free from moisture and contains phosphorus and sulfur.

The carbon content in Gondwana coal is less than the Carboniferous coal that is 350 million years old which is almost absent in India because of its much younger age.
Tertiary Coal Fields-
Its Carbon content is low but still, the coal is rich in moisture and sulfur.

These are mainly confined to extra-peninsular regions

Some major areas encompass Assam, Meghalaya, Nagaland, Arunachal Pradesh, Jammu and Kashmir, the Himalayan foothills of Darjeeling in West Bengal, Rajasthan, Uttar Pradesh, and Kerala.
Given below is the list of Coal Mines in India with the states and categories the coalfields belong to:
Coal Mines in India

Coal Mine

States

-Jharia, Dhanbad

-Bokaro

-Jayanti

-Godda

-Giridih (Karbhari Coal Field)

-Ramgarh

-Karanpura

-Daltonganj

Jharkhand

-Raniganj Coalfield,

-Dalingkot (Darjeeling) Birbhum,

-Chinakuri

West Bengal

-Korba

-Bishrampur

- Sonhat

- Jhilmil

- Hasdo-Arand

Chhattisgarh

-Jharsuguda,

- Himgiri,

- Rampur,

-Talcher

Odisha

-Singareni,

-Kothagudem,

-Kantapalli

Telangana/ Andhra Pradesh

-Neyveli

Tamil Nadu

-Kamptee(Nagpur)

-Wun field

-Wardha

-Walarpur

-Ghughus

-Warora

Maharashtra

-Ledo

-Makum

-Najira

-Janji

-Jaipur

Assam

-Darrangiri (Garo hills),

-Cherrapunji,

-Liotryngew,

-Maolong

- Langrin coalfields (Khasi & Jaintia Hills)

Meghalaya

-Singrauli,

-Sohagpur,

-Johila,

-Umaria,

- Satpura coalfield

Madhya Pradesh


READ|Coal Gasification in India: What is It, Benefits and Disadvantages



Some Major Coal Mines Facts That You Need To Know
Dhanbad is one of the oldest coal mines in Jharkhand. It is also the richest coalfield of India. It is known as the storehouse of the best metallurgical coal which is coking coal.

Giridih or Karbhari Coal Field produces the finest coking coal in India for metallurgical purposes.

The chief producing districts of the country are Darjeeling and Jalpaiguri.

The 2nd rank in reserves goes to Talcher after Raniganj which is 24,374 million tonnes.

In most thermal power plants at Talcher the coal is suitable for steam and gas production purposes.

Most coal reserves are there in Godavari valley.

The workable collieries are situated at Kothagudem and Singareni.

Coals found in Assam have low ash and high coking qualities.

sulfur content is high, good for metallurgical purposes.

The largest coalfield of MP is Singrauli.