List of Elephant Reserves of India
The Government of India had launched the Project Elephant in the year 1992 with the objectives to protect elephants and their habitat. There are 32 Elephant Reserves in India. Check here the list of Elephant Reserves of India.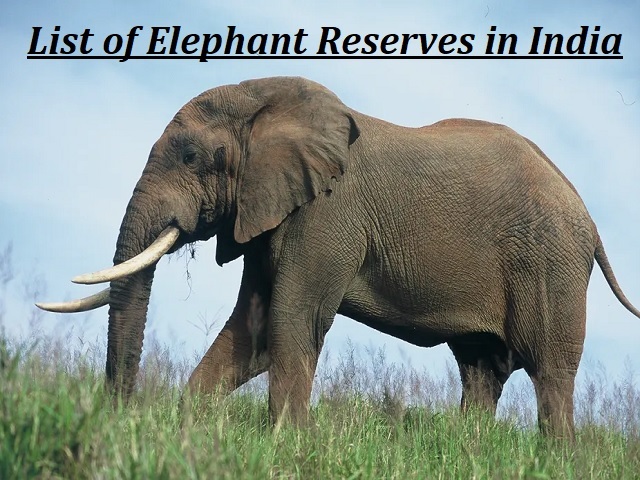 List of Elephant Reserves of India
The Government of India had launched the Project Elephant in the year 1992 as a Centrally Sponsored Scheme with objectives to protect elephants, their habitat & corridors; to address issues of the man-animal conflict; and the welfare of captive elephants.
Key Highlights of Project Elephant
1. The project aims to protect the elephant corridors and elephant habitat for the survival of the elephant population in the wild.
2. This elephant conservation strategy is mainly implemented in 16 of 28 states or union territories namely: Arunachal Pradesh, Assam, Andhra Pradesh, Chhattisgarh Jharkhand, Kerala, Karnataka, Meghalaya, Maharashtra, Nagaland, Orissa, Tamil Nadu, Uttaranchal, Uttar Pradesh, and West Bengal.
3. The project has 3 main objectives:
→ To ensure the Welfare of domesticated elephants
→ Protection of elephants, their habitats, and elephant corridors.
→ Mitigation and prevention of human-elephant conflict.
As notified by the Government of India, there are around 32 elephant Reserves in India. The first elephant reserve was the Singhbhum Elephant Reserve of Jharkhand.
List of Elephant Reserves of India
Elephant Range

Location

Elephant Reserve

East-Central landscape (South-West Bengal-Jharkhand-Orissa

West Bengal

Mayurjharna ER

Jharkhand

Singhbhum ER

Orissa

Mahanadi ER

Sambalpur ER

Baitami ER

South Orissa ER

Chhattisgarh

Lemru ER

Badalkhol-Tamorpingla ER

Kameng-Sonitpur Landscape (Arunachal- Assam) Total

Arunachal Pradesh

Kameng ER

Assam

Sonitpur ER

Eastern-South Bank Landscape (Assam- Arunachal Pradesh)

Assam

Dihing-Patkai ER

Arunachal Pradesh

South Arunachal Pradesh ER

Kaziranga-Karbi Anglong-Intanki Landscape (Assam- Nagaland)

Assam

Kaziranga-Karbi Anglong ER

Dhansiri-Lungding ER

Nagaland

Intanki ER

North Bengal-Greater Manas Landscape (Assam-West Bengal)

Assam

Chirang-Ripu ER

West Bengal

Eastern Doars ER

Meghalaya Landscape

Meghalaya

Garo Hills ER

Khasi Hills ER

Brahmagiri-Nilgiri-Eastern Ghat Landscape (Karnataka- Kerala-Tamilnadu-Andhra)

Karnataka

Mysore ER

Kerala

Wayanad ER

Tamil Nadu

Nilgiri ER

Andhra Pradesh

Rayala ER

Kerala

Nilambur ER

Tamil Nadu

Coimbatore ER

Anamalai-Nellianpathy-High Range Landscape (Tamil Nadu-Kerala)

Tamil Nadu

Anamalai ER

Kerala

Anamudi ER

Periyar-Agasthymalai Landscape (Kerala-Tamilnadu)

Kerala

Periyar ER

Tamil Nadu

Srivilliputhur ER

North-Western Landscape (Uttarakhand-Uttar Pradesh)

Uttarakhand

Shivalik ER

Uttar Pradesh

Uttar Pradesh ER
In 2010, on the advice of the Standing Committee of the National Wildlife Board, the Government of India declared Elephant the country's national heritage animal. This was done to ensure that elephants were given adequate protection.