List of Indian Festivals in October 2019
Festivals as the name suggest is a way to celebrate culture and traditions. It can be termed as cultural festivals. There are several types of cultural festivals like National, Religious and Seasonal. They connect people of nations together. Let us have a look on various festivals that falls in the month of October 2019 in India.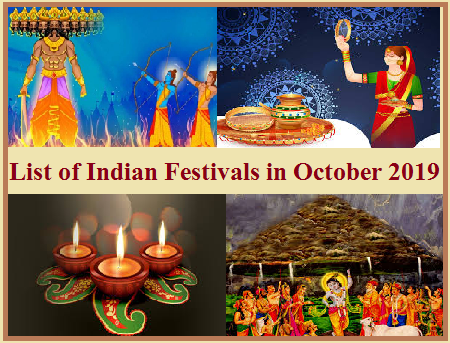 List of Indian Festivals in October 2019
Festivals play an important role in our life. Through festivals people come close to each other, enjoy and create a sense of unity. Now a day's life is so busy that people won't get much time to do get together. But due to festivals, we meet each other, pray and wish everyone. In the world, festivals are connected with culture and nature. Like in India Navratri, Dussehra, Diwali, Holi etc. have religious importance.
List of festivals in October 2019 in India
1. Navratri
When: 29 September-7 October, 2019
Navratri is nine days festival that celebrates the Mother Goddess in all her forms like Durga, Lakshmi, Saraswati etc. People do fast and celebrate in night by doing dancing. Navratri festival culminates with Dussehra that is on the tenth day.
2. Durgaashtami or Durga Puja Ashtami
When: 6 October, 2019
Durgashtami is also known as Maha Durgashtami. It is the eight day of Navratri. On this day Goddess Shakti or an avatar of Durga Puja is done. It is a symbolic of eternal power. Durgashtami falls in the Shukla Paksha of the lunar phase.
3. Maha Navami
When: 7 October, 2019
Maha Navami is also known as Durga Navami. It is celebrated on the ninth day of Navaratri. It is celebrated as the victory of good over evil. This is the last day of battle between Durga and demon Mahishasura. On this day Goddess Durga Puja is done. It is believed that on this day goddess Durga is worshipped as Mahisasuramardini that is the slayer of the buffalo demon.
4. Dussehra
When: 8 October, 2019
Dussehra festival is celebrated with enthusiasm in almost all parts of India. It is a national holiday. Dussehra festival is also known as Vijayadashami. It is believed that on this day the demon king Ravana was killed by Lord Rama. In various parts of the world this day celebrates in different styles and rituals. Several colourful exhibitions and fairs are organised on this day in various places in India.
5. Karva Chauth
When: 17 October, 2019
Karva Chauth festival falls on the fourth day after the full moon in the month of Kartik. On this day married women keep fast for long life of their husband. But unmarried girls also keep fast to get a good husband in future. It is mainly celebrated in Northern India like Uttarakhand, Uttar Pradesh, Himachal Pradesh, Jammu and Kashmir, Haryana, Punjab, Rajasthan, Chattisgarh, Madhya Pradesh and Gujarat.
6. Dhanteras
When: 25 October, 2019
Dhanteras is also known as Dhantrayodashi. It is observed on the thirteenth day of the Kartik month of the Dark Lunar fortnight that is Krishna Paksha.
'Dhan' means money or wealth and 'Teras' means the thirteenth day.
On Dhantrayodashi day, Goddess Lakshmi came out from the ocean of milk during the churning of Sea. Therefore, on the day of Trayodashi, Goddess Lakshmi is worshipped. Also, it is believed that, during Samudra Manthan, Dhanvantri emerged out carrying a jar of elixir on Dhanteras day.
7. Kali Puja
When: 27 October, 2019
Kali Puja festival is dedicated to the Goddess Kali. It is celebrated in the month of Kartik. It coincides with the Diwali or Lakshmi Puja festival. Goddess kali is mainly worshipped in West Bengal, Assam and Orissa. According to the Hindu mythology, Goddess Kali is considered as the first of 10 incarnations of Goddess Durga and is well known for destroying evils and cleaning the world from negative powers.
8. Diwali
When: 27 October, 2019
Diwali is a festival of lights. It is also known as Dipawali. In North India, people celebrate the return of Lord Rama, Sita, Lakshmana and Hanuman to the city of Ayodhya after 14 years of exile. According to the Hindu calendar, Diwali is celebrated during the Amavasya of the Kartik month and Lakshmi pujan is done during Pradosh Kaal. In South India, Diwali is celebrated as the day when Lord Krishna defeated the demon Narakasura.
9. Govardhan Puja
When: 28 October, 2019
Govardhan is also known as Annakoot i.e. 'Mountain of food'. According to Hindu calendar, it falls on the first day of Shukla Paksha in the month of Kartik. It is celebrated in India mainly in North India especially in Vraj Bhumi including Mathura, Vrindavan, Nandgaon, Gokul and Barsana. It is celebrated because Lord Krishna lifted Govardhan mount with a little finger of his right hand to provide shelter to the people of Gokul. That is why people started calling Lord Krishna as Giridhari or Govardhandhari.
10. Bhai Dooj
When: 29 October, 2019
Bhai Dooj festival is dedicated to brother and sister. It is also known as Bhai Teeka, Yum Dwitiya, Bhrat Dwitiya etc. Bhai Dooj festival falls on the dark lunar fortnight, in the month of Kartik. On this day, sisters apply a tilak to his brother forehead and pray for long and successful life. In return brother's gift presents to their sisters. There are several stories associated with Bhai Dooj festival.
According to one legend, Lord Krishna visited to her sister Subhadra after killing demon Narakasur. Her sister welcomed him and made that day special by applying "tilak" on the forehead of Krishna.
According to another legend, the story is about the Yama, the God of Death and his Sister Yamuna. It is said that Yama met his beloved sister on Dwitheya that is the second day after the new moon and so this occasion is known as "Yamadwitheya" or Yamadvitiya" across the country.
List of Indian Festivals in October 2019

S. No.

Festival Name

Date

1.

Navratri

29 September-7 October, 2019

2.

Durgaashtami or Durga Puja Ashtami

6 October, 2019

3.

Maha Navami

7 October, 2019

4.

Dussehra

8 October, 2019

5.

Karwa Chauth

17 October, 2019

6.

Dhanteras

25 October, 2019

7.

Kali Puja

27 October, 2019

8.

Diwali

27 October, 2019

9.

Govardhan Puja

28 October, 2019

10.

Bhai Dooj

29 October, 2019
List of Important Fairs of Uttar Pradesh
Important Days and Dates in October 2019: National and International