List of largest glaciers of the world
Glaciers are the biggest source of Freshwater on the Earth. Many of these have formed in the previous Ice Age that prevailed on the planet. Glacial basins cover almost 26% of the Earth's land surface outside of Greenland and Antarctica. Take a look at the list of glaciers below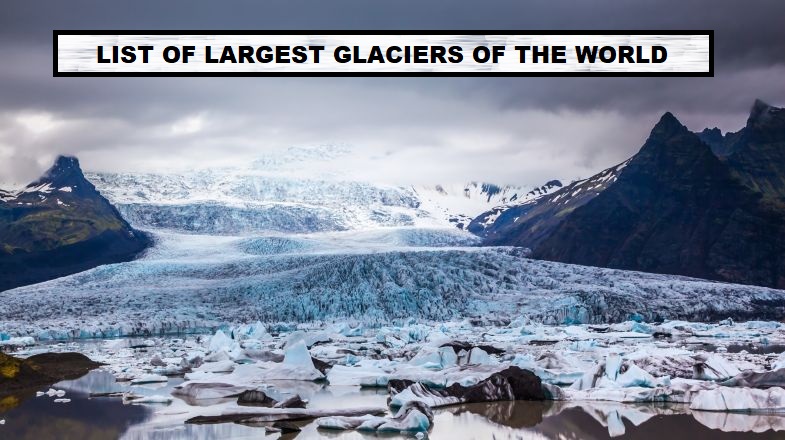 Largest glaciers of the world
A glacier is a large persistent body of dense ice that moves with its own weight. These are formed over many centuries and are huge bodies of fresh water sources for the world. Glaciers and Icebergs together form most of the Earth's fresh water.
Glaciers cover mountain ranges in the polar and other areas as well.
Snow needs to remain in one location and transform into ice for the glaciers to form. The movement of glaciers is similar to very slow rivers. Polar Glaciers are generally the remnants of the last ice age. Maximum glaciers are located in Greenland, Antarctica, Canadian Arctic region etc.
Largest/Longest Glaciers of the world:
Take a look at some of the longest glaciers of the world including the polar regions.
| | | |
| --- | --- | --- |
| Glacier Name | Length | Location and Feature |
| Lambert Fisher Glacier | 400 km or 250 miles | Antarctica, the largest glacier of the world |
| Hubbard Glacier | 122 km or 75 miles | Alaska, a tidewater glacier and, despite global warming, is expanding. Largest in N America. |
| Fedchenko Glacier | 77 km or 48 miles | Tajikistan, one of the largest non polar glacier, in Karakoram |
| Siachen Glacier | 75 km or 47 miles | India, highest, deadliest and costliest battlefield |
| Biafo Glacier | 67 km or 42 miles | Pakistan, Meltwater from the Biafo Glacier flows to the Indus River |
| Bruggen Glacier | 66 km or 41 miles | Chile, advanced about 5 kilometers, and cut Lake Greve from the sea |
| Baltoro Glacier | 62 km or 39 miles | Pakistan, source of the Shigar River |
| South Inylchek Glacier | 61 km or 37 miles | Kyrgyzstan and China, located in Central Tian Shan Mountains in the Issyk-Kul Region |
| Jostedal Glacier | 60 km or 37 miles | Norway, 9th largest glacier in the world |
| Batura Glacier | 56 km or 35 miles | Pakistan, Gojal region of Gilgit-Baltistan |
| Margerie Glacier | 34 km or 21 miles | Alaska, Glacier Bay Park |
| Perito Moreno Glacier | 30 km or 18.6 miles | Argentina, third largest reserve of freshwater in the world. |
| Gangotri Glacier | 30 km or 19 miles | India and China, one of the largest glaciers of the Himalayas |
| Fox and Franz Josef Glacier | 25 km or 15.5 miles | New Zealand, descend from the Southern Alps to a temperate rainforest full of greenery and lushness |
| Pasterze Glacier | 8.4 km | Austria, biggest glacier in Austria |
The world's longest glacier is the Lambert Glacier. It was discovered by an Australian aircraft crew in Australian Antarctic Territory in 1956/57.
Also read the following
Fedchenko Glacier happens to be one of the largest non-polar glaciers in the world and is located in Tajikistan.The Fedchenko Glacier originates in the Revolution Peak ice field. There are many such glaciers that are of great significance to the Earth due to the amount of water these with hold. Go through the topics shared above for a better knowledge in geography.
Take Free Online UPSC Prelims 2021 Mock Test
Start Now