List of Top 10 AI Chatbots in 2023
ChatGPT has become everyone's favourite AI chatbot since its launch and other companies are following the trend. The best AI chatbots in 2023 are the ones that can provide a personalized and engaging experience for users. These chatbots are able to learn from user interactions and adapt their responses accordingly. They can also be used to automate tasks, such as answering customer questions or providing support. Read below to learn about the top AI chatbots.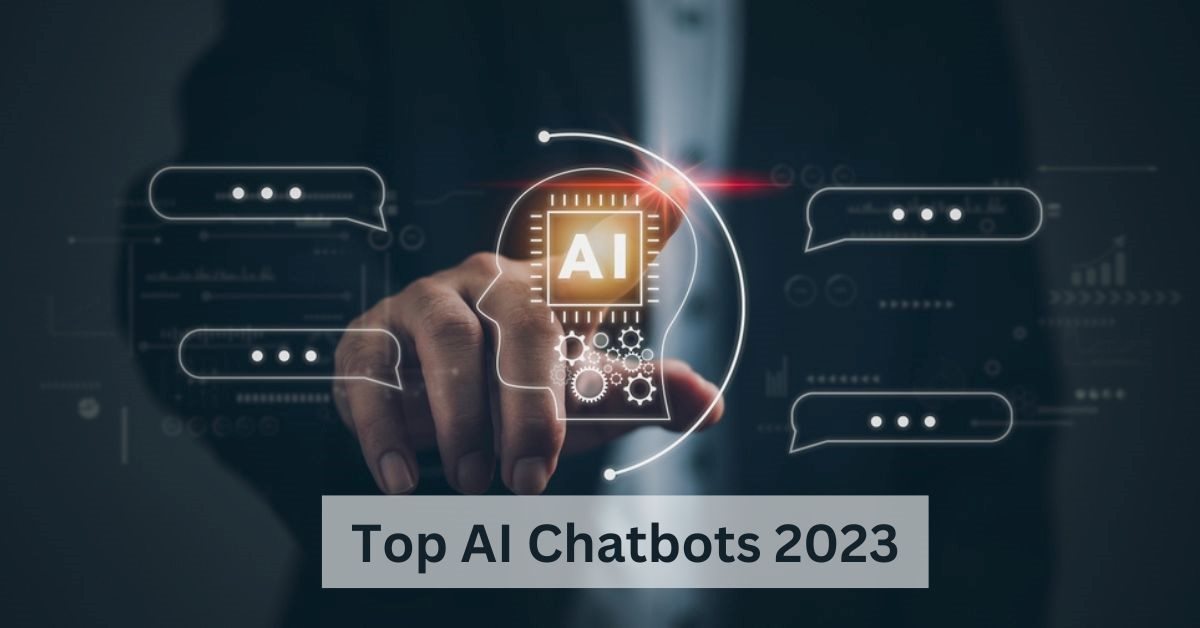 Best AI Chatbots
Artificial Intelligence has been taking over the world by storm and one major factor of its popularity is the availability of different chatbots that allow users to access the power of AI easily and understand its potential.
What is an AI Chatbot?
An AI chatbot is basically a computer program that can engage in conversation with humans and provide solutions to their queries. Chatbots are often used in customer service applications and personal use. They can also be used for marketing and sales purposes, or to provide information and entertainment to users.
There are now a wide variety of AI chatbots available, each with its own strengths and weaknesses. Here, we will take a look at the top 10 AI chatbots in 2023.
| | | | | |
| --- | --- | --- | --- | --- |
| Name | Availability | Parent Company | Features | Price |
| ChatGPT | Web, Android and iOS | OpenAI | Natural language processing, Machine learning, and Text generation | Free/ GPT-4 is chargeable |
| Bard | Web and Mobile | Google | Natural language processing, Machine learning, and Text generation | Free |
| Bing AI | Web and Mobile | Microsoft | Machine learning, and Question Answering | Free |
| HuggingChat | Web | Hugging Face | Conversational AI, Customer service, Marketing | Free |
| YouChat | Web and Mobile | You.com | Conversational interface, Personalisation, Continuous learning | Free |
| KoalaChat | Web, Mobile and PC | Koala | Real-time search results, Live Amazon data integration | Paid- $9 per month |
| Jasper AI | Web and Mobile | Inoventive Technologies Inc | Customization of tone and style, Ability to integrate with other platforms | Paid- $29 per month |
| Playground Chat | Web | OpenAI | Question answering, Creative Writing, Language Translation | Free for 10 prompts per month |
| ChatSonic | Web | WriteSonic | Digital artwork, Content Suggestions | Free for 10.000 words per month |
| CoPilot | Web and Mobile | GitHub | Generating and completing of code, Suggesting edits | Paid- $10 per month |
AI chatbots have become a powerful tool that can easily improve consumer and personal experiences. They can be easily approached and customized to fit the needs of any user.
Here are some additional benefits of using AI chatbots:
24/7 Availability: Be it for personal use or business, the ease of availability of AI chatbots can help everyone improve their services and knowledge.

Cost-effectiveness: All of the available chatbots in the market have a nominal pricing structure that makes it easy for users to access data and knowledge without having to spend a fortune. Also, it can help businesses to cut down costs on customer service tasks.

Increased Productivity: AI chatbots can help users to increase productivity by automating tasks, generating answers to queries quickly rather than searching through wide availability of data and answering frequently asked questions or providing customer support.
These are just a few of the many great AI chatbots that are available in 2023. When choosing a chatbot, it is important to consider one's needs and budget. With so many great options available, one can surely find the perfect chatbot to help you achieve your goals.
READ| What Are The Concerns About Artificial Intelligence Raised By The Godfather Of AI Geoffrey Hinton?
FAQ
Is OpenAI created by Elon?
Yes, Elon Musk is the co-founder of OpenAI with Sam Altman, Greg Brockman, Ilya Sutskever, John Schulman, and Wojciech Zaremba
Is Alexa a chatbot?
No, Alexa is a virtual assistant that responds to user queries and provides information whereas chatbots are created with the capability to have a back and forth conversation with humans.
Which is the Smartest AI Chatbot?
Comparing the performance and availability, Bing by Microsoft is currently the smartest AI chatbot due to its free availability and versatility.