List of Waterfalls and Hot Springs in Bihar
Bihar is endowed with a number of beautiful natural sites varying from waterfalls and hot springs that contribute to the idyllic setting of the state. In this article, we have provided information about waterfalls and hot springs in Bihar.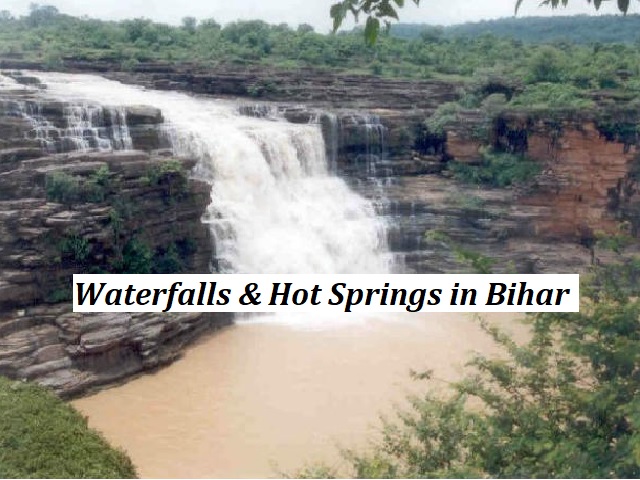 List of Waterfalls and Hot Springs in Bihar
Even though Bihar is the least-discussed state when the talk is about forests, waterfalls, and other natural beauties, it is still visited by numerous nature lovers. Apart from visiting its stupas and other ancient marvels, you must catch a glimpse of its natural beauty which is spread across the state.
Waterfalls in Bihar
The waterfalls in Bihar have closely associated with the religion not only for the Hindus but also for the Buddhists.
Kakolat Waterfall
1. Located about 33 km away from Nawada.
2. The water cascades from a height of 160 feet.
3. Legend connected with the waterfall is that Treta Yug king was cursed to take the shape of a python and live at the falls here according to the Hindu mythology. When Pandavas visited the place during their time of exile, the python king got rid of the curse and after that the King proclaimed that any person who takes the bath in the waterfall would never be reborn as a snake.
Karkat Waterfall
1. It is situated near Kaimur hills in the Kaimur district of Bihar.
2. It is famous for scenic beauty and water cascades seem like enchanting spell of relief. It has boating, swimming and fishing facilities.
3. Kaimur Wildlife Sanctuary is located near the waterfall.
Telhar Waterfall
1. It is situated near BT Road in Kaimur District of Bihar.
2. Water showers from a great height into a very deep pool. Hence, it is believed that a waterfall from great height causes the flow of undercurrent in the pool which prohibited the bathers & swimmer in the pool.
Manohar Kund and Dhua Kund Waterfall
1. One of the finest waterfalls in India.
2. It is located near Sasaram.
3. The water cascades of the waterfalls are too strong that have capacity to produce 50 to 100 Megawatt of electricity.
4. Waterfall is famous for Raksha Bandhan fair which is organised every year in the premises.
Hot Springs in Bihar
Spring is a place where water flows out of the ground. It is resultant of the emergence of geo-thermally heated groundwater that rises from the Earth's crust. Bihar is gifted with a number of hot springs. The water temperature of these hot springs varies from 30 degrees to 70 degree Celsius. The list of hot springs in Bihar is given below:
| | |
| --- | --- |
| Spring | Location |
| Satdhara Kund | Rajgir |
| Surya Kund | Rajgir |
| Makhdum Kund | Rajgir |
| Brahma Kund | Rajgir |
| Nanak Kund | Rajgir |
| Lakshman Kund | Munger |
| Rameshwar Kund | Munger |
| Gaumukh Kund | Munger |
| Sita Kund | Munger |
| Rishi Kund | Munger |
Also Read: Climate and Soil Profile of Bihar