Chaitra Navratri Colours 2023 Today: Day 9 Colour, Significance, Meaning & More
Navratri Colours 2023 Importance: Each day of Chaitra Navratri is denoted with a specific colour. These nine colours of Navratri have great cultural and spiritual significance during the celebration.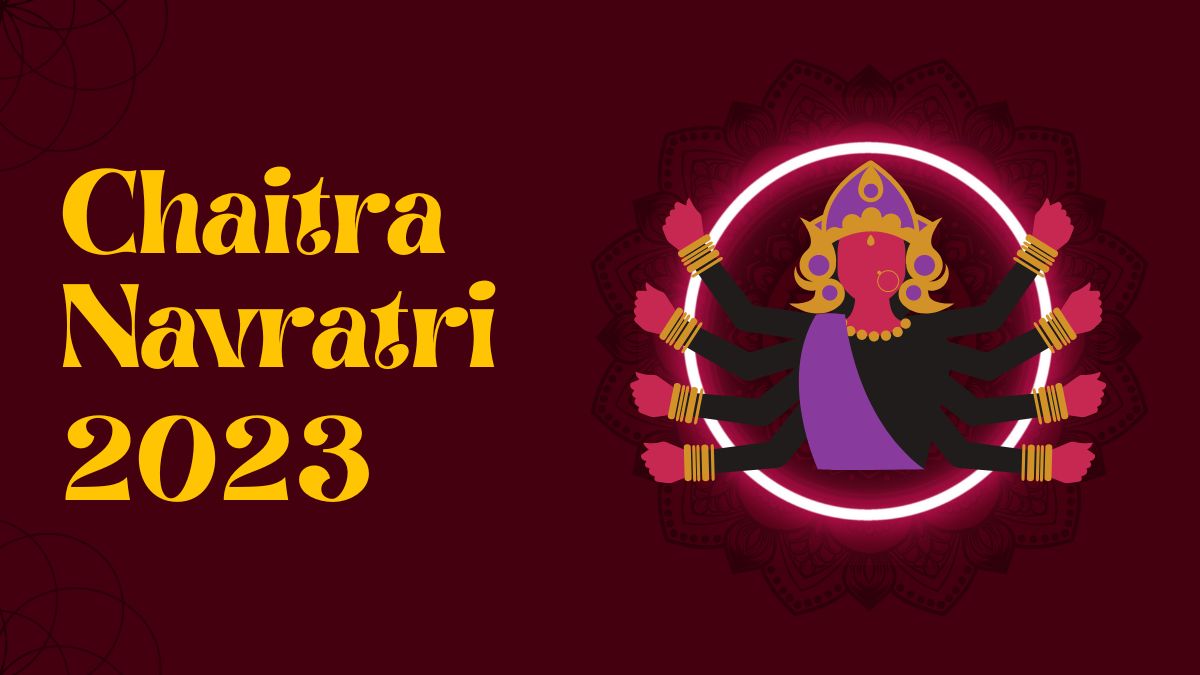 Get here list of Navratri Colours and their significance
Navratri Colours 2023: The nine days of Chaitra Navratri this year began on March 22 and will end today, March 30. Also, known as Rama Navratri, people worship different avatars of Goddess Durga for nine days and celebrate the birth of Lord Rama on the last day. It holds different cultural values for the Hindu population living in different parts of the country. And do you know all nine days of Navratri has a colour assigned which has its own significance and value?
Each day of the Navratri is denoted with different colours and holds great spiritual prominence. These colours are usually yellow, green, grey, orange, white, red, royal blue, pink, and purple. Let's know more about Navratri and its types, before knowing the significance of the colours of Navratri.
Navratri Colours Today 2023: Pink - Maa Siddhidhatri
Maa Siddhidhatri is honoured on the ninth day of Chaitra Navratri, which is the final day. When Goddess Siddhidatri manifested from Lord Shiva's left half, the Drik Panchang claims, he was given the title of Ardha-Narishwar. The planet Ketu is governed by Maa Siddhidatri, who also gives it energy and direction. She is shown with four hands, sitting on Kamal and riding a lion. She is holding a lotus flower in her left hand, a chakra in her right hand, a Shankh in her left hand, and a Gada in her right hand. To embody virtues like kindness, femininity, elegance, and so on, one should wear pink today.
Hindus also commemorate the birth of Lord Rama on this day, which is known as Ram Navami. They observe fasts, go to temples, perform pujas, and havans to conclude the nine-day of Chaitra Navratri.
Why is Ram Navami Celebrated? All About its Meaning and Significance
Types of Navratri
Navratri means nine nights in Sanskrit and is a festival that spans nine days. There are four seasonal Navaratri in a year. However, the two popular ones include one month of Chaitra (March/April) and the other month of Sharada(September/October).
Read more about the other Navratri below:
Magha Navratri: The Magha lunar month is when Magha Navaratri is celebrated (January–February). Another name for this Navaratri is Gupt (secret) Navratri. The fifth day of this festival is frequently celebrated as Vasant Panchami or Basant Panchami.
Chaitra Navratri: The second-most popular Navratri, Chaitra Navratri, also known as Vasantha Navaratri, is named after God Vasanta during March or April. Goddess Durga, who is worshipped during the festival in nine different forms, is the center of the celebration, and the last day is celebrated as Ramanavmi.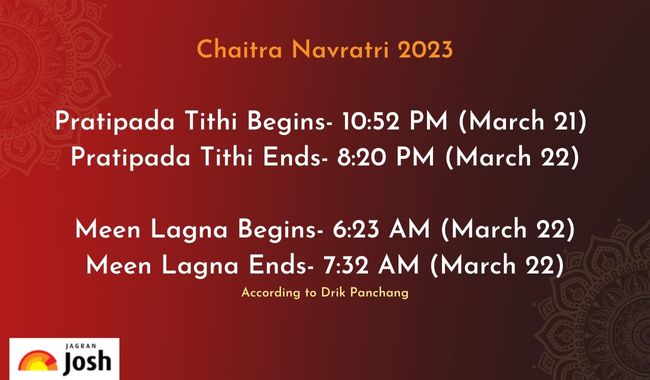 Ashada Navratri: Another Gupta Navaratri known as Ashada Navaratri is celebrated in the Gregorian months of June or July and the lunar month of Ashadha. People from various places observe this celebration of strength and spirituality with different practices.
Sharada Navratri: Sharada Navaratri is the most celebrated of the four Navaratri, named after Sharada which means autumn during the month of September or October. The ninth day of Navaratri is devoted to peace, and knowledge by worshipping various forms of Goddess Durga, whereas the tenth day is celebrated as Dussehra, the festival of victory of good over evil.
Bank Holidays in March 2023 List
Chaitra Navratri 2023 Colour Day and Date-wise List
| | | |
| --- | --- | --- |
| Navratri Days | Navratri Dates | Navratri Colors |
| First Day | 22nd March 2023 | Royal Blue |
| Second Day | 23rd March 2023 | Yellow |
| Third Day | 24th March 2023 | Green |
| Fourth Day | 25th March 2023 | Grey |
| Fifth Day | 26th March 2023 | Orange |
| Sixth Day | 27th March 2023 | White |
| Seventh Day | 28th March 2023 | Red |
| Eighth Day | 29th March 2023 | Sky Blue |
| Ninth Day | 30th March 2023 | Pink |
9 Navratri Colors 2023 Complete List Here
Here is a list of the nine colours for Chaitra Navratri in 2023, along with a brief description. You can use these colours to decorate your home or choose your outfit for the auspicious occasion.
Royal Blue: A rich and intense shade of blue is called royal blue. It has a regal connection to the British royal family. And this from the family of blue is mostly used for uniforms, as it symbolizes confidence, trust, and authority.
Yellow: On the colour wheel of light, yellow, the hue of the sun, smiley faces, and sunflowers, is positioned between orange and green. It is considered to be the colour of joy, glory, harmony, and wisdom in many parts of the world.
Green: Green is the colour of nature. On the visible colour spectrum, it is the hue between cyan and yellow, and it has long been associated with permission and security.
Grey: A blend of black and white is called grey. Ash, lead, and the hair of a middle-aged person, are perfect examples of a grey palette. It is a neutral and achromatic tone that has both positive and negative connotations.
Orange: Yellow and red are combined to create the secondary pigment colour, orange. The name "orange" in English refers to the appearance of the ripened orange fruit. And the colour orange had a wide range of associations in the 20th and 21st centuries, both positive and negative.
White: White, the lightest colour and an achromatic hue, is the colour of snow, chalk, and milk. It completely scatters and reflects all of the visible light's wavelengths.
Red: In the visible light spectrum, next to orange and opposite violet, at the long wavelength end, is the colour red. Also, red is the second colour that babies can see after black and white.
Sky Blue: A light blue colour resembling the sky during a clear day is called sky blue. In 1681, the term 'sky blue' was first used. The Celeste palette has various shades with various names and connotations.
Pink: The namesake, a flower in the light shade of red, was first referred to as pink. The noble class typically preferred more vibrant reds, like crimson, so it wasn't a common colour in Middle Ages fashion. However, Pink is a symbol of marriage and has been used in religious art and women's fashion.
List of Theological Demons in Hindu Mythology
Significance of Colours in Navratri 2023
Navratri Day 1 - Colour- Royal Blue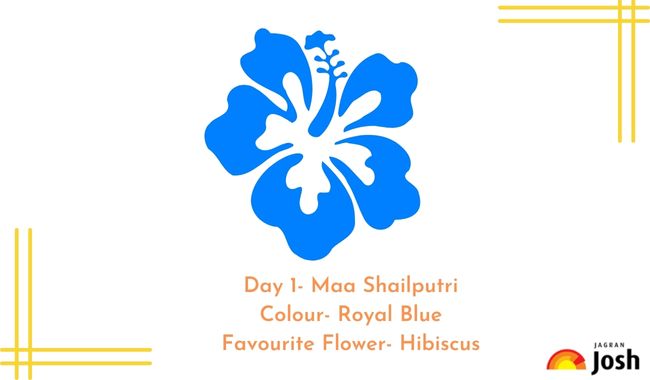 Royal Blue stands for abundance and serenity. People worship Goddess Shailputri, being dressed in blue attire, as the colour symbolizes the abundance of health, wealth, and power.
Navratri Day 2 - Colour- Yellow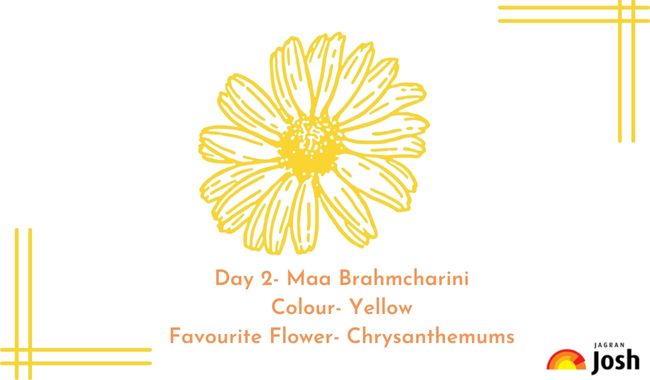 Yellow is the colour for the second day of Navratri. This is the colour of the Goddess Brahmcharini and symbolizes knowledge and learning.
Navratri Day 3 - Colour- Green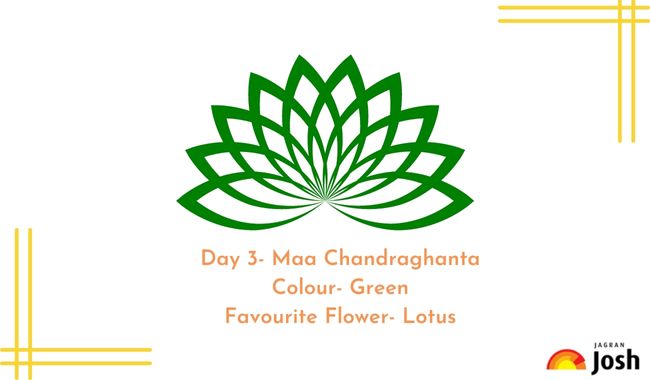 The third day of Chaitra Navratri is denoted with green colour. Goddess Chandraghanta is worshipped on this day, symbolizing new beginnings, growth, and fertility.
Navratri Day 4 - Colour- Grey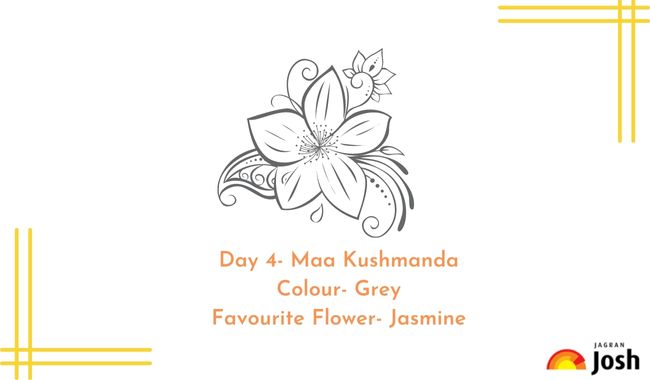 The fourth day of Navratri will be celebrated with colour grey. This sober and elegant hue is used to celebrate the goodness of the goddess Kushmanda. Also, it symbolizes the wisdom and dignity that come with experience and age.
Navratri Day 5 - Colour- Orange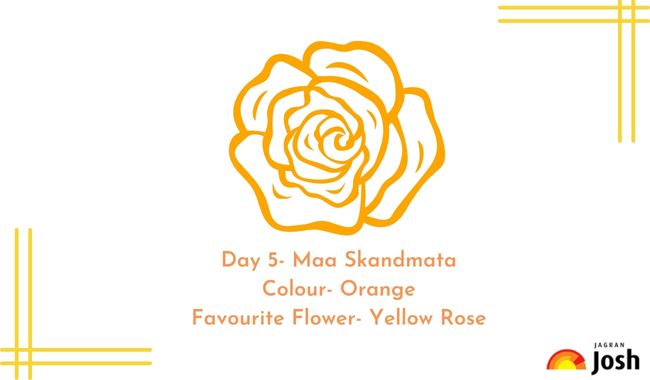 Goddess Skand Mata is worshipped on the fifth day of Navratri. And the colour of warmth, fire, and energy is chosen for the day. This attention-grabbing, colour conveys the message of Positivity.
Navratri Day 6 - Colour- White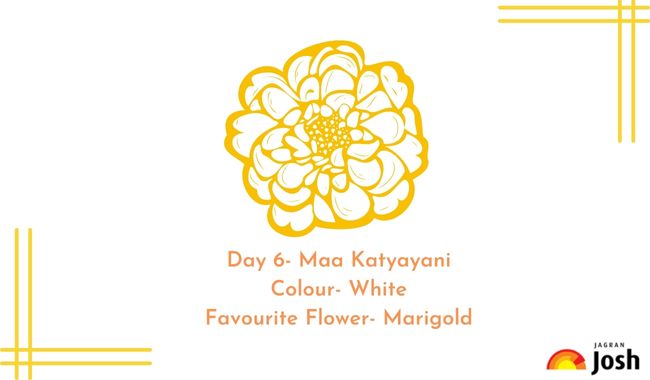 The colour for the sixth day of Navratri, dedicated to Goddess Katyayini is White. It evokes ideas of purity, simplicity, and cleanliness, it stands for peace and serenity.
Navratri Day 7 - Colour- Red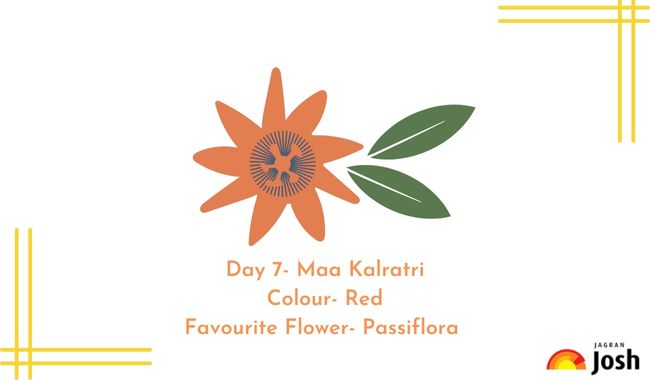 Red is the colour for the seventh day of Navratri. It is linked to both the best and the worst emotions, as it symbolizes bravery, sacrifice, love, rage, danger, and war.
Navratri Day 8 - Colour- Sky Blue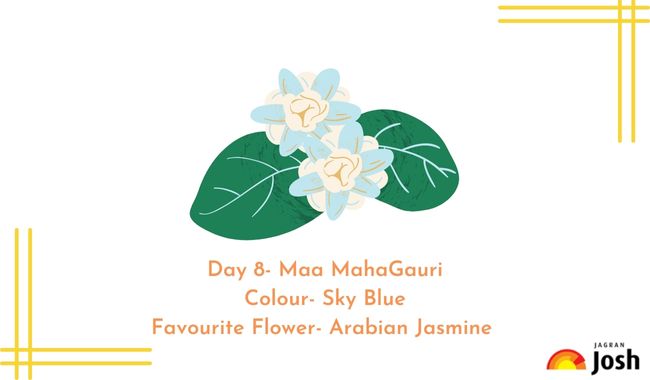 The colour for the eighth day of Navratri is Sky Blue. It represents omnipotence, omniscience, transcendence, eternity, infinity, immortality, and the home of the gods.
Navratri Day 9 - Colour- Pink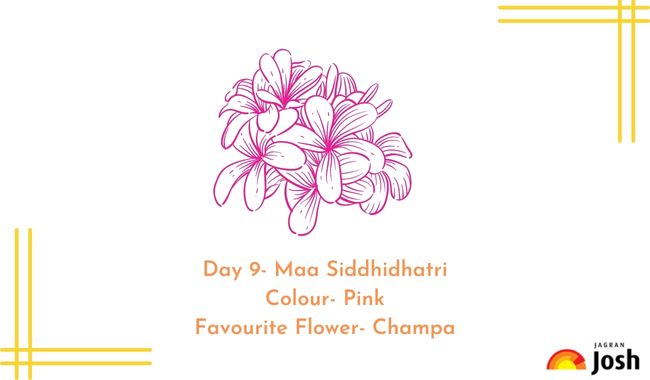 The colour for the final day of Navratri in 2023 is pink. It is a reassuring, frivolous, and sentimental hue that denotes affection, kindness, and femininity, making it the ideal choice for Maa Siddhidhatri.
The most important ritual of Navratri is Ghatasthapana. And this year, the Muhurta for the Pratipada Tithi on March 22 is between 6:23 AM and 7:32 AM during Daivi-Svabhava Meena Lagna. From this day forward, as part of the celebration devotees begin a nine-day fast to receive blessings of wealth, wisdom, peace, and prosperity. The fast further ends on Ram Navami with Kanya Pujan and the distribution of prasad.
Team Jagranjosh wishes everyone a very Happy Navratri and desires the Best for One and All!
FAQ
How are the colours of Navratri decided?
The colour are chose on the basis of the Goddess day, their power and feature.
What are the significance of Colours during March Chaitra Navratri 2023?
The colour help devotees to connect with the spiritual power.
What are the 9 Colours of Navratri 2023?
The Nine Colours of Navratri are Green, Sky Blue, Royal Blue, Orange, White, Yellow, Pink, Red, and Grey.