Hidden animals optical illusions are a fun and engaging way to test your visual perception and problem-solving skills. Optical illusions are a fun way to test your vision, but they can also reveal something about your IQ and personality.
If you enjoy solving optical illusions, it suggests that you are intelligent, curious and have a good problem-solving ability. It also suggests that you are patient and persistent. You may also be more creative and have a better ability to think outside the box.
So, if you're up for a challenge, see if you can find the hidden bunny in the following image within 7 seconds.
Find the hidden bunny within 7 seconds, Test your vision!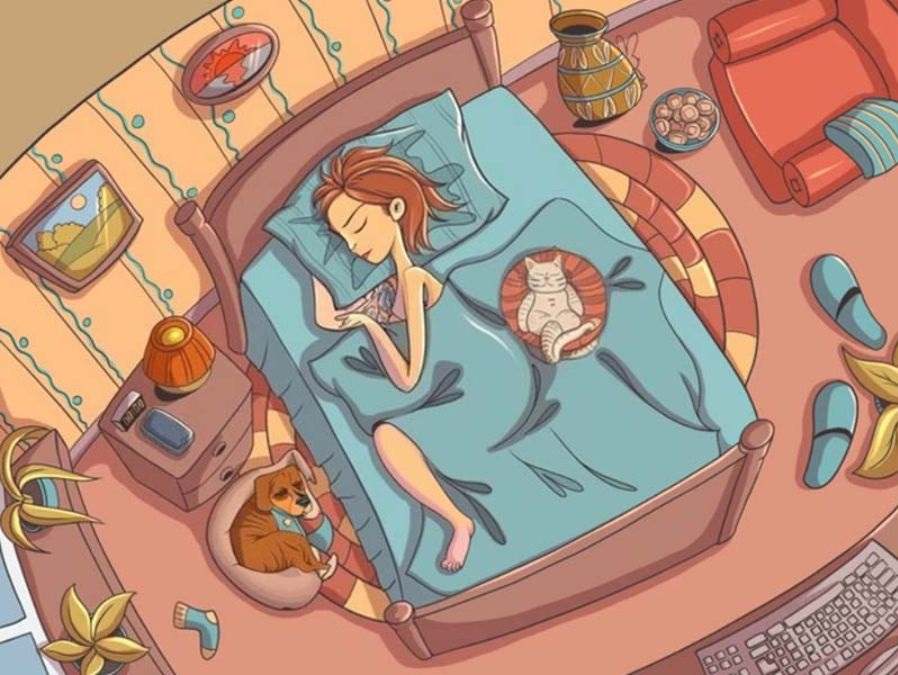 Here we have another mind-boggling optical illusion image. We can see a boy sleeping in his cozy room. There is a cat also asleep next to him. Oh, there is a dog too. But claims tell there is a bunny also hiding in this room.
The bunny is hiding in plain sight, but it blends in well with the background. Try to look for the bunny's ears or nose.
Also try: Only 1% high IQ people can spot the hidden word 'dog' within 7 seconds!
So, what are you waiting for? Give it a try and see if you can find the hidden bunny within 7 seconds!
Your challenge starts now! You have 7 seconds.
Good Luck!
If you can find the hidden bunny within 7 seconds, it suggests that you have a high IQ. This is because optical illusions are designed to trick the brain, and it takes a high level of intelligence to be able to see through them.
If you did not find the bunny in 7 seconds, don't be discouraged. Try again or look at the answer below.
Also try: Can You Spot All 6 Hidden Words In This Gardening Scene Within 15 Seconds?
Hidden Animals Optical Illusions Answers
If you could not find the bunny hidden in the image, do not worry. Check the optical illusion answer below.
SHARE this optical illusion with your friends and family. Challenge them to spot the hidden bunny in less than 7 seconds!
Also read: Personality Test: Your Lip Shape Reveals Your Hidden Personality Traits
Also read: Personality Test: Your Thumb Reveals Your Hidden Personality Traits