One of the most popular games we used to play as a child was hide and seek. The game was just perfect to give us the adrenal rush. Spot a few kids playing the game and you would not be able to resist the fun. This is what happened with the dog in the image as well. The kids were happily playing hide and seek, but the dog could not resist the fun. Now, the dog is also hiding while Henry is counting to 30. The dog was playing in the garden but when it saw the kids playing the game, it could not resist the fun and joined them. Now, while fetching the kids is super easy, finding the hidden dog in the image is super tough. Can you find the hidden dog? Well, if you answered the question in the affirmative, you are all set to read the story that follows.
Henry never wins any game- STORY TIME!
Henry is a 7-year-old child who does not have very good self-esteem. No, the problem does not lie in the parenting of his caregivers. Henry perhaps has the most loving and understanding parents. They motivate him to do better and forgive his mistakes. In that case, what is it that makes his self-esteem suffer? Well, the fact is, that due to a coincidence, Henry has never won any game against his friends till now. When the kids play baseball, he is never able to make good runs. When they go out to play badminton, the bad weather never lets him make scores more than others. Now, Henry has lost all faith, but peer pressure does not make him quit. Today, the kids are playing hide and seek and we are eager to help him out. Henry is counting to 30, and while we can't make the kids understand the situation and help him win, we can definitely help him find the hidden dog. That is why you need to find the hidden dog. Now that you know the story, you are all set to read the rules of the challenge.
Rules of the challenge!
The rules of the challenge are pretty simple and straightforward. All you have to do is help Henry find the hidden dog. While Henry is counting to 30, you have approximately 30 seconds to find the hidden dog. To be accurate, set a timer for 30 seconds on your phone. Start looking for the hidden dog just when the timer starts. Stop looking for it the moment the timer beeps.
Find the hidden dog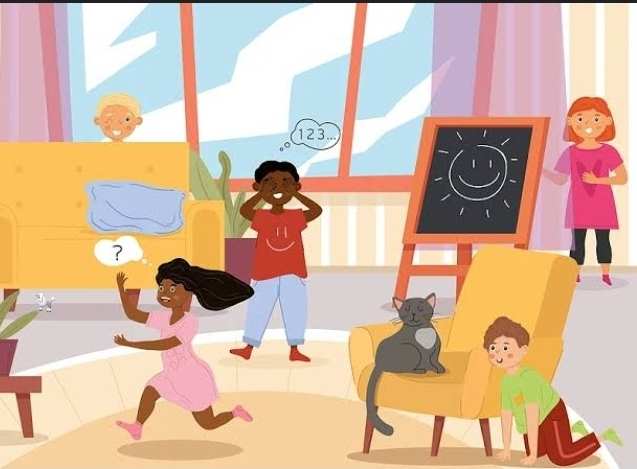 Image Source: Empowered Parents
Here is the dog hiding!