Optical Illusion to Test Your Vision: Find the Maskless Man in 6 Seconds!
Optical Illusion to Test Your Vision: You have hawk eyes if you can find the maskless man in 6 seconds. Attempt now!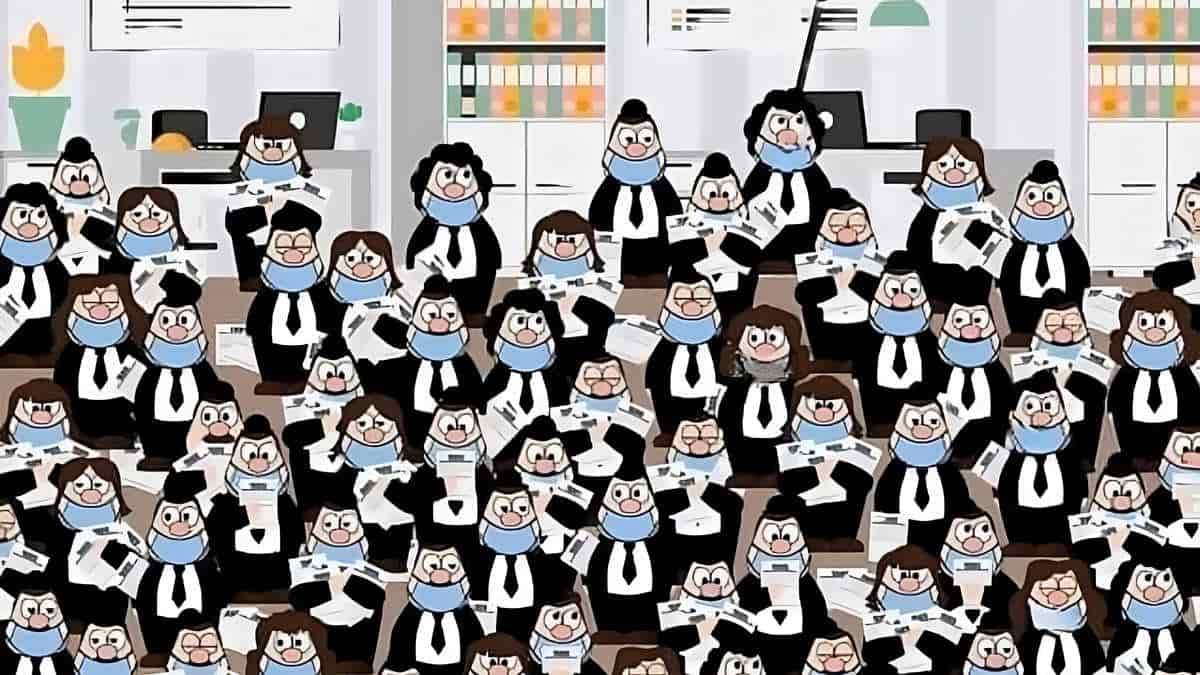 Find Maskless Man in 6 Seconds!
Optical Illusions: The word illusion is derived from the Latin word "illudere", meaning to mock. Optical illusions are visual stimuli that our eyes perceive and our brains process. It appears to deviate from reality.
Our brain feels the necessity to define reality from simple objects, which tricks us into thinking what we see is the real picture.
Are you ready for the optical illusion challenge?
Then, let's get started.
If you find a diamond in this viral optical illusion within 9 seconds, you have the IQ of Sherlock Holmes!
Optical Illusion: Find Maskless Man in 6 Seconds
Source: Go Simple Tax
The image shared above depicts a group of men in an office building.
All except one among them is not wearing a face mask and your task is to spot the man without a face mask in 6 seconds.
Those who are able to do so must have excellent observation skills, or you can say they have hawk-like eyes.
The man without a mask has blended perfectly with others, making him difficult to spot.
Highly attentive Individuals will be able to spot the person within the time limit.
The key to spotting the man in this image is an excellent eye for detail.
How many of you have spotted the man?
If you observe attentively, the man may be right before you.
The way it has blended with the other men in the office is fooling the eyes and brain, which is making the detection of the man a difficult task.
Have you successfully spotted the man without a mask?
Hurry up; the clock is ticking fast.
Not much time left.
Scan the image once more and see if you are able to identify him in the crowd.
And…
Time's over.
Hopefully, some of the most intelligent and sharp-eyed individuals have identified the man.
All of you deserve a huge round of applause for your excellent effort.
Those who couldn't spot it need not be disappointed.
You can always get better with practice.
Wondering where the maskless man is hiding?
Check out the solution below.
Brain Teaser to Test Your IQ: Can You Guess Who Will Die First?
Find Maskless Man in 6 Seconds: Solution
The maskless can be seen on the left side of the image. His exact location is marked with a circle which makes it easier to identify him.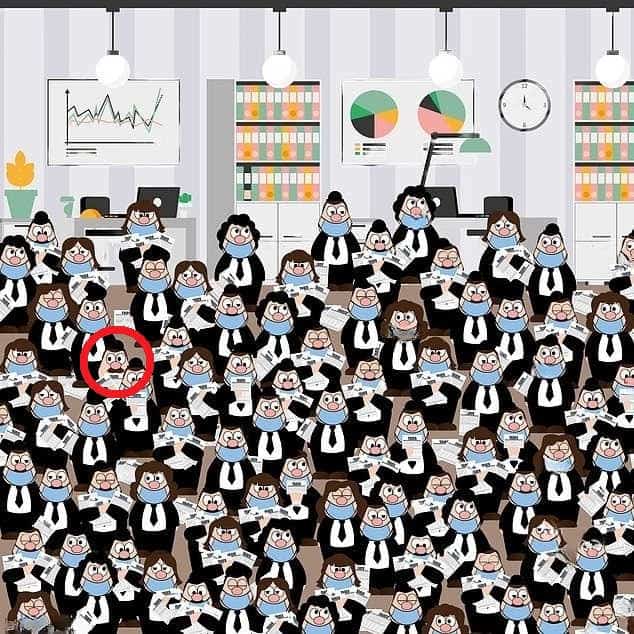 Recommended Reading:
Find the Mistake: Can you find the mistake in the clock tower picture in 7 seconds?
Picture Puzzle IQ Test: Only Highly Intelligent People Can Identify the Safest Door for Exit in 13 Seconds!