Republic Day Speech In English: 26 January 2023 Long & Short Speech for Students, Teachers & More
Republic Day 2023 Speech: National Festivals and their celebrations are the best opportunity to teach history and patriotism to kids. And to fulfill the same, below are the samples for India Republic Day Long and Short speeches.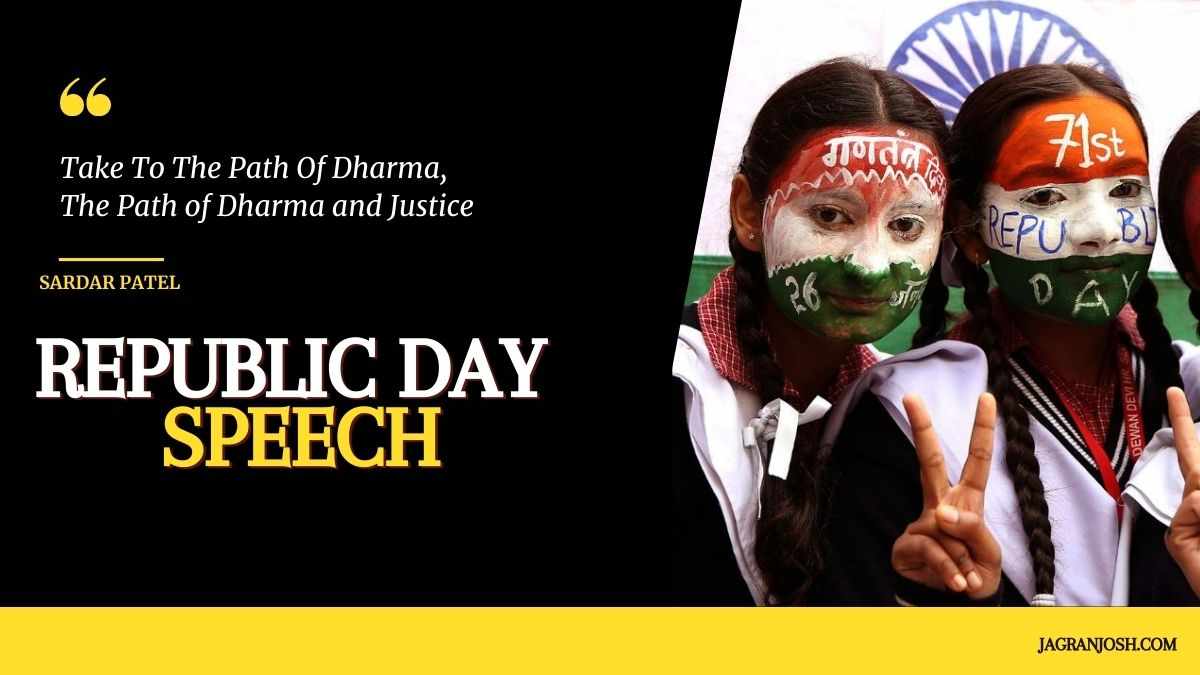 Republic Day Speech in English
Republic Day Speech 2023: India observes a national holiday on January 26 called Republic Day. It commemorates the day the Indian Constitution, which had previously replaced the Government of India Act of 1935, went into effect. This year Republic Day celebration is themed around 'Jan-Bhagidari- People' Participation.
गणतंत्र दिवस की ढेर सारी शुभकामनाएं। इस बार का यह अवसर इसलिए भी विशेष है, क्योंकि इसे हम आजादी के अमृत महोत्सव के दौरान मना रहे हैं। देश के महान स्वतंत्रता सेनानियों के सपनों को साकार करने के लिए हम एकजुट होकर आगे बढ़ें, यही कामना है।

Happy Republic Day to all fellow Indians!

— Narendra Modi (@narendramodi) January 26, 2023
The national festival is enthusiastically observed throughout every school, college, and workplace. There are a number of competitions held in schools, including ones for dancing, singing, and speaking on Republic Day. If you're still looking for topics, check out the list of Republic Day speech ideas below. Also, check out some tips on how to deliver a Republic Day speech that will be memorable.
Republic Day 2023: Timings, Tickets, Guidelines and Complete Schedule
Topics/Ideas for Speech on Republic Day 2023
The capacity to verbally convey one's thoughts and feelings to a large audience is known as speech. Speech is the act of expressing one's thoughts, feelings, or opinions in words. Some suggestions for the Republic Day Speech include:
Journey of Republic India

Republic Day: All About Its Modern-Day Celebrations

Republic Day and its Significance

Republic Day and its Prominence in Indian History

Republic Day and Indians

Why do we celebrate Republic Day

Importance of Republic Day for Social Harmony

Republic Day and its Socio-Economic Importance
Also Read - Important Days in February 2023
How to Write an Impressive Speech for Republic Day 2023?
Before giving a speech on Republic Day in 2023, the students should take some time to relax and think about the points they can make that will be interesting to everyone in the audience.

Intersperse the main points of your Republic Day speech with some inspirational quotes. In addition to expressing their gratitude for being given the opportunity to speak at the event, the students should start their speeches by extending greetings to any dignitaries, teachers, and other students who are present.

The speech's length must be suitable and should not tyre the audience. It must also be pertinent, brief, unambiguous, and free of filler.

The Republic Day speech should be revised as needed in the final moments, and should only be finalised after a careful reading. Last but not least, before giving a speech, practise a lot and project confidence.
10 Lines on Republic Day 2023: 26 January Best Lines For Students & Kids in English
Republic Day Short Speech Sample
Set 1
Greetings to everyone in attendance on this auspicious day. We are all gathered here to commemorate our nation's 72nd Republic Day today. It is my duty and honor to speak on republic day. Every year on January 26, India celebrates Republic Day, which is special in Indian history. Every year, we celebrate the national event with great joy, happiness, and pride in order to make it memorable.
As we all know, the Indian constitution took effect on January 26, 1950, and ever since, the Indian people have celebrated that day as our nation's Republic Day. Although India gained independence on August 15, 1947, there was no national constitution at the time. But after much deliberation and thought, a committee led by Dr BR Ambedkar presented a draught of the Indian constitution, which was adopted on November 26, 1949, and took effect on January 26, 1950.
I just want to share a few interesting facts about the Indian constitution quickly. Do you know that the Indian Constitution, which has 444 articles divided into 22 parts, 12 schedules, 118 amendments, and 146,385 words in its English-language version, is the longest written constitution of any sovereign state in the world? The Assembly received a draught constitution from the committee in November 1947, but it took more than two months to receive the finishing touches amid discussions and amendments. The process was finally finished on November 26, 1949, when the Constitution was approved by the Constituent Assembly. Prem Behari Narain Raizda was the calligrapher who created the work in the book. It was published by Dehra Dun, photolithographed at the Survey of India Offices, and illuminated by Nandalal Bose and other artists. It is still kept in helium-filled cases in the parliament building's library. Additionally, the Indian Constitution declares nine fundamental rights to be everyone's fundamental human rights.
I'd like to conclude by stating that India is a democratic nation. People who live in democracies have the opportunity to choose who will lead their nation. Even though there has been significant progress to date, there are still some issues that need to be addressed, such as pollution, poverty, unemployment, etc. One thing we can all do is make promises to one another that we will improve as people so that we can all help to solve these issues and improve our country. I'm grateful, Jai Hind.
Set 2
Respected Principal, Teachers, and all my dear friends.
I'm here in front of you right now to speak on Republic Day. I'd like to wish everyone in attendance a happy republic day before continuing. When my class teacher informed me a few days ago that you have been chosen to give a speech on January 26th, I was absolutely astonished. I have never given a speech before in my school career, so I am both excited and a little nervous.
As you are all aware, we are gathered here today to celebrate Republic Day, also known as "Gantantra Divas," and as you are also aware, our complete constitution was ratified on this day in 1950. However, Dr. Bhim Rao Ambedkar, who is well-known as the father of the Indian Constitution and one of the most influential figures in modern India at the time, presided over its adoption on November 26, 1949.
It should go without saying that our country's transformation into a republic nation was made possible by the efforts of all of our leaders at the time. The happiness of celebrating this day is completely incomprehensible. I feel incredibly proud to talk about our leaders, whose unwavering efforts laid the groundwork for our Republic Country. the individuals who fought against all odds to enact our nation's own constitution. The celebration of today serves as a reminder that we appreciate their work and will never forget it. On this special day, I also want to honor the courageous soldiers who have over the years defended our Republic Country against various threats.
As we start the celebration of this day, our hearts are overflowing with patriotism and pure love for our country. I just hope that in the years to come, this love for our country will only grow. We all continue to make contributions to our country's improvement and work together to address all of its issues. I just want to say that I am incredibly proud to be a citizen of our nation to wrap up my speech. I hope that everyone in our country continues to abide by the rules set forth in our constitution and preserves the integrity of this republican nation. Thank you!
What is the difference between Republic Day and Independence Day?
Republic Day Long Speech Sample
Set-1
Good Morning, on the auspicious occasion of Indian Republic Day, we have gathered here. India is commemorating its 74th Republic Day this year. I feel a great sense of pride and gratitude for everything our country has accomplished as we come together to celebrate the Republic Day of our country. On this day, we honour the struggles and sacrifices made by the people who fought for our country's independence and sovereignty.
The Indian Constitution, which took effect on this day in 1950, is evidence of the democratic, justice, libertarian, and egalitarian principles that have governed our country since its inception. It provides a framework for the government's transparent and accountable operation and ensures that certain fundamental rights are guaranteed to all of its citizens.
India has been hosting special guests every year as part of celebrations, including the head of state or the governments of other nations for the republic day celebration in the nation's capital. Since 1950, this has been a tradition for the celebration. For instance, on January 26, 2015, former US President Barack Obama attended Republic Day as a special guest. And for the 74th Republic Day celebration, Egypt's President Abdel Fattah El-Sisi will be the special guest.
The President delivers a speech on Republic Day at 8 a.m., and then the flag-hoisting ceremony at the Rajpath in the nation's capital is followed by a parade. The Republic Day March is regarded as a striking feature of the celebration and it highlights Indian cultural and social heritage. Additionally, it displays India's defence capabilities. The Indian Army, Navy, and Air Force's nine to twelve different regiments march while wearing all of their official regalia. The salute is accepted by the Commander-in-Chief of the Indian Armed Forces, the President of India.
The heroes of our nation, the soldiers, are remembered on this prestigious occasion. Different Gallantry awards and recognitions are presented to the Martyrs and heroes who dedicated their lives to protecting the motherland.
As we commemorate this day, let's not forget that there is still much to be done to uphold these ideals and guarantee that every citizen has access to healthcare, education, and a fair shot at success. Building a better future for everyone and fostering an equitable and prosperous society is our shared responsibility. Let's reaffirm our commitment to creating a powerful, thriving country that the rest of the world will respect and admire on Republic Day.
Set-2
Happy Sunshine to all the dignitaries, chief guests,s and my dear fellow mates! Every year on January 26, India celebrates Republic Day with great fervor and pride. It marks the anniversary of the adoption of our constitution. We became a sovereign, secular, socialist, and democratic republic on January 26, 1950, nearly three years after gaining our independence.
On August 15, 1947, we declared our independence from British rule, but our nation was still without a written constitution. In addition, India lacked the specialists and political influence necessary to ensure the efficient operation of state affairs. Up until that point, the 1935 Government of India Act, which was more inclined toward colonial rule, had essentially been modified in order to govern. As a result, it was imperative to create a comprehensive constitution that would represent everything India stands for.
Additionally, this day also saw the start of the Indian Parliament's first session. Dr. Rajendra Prasad, India's first President, also took the oath of office on January 26. Because it signifies the end of British rule and the establishment of India as a Republic State, this day is crucial.
Every year on January 26, Indians celebrate with great fervor. Irrespective of sex, caste, religion, and other things whole nation comes together to celebrate this joyous day. It exemplifies how diverse our nation is in real life. India's capital city, New Delhi, observes the holiday with a Republic Day Parade that displays both the military might and cultural diversity of our nation.
These parades are held in numerous cities, and many schools participate in them. It is enjoyable to see the youngsters and experts work so hard. One can be proud of their country when one graces the parade. On this day, we hoist the national flag. The national anthem is played by the military band in New Delhi following a 21-gun salute after the President of India hoists the flag. It is a day to honor the spirit of freedom and support India's future ascent to greater heights.
Republic Day 2023: Wishes, Quotes, Slogans, Greetings, Poem & More
Taking note of all that is written above, let's work together to build India of our desires. someone who really needs help this Christmas. With Faith in mind, Pride in Soul, a very Happy Republic Day 2023!
FAQ
What is Republic Day in English for kids?
Republic day is a national festival. It honours the day when the constitution of India came into effect.
How do you write lines on Republic Day?
Republic Day is celebrated in every part of the country. It is celebrated to mark the day the Constitution of India came into effect. There is a grand parade in the capital city of New Delhi on Republic Day. The tri-colour National Flag of India is hoisted on this day.
What is Republic Day in simple English?
Republic Day in India is celebrated on January 26 to commemorate the day on which the Constitution of India came into effect.