Smart Ball: A cricket ball with Microchip
The smart ball will be used in the cricket match in the near future. The concept of smart ball is introduced by the former Australia pacer Michael Kasprowicz. Now the firm SportCor would start manufacturing smart ball in collaboration with Australian ball manufacturer Kookaburra.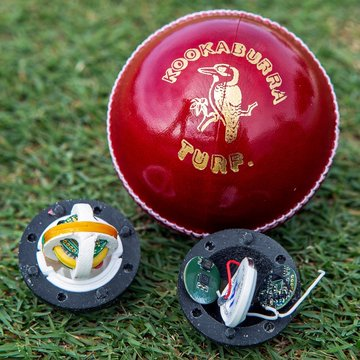 Smart Ball in Cricket
Now a days cricket is passing through the technological revolution. The cricket is already using technology like ultra-edge, Snick-o-Meter, The Ball Gauge, The Light-o-Meter, The Protective shield, Hawkeye, the counter, the Hotspot and stump microphones and now the smart ball.
The next milestone in the sport's technological evolution is the smart-ball. The idea of smart ball is sparked by the former Australia pacer Michael Kasprowicz. This ball will be manufactured by the firm SportCor; chaired by the former Australian pacer Michael.
The science used in the Smart ball
The smart ball comes with a micro-chip fitted in the innermost layer of the ball. Layers of leather and rubber are then wrapped over it, then like other cricket balls different pieces of the balls are assembled and stitched. This smart ball would look, feel and move like a normal cricket ball.
Features and benefits of Smart ball:
The chip inside the ball transmits information from the ball back to a connected phone, smart watch or tablet app.
The bowler will be able to fetch the information (like speed at release point, pre - bounce and post-bounce) as soon as the ball is bowled.
To maintain the secrecy of the game the ball will not reveal crucial information like the speed or degree of turn. According to the makers of smart ball, the smart ball will be able to give information like exact degree of bounce, swing, drift and dip.
This crucial details would help data analysts and coaching staff to analyse the bowling of the different bowlers.
Benefits to Umpire
The use of smart ball will help the umpire in taking decisions on the matters related to low level catch, LBW and caught behind etc.
Challenges from the Smart Balls:
As of now, manufacturers are still testing the ball, and it would take at least a year before real-time trials. The primary concern would be the longevity issue, that is how long the ball would last. Earlier there has been rising concern of Kookaburra's durability in all forms of cricket.
So the manufacturers of the smart ball will not only have to ensure the sustainability of the ball but also the quality of the game.
The introduction of the smart ball should not disclose all the crucial information during a match itself because if happens so then the originality of the game will will no longer stay.

List of devices used by the Umpires in the Cricket?
National Anti Doping Agency (NADA): Objectives and impacts on Indian Cricketers