Sundar Pichai: Biography, Education and Salary
Sundar Pichai is the current Chief Executive Officer (CEO) of the search engine Google. He is an India born world-class figure. The total salary of Sundar Pichai was around US$1,881,066 in 2018. Let us read this article to know more information about the Sundar Pichai.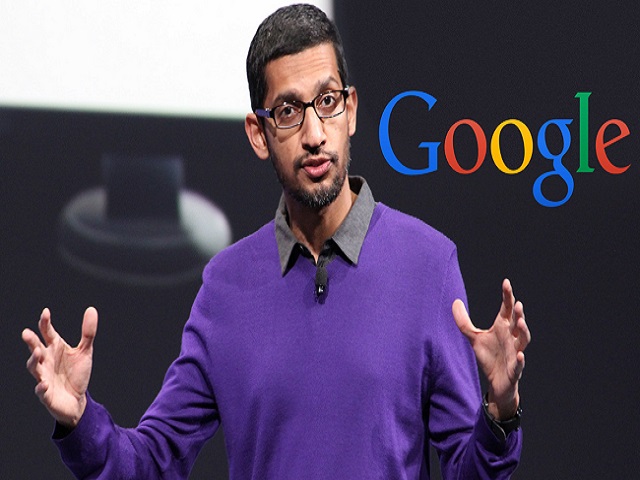 Sundar Pichai: CEO Google
Full Name: Pichai Sundararajan
Date of Birth: June 10, 1972 (age 47)
Place of Birth: Madurai, Tamil Nadu, India
Father: Regunatha Pichai
Mother: Lakshmi Pichai
Wife: Anjali Pichai (Class mate at IIT Kharagpur)
Children: 2 (Kiran Pichai, Kavya Pichai)
Nationality: American, India born American
Height: 1.80 Mtr.
Sundar Pichai Education:
Schooling of Sundar Pichai: He completed schooling in Jawahar Vidyalaya, a school in Ashok Nagar, Chennai and completed the Class XII from Vana Vani school.
B.Tech: IIT Kharagpur
Master of Science (MS): Stanford University
MBA: Wharton School of the University of Pennsylvania
Sundar Pichai Hobbies: Football and Cricket
Sundar Pichai Net Worth: $920 Million dollars as of 25 June 2019
Sundar Pichai Salary: The salary of Sundar Pichai is US$6.5 lac per year which continues to be since 2015. But due to the addition of personal security budget and other fringe benefits it is increased to US$1,881,066 in 2018.
Family background of Sundar Pichai
Sundar Pichai belongs to the family of an Engineer. The father of Pichai was an electrical engineer at General Electric Company (GEC), the British conglomerate. His father Regunatha Pichai had a manufacturing plant that produced electrical components. The Mother of Sundar Pichai was also a working woman. She was a stenographer.
Career of Sundar Pichai;
Sundar Pichai had completed B.Tech in Metallurgical Engineering from IIT Kharagpur and earned a scholarship to study materials science and semiconductor physics from Stanford University, USA.
He started his career as an engineer and product manager at a semiconductor maker (Applied materials) in Silicon Valley, USA.
Sundar completed MBA from Wharton in 2002 and joined McKinsey & Company as a consultant. Finally, he joined Google in 2004.
Major Success of Sundar Pichai
Sundar Pichai convinced the co-founders of Google, Sergey Brin, and Larry Page to launch Google's browser. Sundar played an important role in the final launching of Google Chrome, in 2008. Eventually, Chrome became the No. 1 browser in the world, surpassing competitors such as Firefox and Internet Explorer.
God help those who help themselves, and the launch of Google Chrome brings phenomenal success to the Sundar Pichai.
Sundar Pichai became an internationally famous figure following the thrilling success of the Google Chrome.
Finally after the gap of 11 years, since he joined Google; he was selected as the next CEO of Google on August 10, 2015.
The Alphabet Inc. was formed in 2015 as a Google's parent company. Sundar Pichai was awarded 273,328 shares of Google's holding company Alphabet in Feb.2016. Finally, on December 3, 2019, he became the CEO of Alphabet Inc.
So, in conclusion, it can be said that Sundar Pichai is a great inventor and a complete corporate guy. As an Indian, we are proud on Sundar Pichai.
Dr. Chandrasekhara Venkata Raman Biography: Early Life, Career, Awards and Achievements
Narendra Modi Biography: Childhood, Family, Education, Political Life, Net Worth & Key Facts