[Latest] Taylor Swift Net Worth 2023: Salary, Net Worth in Rupees (INR), Income
Updated Taylor Swift Net Worth: Taylor Swift is an American singer and songwriter. She is one of the most successful and richest female celebrities in the world. Her net worth is around $740 million.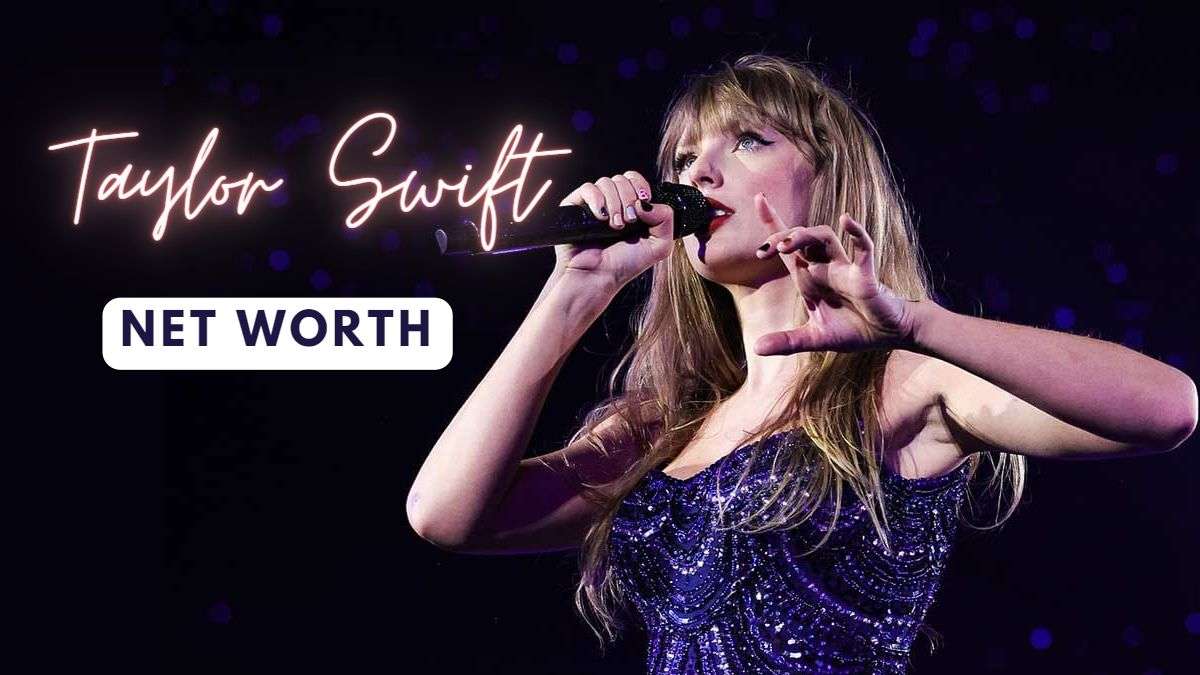 Taylor Swift's Net Worth
Who is Taylor Swift?
Taylor Allison Swift is an American singer, songwriter, and one of the most critically-acclaimed artists in the music industry. She is one of the most successful and richest female celebrities in the world. Taylor Swift's net worth is $740 million. According to Forbes, she is the second-richest female musician in American history, just after Rihanna.
Born on December 13, 1989, in West Reading, Pennsylvania, Swift began her career at the age of 14. She debuted her first album, which was self-titled, Taylor Swift in 2006. Her debut album peaked at number 5 on the Billboard 200 chart and stayed there for 157 weeks and was platinum-certified. Ever since then, Swift has enjoyed the fame of a megastar and has a massive fanbase known as Swifties. She holds a plethora of records and awards to her name. She is also one of the highest-paid solo musicians in the world.
Taylor Swift's net worth in rupees is 6,111.65 crores INR. Currently, she is on her highly anticipated and sold-out tour, The Eras Tour, featuring all of her past albums and her decades-spanning career.
Taylor Swift

Net Worth

$740 million

Annual Income

$92 million

Date of Birth

13 December 1989

Age

33

Height

5' 11'' feet or 180 cm

Nationality

American
Taylor Swift's Early Career
Taylor Swift began her music career in 2006 with the release of her debut album, Taylor Swift (self-titled). It was a big success. The album reached #5 on the Billboard 200, moreover, it also earned a triple platinum certification from the Recording Industry Association of America (RIAA). The album included hit singles such as "Teardrops on My Guitar" and "Our Song," which helped establish Swift as a rising star in country music.
In 2008, Swift released her second album, "Fearless," which was the breakthrough to her success. Fearless debuted at No. 1 on the Billboard 200 and spent 11 non-consecutive weeks at the top spot. It has since been certified diamond by the RIAA and has sold over 12 million copies worldwide. The album also won several awards, including four Grammy Awards, making Swift the youngest ever Album of the Year winner at the mere age of 20.
After critics questioned her songwriting abilities, Swift released her third album, "Speak Now" (2010), which she wrote all by herself, which was, unsurprisingly also a mega success. The album is considered to be one of the best country albums of all time. After Speak Now, she changed genres and released her fourth studio album, "Red" (2012), and then entirely shifted to the pop genre with her mega popular "1989" (2014).
In 2016, the pop star was accused of lying playing the victim after a whole ordeal with rapper Kanye West (now YE) and his ex-wife Kim Kardashian. Though Swift was wrongly accused of things she did not do, she was "cancelled" by the people and disappeared for a whole year. In 2017, she returned to the limelight with her comeback album "Reputation." The album again broke multiple records and established swift as one of the greatest and most successful pop stars of the generation. She went on to release other critically acclaimed and chart-topping albums, "Lover" (2019), "Folklore" (2020), and "Evermore" (2021). She recently released her latest album "Midnights" (2022) which broke and made several records, helping Swift climb to the top.
Throughout her career, Swift has amassed an impressive list of accolades, including:
12 Grammy Awards

40 American Music Awards

29 Billboard Music Awards

1 Brit Award

1 Emmy Award

1 Academy of Country Music Award

1 Country Music Association Award
Taylor Swift has also broken several records, including becoming the first female artist to win the Album of the Year Grammy Award thrice- for "Fearless", "1989", and "Folklore". Swift is also the first artist to have four consecutive albums debut at No. 1 on the Billboard 200. With 40 wins to her name, she holds the record for winning the most AMAs.
In 2019, she was the Artist of the Decade. She was also awarded the Top Artist of the year by AMA in 2022. With her Eras Tour, she also became the first living artist to chart all of her albums in the Billboard 200 chart. Only four other artists have been able to do so- Prince, David Bowie, Whitney Houston and The Beatles. With this record, the "Anti-Hero" singer has added her name beside musical legends.
In addition, she has sold over 200 million records worldwide, making her one of the best-selling music artists of all time. Taylor Swift's net worth today is $740 million (estimate by Forbes).
Taylor Swift's Net Worth and Earning Assets 2023
Taylor Swift's net worth today is estimated to be around $740 million USD. Her earnings primarily come from her music career, with album sales, tours, and merchandise sales being significant sources of income.
Swift is also a savvy businesswoman and has invested in several ventures, including real estate, technology companies, and a stake in the music streaming platform, Tidal. In addition, she has endorsement deals with various brands, including Apple, Coca-Cola, and Keds, which contribute to her overall net worth.
Swift's real estate portfolio is also substantial, with multiple properties in various locations. She owns several properties in Nashville, including a $17 million estate, a penthouse in New York City worth $20 million, and a $17 million seaside mansion in Rhode Island.
Swift has established herself as a highly successful and wealthy artist, with a diversified portfolio of assets contributing to her net worth.
Taylor Swift Houses and Real Estate Properties
Taylor Swift's real estate portfolio is worth over $80 million dollars. Here is a list of some of her most impressive properties:
Primrose Hill townhouse | $8.3 million

Tribeca P

enthouse | $18 million

New York expansion | $9.75 million

Watch Hill seaside estate | $17 million

Beverly Hills estate | $25 million
Taylor Swift Cars
Taylor Swift's net worth is estimated to be over $740 million. She is easily one of the richest musicians today. With this money, she has bought several high-end as well as modest and practical cars. Here is a list of the cars owned by the megastar.
Pink Chevy Silverado

Mercedes-Benz Viano

Black Toyota Sequoia

Audi R8

Porsche 911 Turbo

Nissan Qashqai
Does Taylor Swift have any or do charities?
Apart from being known as one of the best-selling artists of the century, Taylor Swift is also known for her philanthropic works. She has supported numerous charitable causes throughout her career. Here are some examples of Taylor Swift's charitable work:
Taylor Swift has donated to educational institutions such as the Country Music Hall of Fame and Museum in Nashville, Tennessee and the Reading Public Library in Pennsylvania. She also established the Taylor Swift Education Center at the Country Music Hall of Fame and Museum, which offers interactive exhibits and music education programs for children and teenagers.

In response to natural disasters, such as Hurricane Harvey and the 2010 Nashville floods, Taylor Swift has made generous donations to relief efforts. She also donated $1 million to the Louisiana flood relief efforts in 2016.

Swift has supported various health and wellness causes, including St. Jude Children's Research Hospital, which provides treatment and research for childhood cancer, and the American Heart Association, which works to reduce heart disease and stroke.

She is also a vocal advocate for LGBTQ+ rights and has supported organizations such as GLAAD, the Human Rights Campaign, and the Stonewall Inn Gives Back Initiative.

Swift has spoken out on issues affecting women, such as sexual assault and harassment, and has supported organizations such as the Rape, Abuse & Incest National Network (RAINN) and the Women's March.
In addition to her donations and advocacy, Taylor Swift has also performed benefit concerts and auctions to raise money for charitable causes.
Some Interesting Facts and Quotes of Taylor Swift
Here are some of the most interesting facts about singer-songwriter Taylor Swift.
She owns three cats and has named them after her favorite characters- Olivia Benson, Meredith Grey and Benjamin Button.

Taylor Swift's cats are also rich. Olivia Benson is worth over $97 million. It is said that Olivia is the third richest pet in the world.

Taylor Swift is known to use pseudonyms. She famously used the fake name "Nils Sjoberg" for her single with Calvin Harris, "This is What You Came For".

At the age of 10, Swift wrote the poem "Monster in My Closet". She won the National Poetry Contest with this poem.

In 2022, Swift releasee her highly anticipated and record-breaking album "Midnights." The top ten songs on the Billboard Hot 100 song chart were all claimed by Taylor Swift, making her the first artist in history to do so.

She is the most streamed female artist on Spotify, despite having released her music catalog on the music streaming application in 2017.

Stanford University has started a special 50-week class on one song by Taylor Swift. The university has included Swift's critically acclaimed "All Too Well (10-minute version)" to its syllabus.
Quotes:
Here are some of the quotes said by Taylor Swift.
"No matter what happens in life, be good to people. Being good to people is a wonderful legacy to leave behind."

"Life isn't how to survive the storm, it's about how to dance in the rain."

"If you're lucky enough to be different, never change"

"I never want to change so much that people can't recognize me."

"I'm intimidated by the fear of being average."

"The lesson I've learned the most often in life is that you're always going to know more in the future than you know now."
To conclude, Taylor Swift is one of the most successful, richest, and critically acclaimed artists in the world. Debuting in 2006 with a platinum-certified album, she has since made records and broken many. Taylor Swift's net worth today is estimated at $740 million.
Recommendations |
FAQ
What is the net worth of Taylor Swift in Indian Rupees?
Taylor Swift has an estimated net worth of $740 million. In Indian rupees her net worth would amount to 6,111 crores.
How many cars and houses Taylor Swift owns?
Taylor Swift has several mansions and villas to her name in many of the world's most expensive cities. Her real estate portfolio is worth $81 million. She also has many high-end and practical cars in her garage. Her car collection is worth around $650k.
What is Taylor Swift's Annual Salary?
Taylor Swift was one of the top 10 highest-paid artists in 2022. Her annual income was $92 million. With her massive Eras Tour taking place in 2023, this year will result in a bigger payout for the popstar.
How much is Taylor Swift Net Worth 2023?
Taylor Swift is one of the best-selling music artists of all time. She has a net worth of estimated $740 million.