Telangana Formation Day 2023: Know Culture, Government Schemes and Annual Reports
Telangana Formation Day 2023: The youngest 29th Indian state is now 10 years old. Let's take an insight into the culture, traditions and annual reports of the state on the occasion of Telangana Day.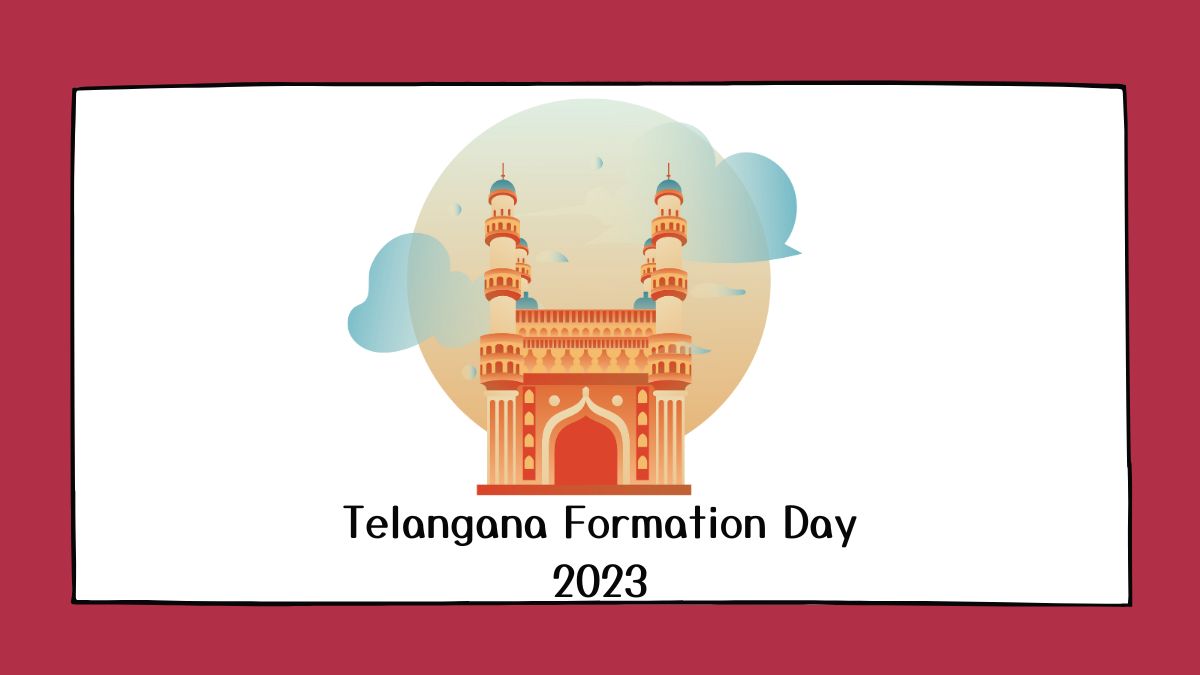 Happy Telangana Formation Day
Telangana Formation Day 2023: Telangana Day popularly known as Telangana Formation Day is observed on June 2 annually. The public holiday commemorates the formation of the Indian state of Telangana. It marks significance in the state's history for the sustained Telangana movement through the years. Kalvakuntla Chandrashekar Rao was elected as the first chief minister of Telangana.
Here is an inspiring story of the youngest State from India. Telangana, that delivered a century of development in less than a decade!

The Telangana growth model envisioned by Chief Minister Sri K. Chandrashekar Rao went beyond solutions and secured the lives of its people. The… pic.twitter.com/f8jHBX41Jl

— Telangana CMO (@TelanganaCMO) June 2, 2023
On the Formation Day of Telangana, my greetings to the people of this wonderful state. The skills of its people and the richness of its culture are greatly admired. I pray for the well-being and prosperity of Telangana.

— Narendra Modi (@narendramodi) June 2, 2023
My greetings to the people of Telangana on Statehood Day! Endowed with forests and wildlife, Telangana is also uniquely blessed with a rich cultural heritage and talented people. This beautiful state is emerging as a hub of innovation and entrepreneurship. My best wishes for the…

— President of India (@rashtrapatibhvn) June 2, 2023
The Telangana region of Hyderabad state began organising itself in the early 1950s with a demand for a separate state. The 1969 statehood agitation was a result of the Gentlemen's Agreement not being implemented and the Telangana region still being discriminated against in government employment, education, and public spending. The residents of Telangana began uniting under various organisations in the middle of the 1990s with a demand for their own state, Telangana. On November 29th, 2009, KCR declared an ongoing hunger strike to press for Telangana's statehood. Students, workers, and people's organisations all joined the movement, which quickly spread like wildfire. Later, the UPA government began the statehood process in July 2013 and completed it in February 2014 after four years of effective and nonviolent protests.
Culture of Telangana
The geography, Polity and Economy of the region determined the culture of Telangana. India's North and South are connected by Telangana. It is thus no surprise that the region on the whole came to be known for its Ganga-Jamuna Tehzeeb. Popular as 'South of North and North of South,' Telangana is the best example of India's composite culture, pluralism and inclusiveness.
Art Forms
Telangana received royal patronage and attained finesse in some classical art forms. Telangana's distinctive identity is derived from the numerous groups spread over the State's length and breadth. Some of the major art forms include Golla Suddulu, Oggu Kathalu and Gotralu etcPerini Sivatandavam, 'Dhoom Dham' and Chindu Bhagavatham.
Other than this, the Qutub Shahi and the Asafjahi monarchs encouraged the development of Qawali, Ghazals, and Mushairas.
Festivals
Telangana is home to people of different religions and faith, which clearly indicates the celebration of different festivals. Hindu holidays including Ugadi, Sri Rama Navami, Bonalu, Vinayaka Chaturthi, Dasara, Deepavali, Sankranti, Holi, and Mahashivaratri are observed with fervour, joy, and devotion. Dasara is the main festival with the epithet pedda pandura along with Ghattam.
While Ramzan is the primary festival for Muslims, Telangana also celebrates Moharram on a massive scale. It is famously referred to as "peerla panduga." Pir denotes a master. The majority of Christians rejoice on Christmas and Good Friday with great fervour and religiosity.
Telangana Government Initiatives
Telangana government has launched various programmes and initiatives aimed at the all-round development of living standards of its citizens. Some of the popular government initiatives include:
KCR Nutrition Kit

Mana Ooru- Mana Badi

Dalit Bandhu

Dharani

Kanti Velugu

Rhythu Bandhu Scheme

Rythu Bima

KCR Kit

Mission Kakatiya

Mission Bhagiratha

Haritha Haram

Kalyana Lakshmi/ Shaadi Mubarak

Arogya Lakshmi

Aasara Pension

Housing For The Poor

Land Distribution To Dalits

Rice Distribution

Strengthening Security Apparatus

SHE Teams

Sheep Distribution

SoFTNET

TASK

T-Fiber

T-Hub

WE Hub
Health-Medical-and Family Welfare Department Annual Report (2021- 2022)
In 2017 the National Institute of Transforming India (NITI Aayog) in collaboration with the Ministry of Health and Family Welfare initiated an annual health index for tracking overall performance and state performance. And among the larger states, Telangana emerged as the best third in terms of overall and incremental performance.
Ranked as best 3 in terms of State Performance by NITI Aayog

MMR reduced to 43

IMR reduced to 21

8 New medical colleges made functional

19 MBBS Seats & 7 PG Seats for 1 Lakh Population, Highest in the Country

4 Super Speciality Hospital at Hyderabad

Super speciality Hospital at Warangal

NIMS is being upgraded from 1489 beds to 3489 beds

61 new Dialysis Centres and 51 New Dialysis Machine

Health Budget increased to 76% in comparison to last year

More than 1 crore lab tests were conducted free under Telangana Diagnostics

Maximum number of Tele-Consultations in Country

339 Basti Dawakhanas functional

Awards for midwifery and high-risk pregnancy identification

All beds converted to oxygen

Oxygen generation capacity increased from 135 MT to 332 mt per day
Industries & Commerce Department Annual Report (2021-2022)
Telangana topped the country in creating the best business environment, according to the NITI Aayog's second edition of the Export Preparedness Index- (EPI)-2021.

According to Niti Aayog's fourth Health Index, Telangana ranked third among larger states in terms of overall health performance. Telangana ranked first in incremental performances.

Telangana unveiled first-of-its-kind IP Mascot of Telangana – IP BUDDY – RACHIT. A national honour has been given to Singareni Thermal Power Plant for efficiently using fly ash.

Telangana stood first in Social Welfare & Development as well as Commerce & Industry sector rankings in the country. In the Good Governance Index-2021 (GGI), it obtained second place in the Economic Governance Sector.

Ten panchayats were listed in the top 10 rankings published under the Sansad Adarsh Gram Yojana (SAGY) and 19 of the top 20 Panchayats in the country were from Telangana.

GMR Hyderabad International Airport Ltd. The "Telangana State Energy Conservation Awards - 2021 (TSECA)" presented the prestigious "Excellency- Gold Award" to (GHIAL).
Information Technology Electronics & Communications Department(2021-2022)
Telangana's IT/ ITeS Exports touched Rs 1,83,569 Cr for the financial year 2021-22, an increase of a whopping 26.14% over the previous financial year.

As per the estimates of NASSCOM, India's total IT/ ITeS exports would grow at 17.20% during the FY 2021-22. Telangana outperformed the rest of the country in terms of export growth for IT and ITeS by 9%.

Telangana is well on its course to achieve Rs.3 lakh Cr exports and 10 lakh jobs – the target set in the 2nd ICT Policy 2021-26.
Numerous public and private activities honouring Telangana's history and traditions are held on Telangana Day, which is frequently marked by parades, political speeches, and ceremonies. The Telangana Chief Minister hoist the national flag in a formal ceremony at the parade grounds, which is also the location for the official procession. Across all districts, the state observes the day with great joy and pride. All the districts in the 33 districts enjoy the big day with equal participation and enthusiasm.
Source: telangana.gov.in