Today In History, 1 February: What Happened On This Day
What happened today in history (1 February): Clark Gable, Ronda Rousey, Brahmanandam and Jackie Shroff born, Kalpana Chawla, Daniel Pearl and Buster Keaton died, first volume of Oxford English Dictionary published, space shuttle Columbia exploded, National Rail Museum established, Sania Mirza and Mahesh Bhupathi won mixed doubles at Australian Open, and more.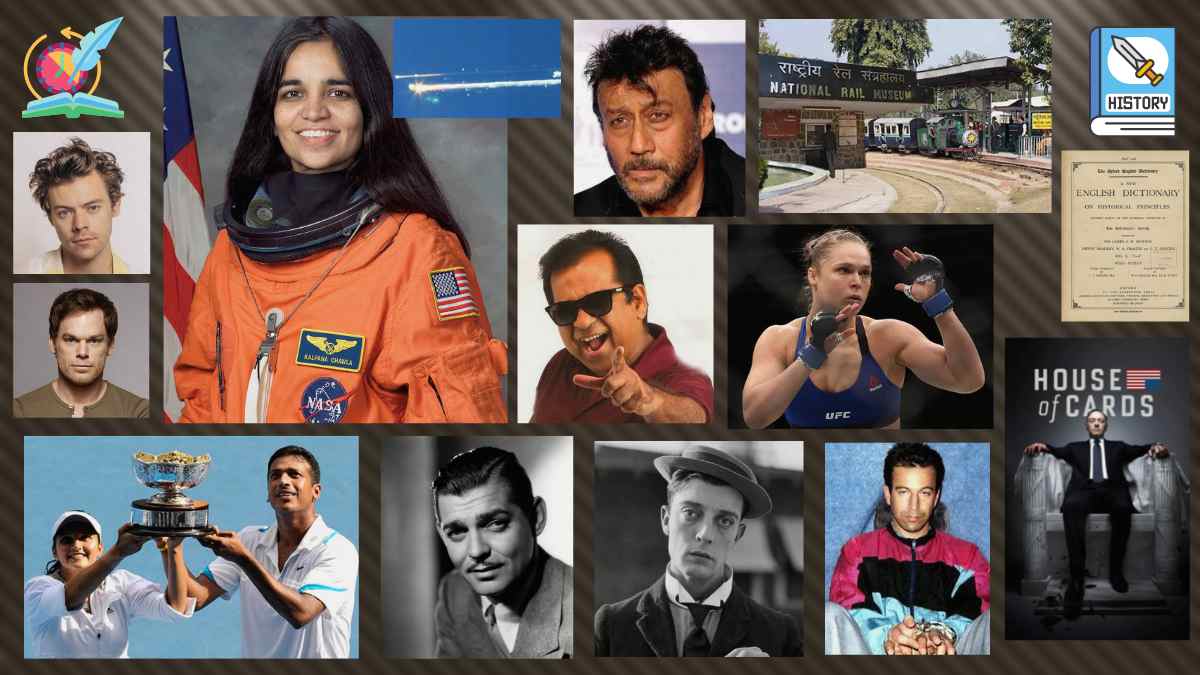 This day in history (1 Feb): NASA's Space Shuttle Columbia Disintegrated, Killing All 7 Astronauts onboard
Today in History, 1 February: The first month of 2023 is over. January passed us by in a flash, and now February, the month of love, is here. As you look forward to partying, hanging out, and being with your loved ones, don't forget to keep learning.
This month, and the 1st February in particular, holds an important place in history, especially in sports, music and cinema. It may appear ordinary at first, but many critical events happened on 1 February.
Check to find out what major events took place on this day (Feb. 1) in sports, politics and art, along with famous birthdays and deaths in world history.
Related: Today in History, 29 January: What Happened on This Day
Historical Events On This Day
In 1793, France declared war on the United Kingdom and the Netherlands during the French Revolutionary Wars.
In 1865, US President Abraham Lincoln signed the Thirteenth Amendment to the United States Constitution, abolishing slavery.
In 1881, the prestigious St. Stephen's College in Delhi was established.
In 1908, King Carlos I of Portugal and Infante Luis Filipe were assassinated in Lisbon.
In 1946, Norwegian politician and diplomat Trygve Lie was elected the first secretary-general of the United Nations.
In 1953, over 2500 people died in the North Sea flood in the Netherlands, Belgium, England and Scotland.
In 1977, the iconic tourist attraction of New Delhi, the National Rail Museum, celebrating the history of train transport in India, was established.
In 1977, the Indian Coast Guard was established.
In 2002, American journalist Daniel Pearl was beheaded by Pakistani terrorists.
In 2003, NASA's space shuttle Columbia, carrying seven astronauts, including the first Indian female to go into space, Kalpana Chawla, disintegrated upon re-entry to the Earth's surface and killed all on board.
In 2009, Icelandic politician Jóhanna Sigurðardóttir became the country's first female prime minister and the world's first openly gay head of government.
In 2021, Myanmar politician and leader Aung San Suu Kyi was detained in a military coup, and an emergency was imposed in the country.
Sports Events Today
In 1932, Australian cricket legend Don Bradman scored 299 runs not out in a test match with South Australia.
In 1964, French sisters Christine Goitschel (gold) and Marielle Goitschel (silver) became the first female siblings to win Olympic gold and silver in the same event when they dominated the slalom at the Innsbruck Winter Olympics.
In 2009, India's tennis stars Mahesh Bhupathi and Sania Mirza won the mixed doubles title for the first time at the Australian Open.
In 2015, Serbian tennis player Novak Đjoković won a record fifth men's singles crown after beating Scotsman Andy Murray (7-6, 6-7, 6-3, 6-0) at the Australian Open.
Art and Culture Events Today
In 1884, the first of 10 volumes of the Oxford English Dictionary was published in London.
In 1893, American inventor Thomas Edison completed the world's first movie studio, the Black Maria.
In 1896, Giacomo Puccini's iconic opera "La Bohème" premiered at the Teatro Regio in Turin, Italy.
In 1980, the dance-rock classic song "Call Me" by American new wave band Blondie premiered and went on to become the Billboard Song of the Year.
In 2004, one of the most infamous events in Super Bowl history occurred when famous pop singer Janet Jackson suffered a wardrobe malfunction. Her top was ripped off by singer Justin Timberlake, showing her breasts and causing widespread controversy.
In 2013, the American political crime drama series House of Cards, starring Kevin Spacey and Robin Wright, was released on Netflix, putting the streamer on the map.
Notable Deaths On This Day
| | | |
| --- | --- | --- |
| Sr No | Death Year | Personality |
| 1 | 1328 | Charles IV |
| 2 | 1851 | Mary Shelley |
| 3 | 1944 | Piet Mondrian |
| 4 | 1957 | Friedrich Paulus |
| 5 | 1966 | Buster Keaton |
| 6 | 1976 | Werner Heisenberg |
| 7 | 1988 | Heather O'Rourke |
| 8 | 2002 | Daniel Pearl |
| 9 | 2003 | Kalpana Chawla |
| 10 | 2013 | Ed Koch |
| 11 | 2014 | Maximilian Schell |
Famous Birthdays On This Day
| | | |
| --- | --- | --- |
| Sr No | Birth Year | Personality |
| 1 | 1550 | John Napier |
| 2 | 1561 | Henry Briggs |
| 3 | 1844 | G. Stanley Hall |
| 4 | 1894 | John Ford |
| 5 | 1901 | Langston Hughes |
| 6 | 1901 | Clark Gable |
| 7 | 1905 | Ernst Stueckelberg |
| 8 | 1914 | AK Hangal |
| 9 | 1918 | Muriel Spark |
| 10 | 1931 | Boris Yeltsin |
| 11 | 1937 | John Everly |
| 12 | 1948 | Rick James |
| 13 | 1955 | Satpal Singh |
| 14 | 1956 | Brahmanandam |
| 15 | 1957 | Jackie Shroff |
| 16 | 1962 | Takashi Murakami |
| 17 | 1965 | Brandon Lee |
| 18 | 1967 | Meg Cabot |
| 19 | 1968 | Lisa Marie Presley |
| 20 | 1971 | Ajay Jadeja |
| 21 | 1971 | Michael C. Hall |
| 22 | 1982 | Shoaib Malik |
| 23 | 1987 | Ronda Rousey |
| 24 | 1994 | Harry Styles |
| 25 | 1994 | Julia Garner |
Related | Today in History (31 January)
Related | Today in History (30 January)