Today In History, 1 March: What Happened On This Day
What happened today in history (1 March): Frederic Chopin and Justin Bieber were born, Sohan Lal Dwivedi died, Zero Discrimination Day celebrated, Yellowstone established as world's first national park, radioactivity was discovered, Rio de Janeiro was founded, and more.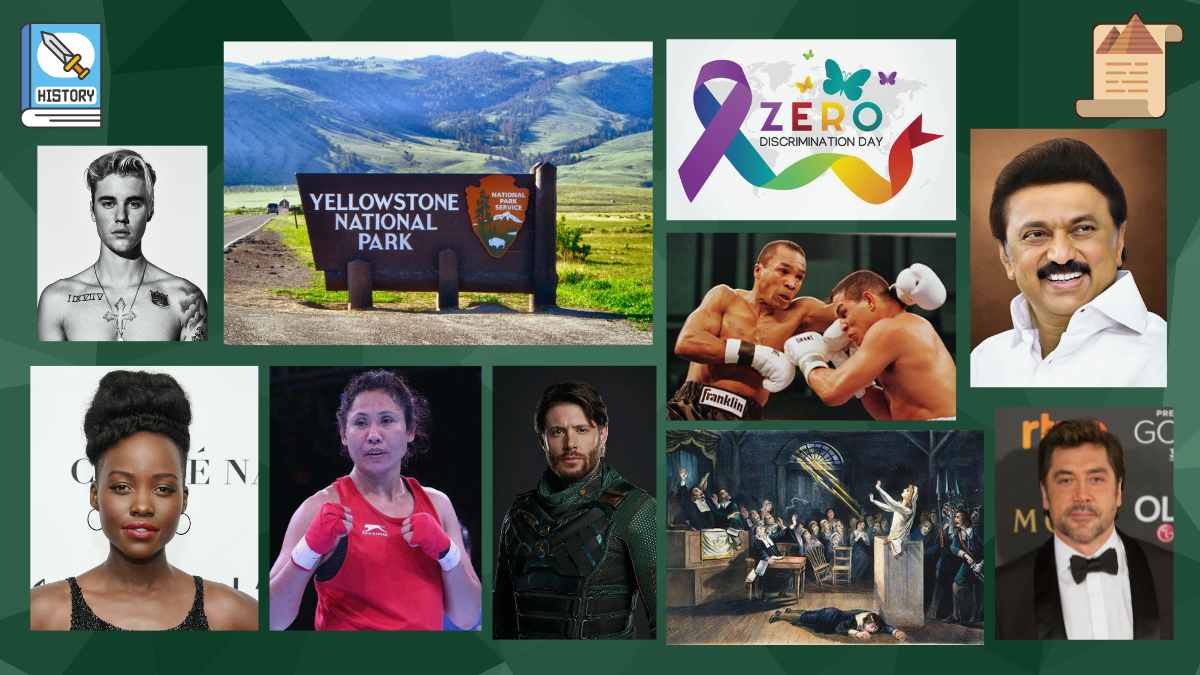 This day in history (1 Mar): World's First National Park Was established in Yellowstone, USA
Today in History, 1 March: Another month has passed by in 2023. March is here, and a new month calls for a new beginning. Learn about the historical significance of the spring month of March here to enhance your general knowledge.
Today is 1 March, which may look like an ordinary day at first glance but holds a pivotal place in world history.
Check what defining events happened on this day (Mar. 1) in sports, politics and art, along with famous birthdays and deaths in world history.
Historical Events On This Day
In 1565, the city of Rio de Janeiro, Brazil was founded by the Portuguese.
In 1692, the Salem witch trials began with the arrest of Sarah Good, Sarah Osborne, and Tituba in Salem, Massachusetts.
In 1790, the first United States Census was conducted, with a total population of 3,929,214 recorded.
In 1872, Yellowstone National Park was established as the world's first national park.
In 1896, Henri Becquerel discovered radioactivity while working with uranium salts.
In 1917, the Zimmermann Telegram, a secret diplomatic communication issued by the German Empire, was published in the United States, helping to bring the US into World War I.
In 1961, President John F. Kennedy established the Peace Corps, an organization dedicated to promoting peace and understanding across the world.
In 1981, Irish Republican Army member Bobby Sands began a hunger strike in a Northern Ireland prison.
In 1992, Bosnia and Herzegovina declared its independence from the Socialist Federal Republic of Yugoslavia.
Sports Events Today
In 1955, Pakistan and India played out a draw in the fifth cricket test at the National Stadium in Karachi to conclude the series 0-0.
In 1997, Puerto Rico's Hector Camacho knocked out American boxing legend Sugar Ray Leonard for the first time and permanently retired him from the sport.
Art and Culture Events Today
In 1973, English rock band Pink Floyd released their most famous album, "Dark Side of the Moon," selling over 45 million copies worldwide.
In 1998, James Cameron's romance epic Titanic became the first movie to gross over $1 billion worldwide.
Notable Deaths On This Day
| | | |
| --- | --- | --- |
| Sr No | Death Year | Personality |
| 1 | 1633 | George Herbert |
| 2 | 1792 | Leopold II |
| 3 | 1988 | Sohan Lal Dwivedi |
| 4 | 2014 | Alan Resnais |
Famous Birthdays On This Day
| | | |
| --- | --- | --- |
| Sr No | Birth Year | Personality |
| 1 | 1683 | Tsangyang Gyatso, sixth Dalai Lama |
| 2 | 1810 | Frederic Chopin |
| 3 | 1910 | Archer John Porter Martin |
| 4 | 1953 | MK Stalin |
| 5 | 1969 | Javier Bardem |
| 6 | 1978 | Jensen Ackles |
| 7 | 1982 | Laishram Sarita Devi |
| 8 | 1983 | Lupita Nyong'o |
| 9 | 1994 | Justin Bieber |
Related | Today in History (28 February)
Related | Today in History (27 February)