Today In History, 10 February: What Happened On This Day
What happened today in history (10 February): Boris Pasternak and Kumar Vishwas were born, Shirley Temple and Wilhelm Rontgen died, end of the Islamic Golden Age, Treaty of Paris signed, Tom and Jerry's precursor cartoon premiered, Garry Kasparov played chess against IBM computer Deep Blue, and more.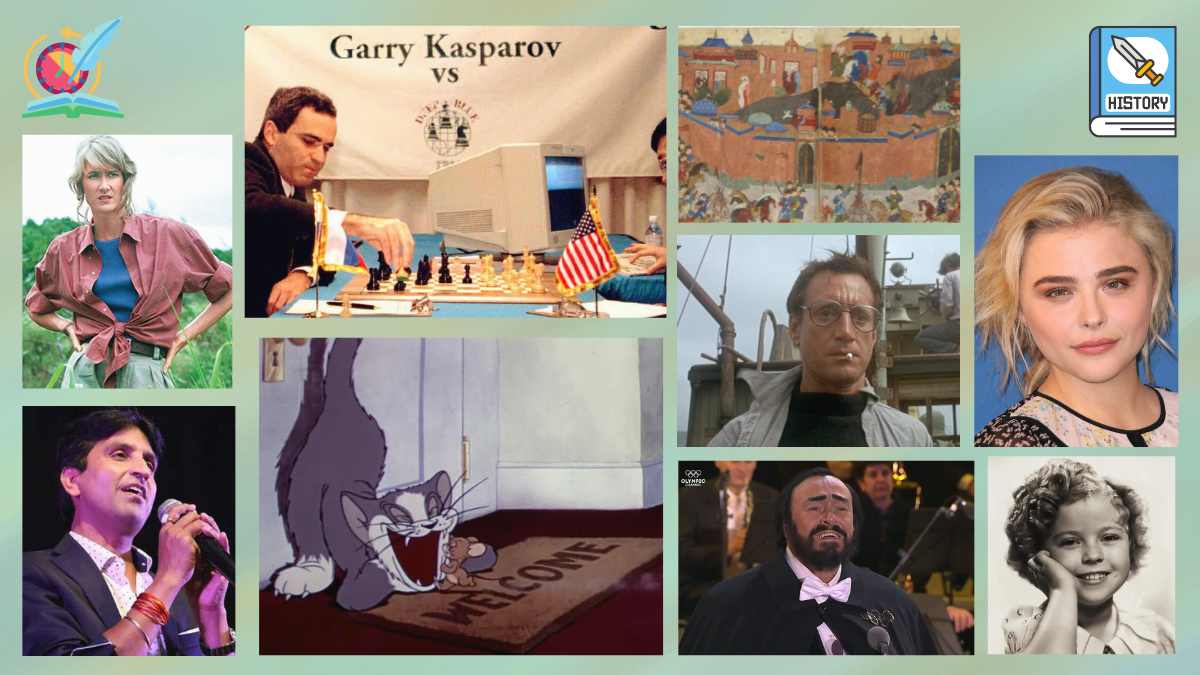 This day in history (10 Feb): IBM Computer Deep Blue Won A Game Against Reigning Chess Champion Garry Kasparov
Today in History, 10 February: 2023 looks in hindsight now with winter fading and February nearing the halfway mark. Valentine's Week has begun, and today is February 10, aka, Teddy Day. It's a fun occasion that also calls for extra learning on your part.
So take a look at the historical significance of 10 February. It may not appear like it, but 10th February holds a critical place in world history.
Read on to find out what major events took place on this day (Feb. 10) in sports, politics and art, along with famous birthdays and deaths in world history.
Historical Events On This Day
In 1258, the Islamic Golden Age came to an end with the capture of Baghdad, the capital of the Abbasid Caliphate, by the IIkhanate Mongol forces led by Hulagu Khan.
In 1763, the Treaty of Paris was signed between France and Britain, concluding the Seven Years' War and resulting in Britain acquiring many of France's territories, like Canada.
In 1837, Russian author Aleksandr Pushkin was killed in a duel defending his wife's honour.
In 1846, the Battle of Sobraon took place during the First Sikh War, with the British registering a major victory over the Sikhs in northwestern India.
In 1921, one of India's biggest and most popular universities, the Mahatma Gandhi Kashi Vidyapeeth public university was established in Varanasi, Uttar Pradesh.
In 1927, JRD Tata became the first person in India to obtain a pilot's license.
In 1931, New Delhi formally became the capital of India.
In 1962, captured American U2 spy-plane pilot Gary Powers was exchanged for Soviet spy Rudolph Abel.
In 2020, the majority of the Australian bushfires were put out by heavy rainfall, but over 46 million acres of land were burned, and 34 people and over a billion animals died.
Sports Events Today
In 1968, American two-time world champion Peggy Fleming comfortably won the Olympic women's figure skating gold medal at the Grenoble Winter Games.
In 1992, American boxing icon Mike Tyson was convicted of raping model Desiree Washington and sentenced to six years in prison.
In 1996, Russian chess legend Garry Kasparov defeated Deep Blue, a chess-playing computer built by IBM, with a 4-2 victory.
Art and Culture Events Today
In 1940, the first Tom and Jerry cartoon short, Puss Gets the Boot, was released by MGM.
In 1949, acclaimed American playwright Arthur Miller's stage drama, "Death of a Salesman," starring Lee J. Cobb and Arthur Kennedy, opened at the Morosco Theatre, NYC. It ran for 742 performances and won six Tony Awards and a Pulitzer Prize.
In 2004, American rap legend Kanye West released his debut album, "The College Dropout," which won the Grammy Award for Best Rap Album.
In 2006, Italian operatic tenor Luciano Pavarotti sang "Nessun Dorma" at the XX Winter Olympic Games in Turin, Italy, in his last-ever performance.
Notable Deaths On This Day
| | | |
| --- | --- | --- |
| Sr No | Death Year | Personality |
| 1 | 1755 | Montesquieu, French philosopher whose theory of separation of powers has been implemented in many constitutions in the world |
| 2 | 1912 | Joseph Lister, British surgeon, scientist and pathologist who developed the antiseptic medicine |
| 3 | 1923 | Wilhelm Rontgen, German mechanical engineer and physicist who produced and detected electromagnetic radiation in the wavelength of X-rays and won the first Nobel Prize in Physics in 1901 |
| 4 | 1932 | Edgar Wallace, English novelist, playwright and journalist who created King Kong and wrote numerous novels, screenplays and short stories |
| 5 | 2008 | Roy Scheider, American actor and amateur boxer who is considered one of the most distinguished actor of Hollywood and starred in the films Blue Thunder and Jaws |
| 6 | 2014 | Shirley Temple, American actress, singer, dancer and diplomat who rose to fame as a child actress during the 1930s and later served as the US ambassador to Ghana and Czechoslovakia |
Famous Birthdays On This Day
| | | |
| --- | --- | --- |
| Sr No | Birth Year | Personality |
| 1 | 1890 | Boris Pasternak, Russian poet and writer who wrote the iconic novel Doctor Zhivago and won the Nobel Prize for Literature |
| 2 | 1893 | Jimmy Durante, veteran American actor, comedian and singers of the early twentieth century |
| 3 | 1929 | Jerry Goldsmith, American composer known for creating the background scores of Alien, Planet of the Apes and Mulan |
| 4 | 1967 | Laura Dern, American actress and a recipient of an Academy Award, an Emmy, a BAFTA and five Golden Globe Awards who is best known for playing Ellie Sattler in Jurassic Park |
| 5 | 1970 | Kumar Vishwas, Indian poet and politician known for his popular Kavi Sammelans and founding the Aam Aadmi Party |
| 6 | 1997 | Chloe Grace Moretz, American actress and former child star who is known for her terrific performances in films like Kick-Ass and Carrie |
Related | Today in History (8 February)
Related | Today in History (9 February)