Today In History, 14 February: What Happened On This Day
What happened today in history (14 February): Madhubala and Babur were born, David Hilbert and James Cook died, Valentine's Day celebrated, Pulwama attack happened in India, the Silence of the Lambs was released, Fatwa issued against Salman Rushdie, YouTube was launched, and more.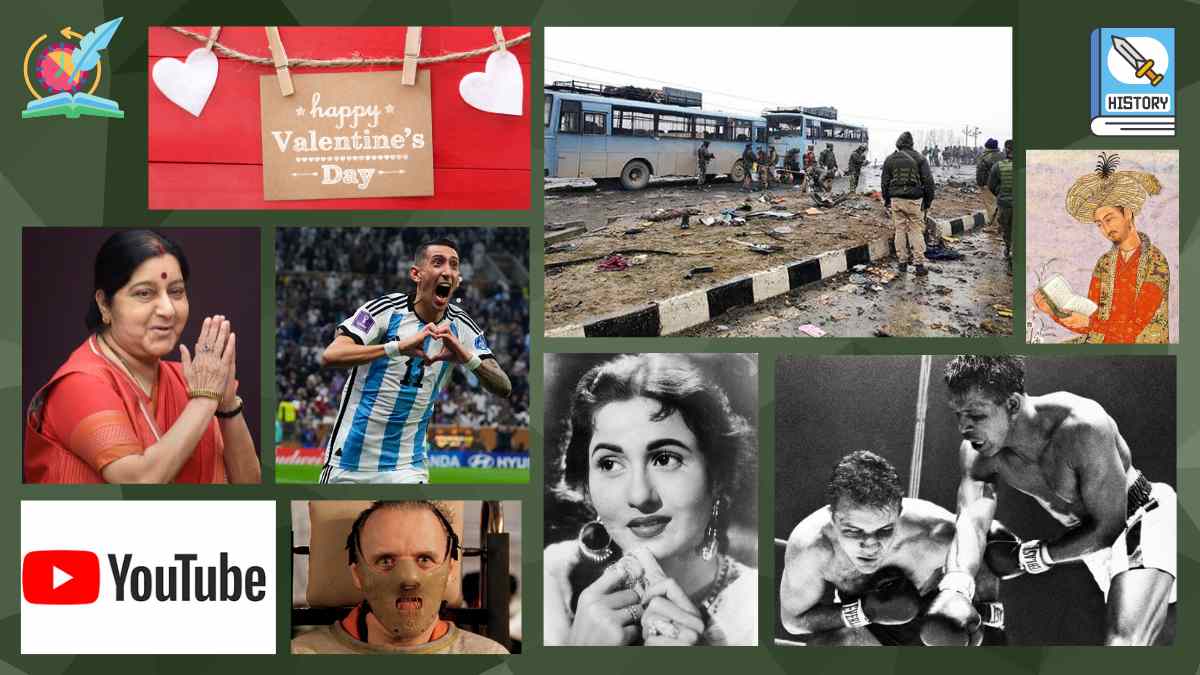 This day in history (14 Feb): Pulwama Attack Happened in India
Today in History, 14 February: The moment all lovebirds around the world have been waiting for has arrived. Today is 14 February, celebrated across the globe as Valentine's Day.
It's a special day for lovers who shower each other with gifts, grand gestures, trips, love letters, romantic dinners, or just plain old affection. However, 14 February isn't just known for being the day of love. Many significant events occurred on 14th February in history.
Read on to know what happened on this day (Feb. 14) in sports, politics and art, along with famous birthdays and deaths in world history.
Related | Today in History (13 February)
Historical Events On This Day
In 1349, hundreds of Jews were burned alive in Strasbourg, France, for being falsely linked to the spread of the Black Death bubonic plague in Europe.
In 1556, Akbar was crowned ruler of the Mughal Empire.
In 1797, the British Navy, led by Admiral John Jervis, defeated a bigger Spanish fleet in the Battle of Cape St. Vincent.
In 1876, Alexander Graham Bell applied for a patent for the telephone.
In 1929, the St. Valentine's Day Massacre happened in Chicago. Seven rival gangsters were killed on the orders of Al Capone.
In 1989, the first GPS satellite was launched.
In 1989, Union Carbide, responsible for the Bhopal Gas Tragedy, paid $470 million in compensation to the Indian government.
In 2005, Steve Chen, Chad Hurley, and Jawed Karim launched the popular video-sharing website YouTube.
In 2019, a deadly terrorist attack took place on an Indian army convoy in Pulwama, Kashmir, killing 40 soldiers. Islamic terror outfit Jaish-e-Mohammad claimed responsibility.
Sports Events Today
In 1951, American boxing legend Sugar Ray Robinson beat rival Jake La Motta in their sixth encounter to win the middleweight title.
In 2018, American snowboarder Shaun White won his third Olympic halfpipe gold medal at the Pyeongchang Winter Games.
In 2020, the famous professional football club Manchester City was banned from competing for two years by UEFA due to financial rules violations. It was later overturned.
Art and Culture Events Today
In 1989, British-Indian author Salman Rushdie received a fatwa from the Supreme Leader of Iran, Ayatollah Khomeini, calling for his assassination for writing the controversial book "The Satanic Verses."
In 1985, Whitney Houston's debut album, "Whitney Houston," was released and later won the Billboard Album of the Year award.
In 1991, the classic horror film The Silence of the Lambs, starring Anthony Hopkins and Jodie Foster, was released.
Notable Deaths On This Day
| | | |
| --- | --- | --- |
| Sr No | Death Year | Personality |
| 1 | 270 | Saint Valentine, Roman Christian bishop or priest who was executed by Emperor Claudius II |
| 2 | 1779 | James Cook, English explorer, naval captain and cartographer known for his voyages in the Pacific ocean and discovering Hawaii |
| 3 | 1831 | Vicente Ramon Guerrero, Mexican soldier and statesman who became the second President of Mexico and is known for abolishing slavery in the country |
| 4 | 1943 | David Hilbert, German mathematician who is considered one of the greatest and most influential figures in mathematics for his contributions to calculus of variations, geometry, spectral theory, integral equations and many more concepts |
Famous Birthdays On This Day
| | | |
| --- | --- | --- |
| Sr No | Birth Year | Personality |
| 1 | 1483 | Babur, Mughal ruler and a descendant of Timur and Genghis Khan who founded the Mughal Empire in India |
| 2 | 1766 | Thomas Malthus, English economist and demographer best known for his theory that population growth will always outrun the food supply and should be checked by stern limits on reproduction |
| 3 | 1818 | Frederick Douglass, American social reformer, abolitionist, writer and orator who escaped slavery and became the leader of abolitionist movement in America |
| 4 | 1913 | Jimmy Hoffa, American labor union leader and Teamster president from 1957 to 1971 who reportedly had associations with organized crime |
| 5 | 1933 | Madhubala, Indian film actress who was often called the Marilyn Monroe of Bollywood for her majestic beauty and tragic life |
| 6 | 1942 | Michael Bloomberg, American businessman and politician who founded the financial information and media firm Bloomberg L.P. |
| 7 | 1952 | Sushma Swaraj, Indian lawyer, politician and diplomat who served the Minister of External affairs of in the first term of the Narendra Modi-led BJP government |
| 8 | 1988 | Angel Di Maria, Argentine footballer who plays as a winger or attacking midfielder |
| 9 | 1992 | Freddie Highmore, English actor who rose to fame as a child actor in films The Spiderwick Chronicles and Charlie and the Chocolate Factory |
Related | Today in History (11 February)
Related | Today in History (12 February)
FAQ
What happened today in history (14 February)?
14 February is celebrated as Valentine's Day all over the world. But in India, the day has become infamous as the anniversary of the Pulwama terror attack in which Pakistan-based terrorists massacred 40 Indian soldiers, travelling in a convoy by suicide bombing their bus with an explosive carrying
Which famous personality was born on this day, 14 February?
Indian politician and beloved diplomat Sushma Swaraj, Bollywood actress Madhubala, and the first Mughal ruler Babur were born today (14 Feb). What major events took place on 14 February?
What major events took place on 14 February?
Ayatollah Khomeini of Iran issued a fatwa against Salman Rushdie for his blasphemous views in the novel The Satanic Verses and The Silence of the Lambs was released.