Today In History, 17 January: What Happened On This Day
What happened today in history (17 January): Muhammad Ali, Benjamin Franklin and Jim Carrey born, Birju Maharaj and Bobby Fischer passed away, the great Hanshin earthquake, debut of Popeye, first UN Security Council meeting, and more.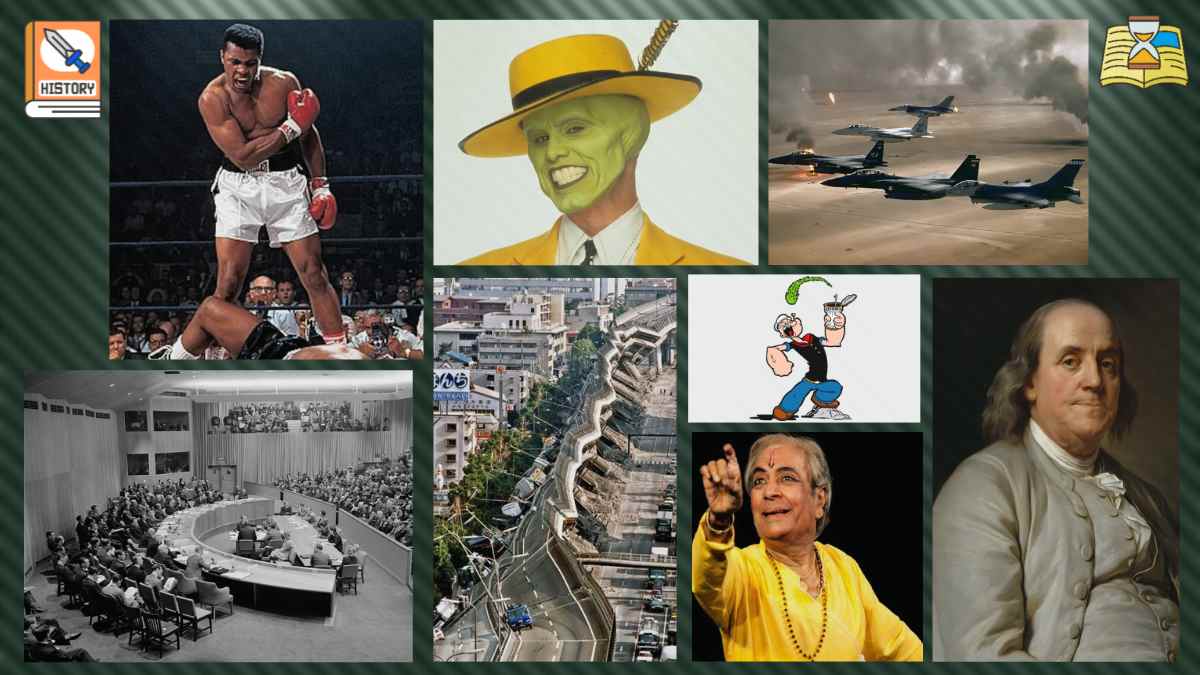 This day in history (17 Jan): The Birth of Muhammad Ali
Today in History, 17 January: One must always keep learning and growing, or else risk becoming creatively stunted. A new year has begun, and with it come more responsibilities but also more opportunities to better yourself.
On that note, let's take a look at the historical significance of the first month of the year. Today is 17 January, an apparently random day. However, 17th January holds a pivotal place in world history.
Dive in to find out what major events happened on this day (Jan. 17) in sports, politics and art, along with famous birthdays and deaths in world history.
Related: Today in History (15 January)
Historical Events On This Day
In 1377, Pope Gregory XI reached Rome and successfully moved the papacy back to Rome from Avignon after 67 years.
In 1773, British explorer and naval captain James Cook became the first person to cross the Antarctic Circle.
In 1811, an outnumbered Spanish force (6,000) defeated the nearly 100,000 Mexican revolutionaries in the Battle of Calderon Bridge during the Mexican War of Independence.
In 1871, American inventor Andrew Smith Hallidie received the first patent for the cable car.
In 1920, the prohibition took effect in the US after the adoption of the 18th Amendment to the Constitution and the Volstead act.
In 1946, in London, the United Nations Security Council held its first meeting.
In 1991, the United States and the coalition commenced Operation Desert Storm in Iraq during the Persian Gulf War.
In 1995, a massive earthquake (6.9 magnitude) struck the Hanshin region in japan, claiming the lives of over 6000 people and destroying the city.
In 2017, the search for the missing Malaysian Airlines Flight 370 was called off over the Indian Ocean after 3 years.
Sports Events Today
In 1997, the NBA indefinitely suspended Dennis Rodman for kicking a cameraman.
In 2012, Miami Heat's LeBron James (28 years, 17 days) passed Kobe Bryant (29 Years, 122 days) to become the youngest player in NBA history to score 20,000 career points in a game against Golden State.
In 2013, celebrated cyclist and seven-time Tour de France winner Lance Armstrong confessed to doping to Oprah Winfrey and was later stripped of all his titles.
Art and Culture Events Today
In 1904, famed Russian playwright Anton Chekhov's The Cherry Orchard premiered at the Moscow Art Theatre.
In 1929, the popular cartoon character Popeye, a sailor known for his love of spinach, first appeared on the daily King Features comic strip Thimble Theater.
In 1976, American rock band Blondie, headlined by Debbie Harry, released its debut single, "X Offender."
In 1984, the US Supreme Court ruled that private use of home VCRs to tape TV programs for later viewing did not violate federal copyright laws.
Notable Deaths On This Day
| | | |
| --- | --- | --- |
| Sr No | Death Year | Personality |
| 1 | 395 | Theodosius 1, Roman emperor (379-95) who promoted Christianity during his rule and resolved conflicts with the Goths |
| 2 | 2008 | Bobby Fischer, American chess prodigy and grandmaster who won his first US Championship at the age of 14 and registered the only perfect (11-0) score in the same in 1964 |
| 3 | 2014 | Suchitra Sen, Indian actress who worked in Bengali and Hindi cinema in popular films like Aandhi, Devdas and Saptapadi |
| 4 | 2022 | Birju Maharaj, Indian dancer, composer, and singer who is considered one of the greatest Kathak dancers of India |
Famous Birthdays On This Day
| | | |
| --- | --- | --- |
| Sr No | Birth Year | Personality |
| 1 | 1706 | Benjamin Franklin, American polymath who was a renowned writer, scientist, inventor, statesman, diplomat, publisher, philosopher, and one of the Founding Fathers of America |
| 2 | 1888 | Babu Gulabrai, Indian writer and a leading figure in Hindi literature |
| 3 | 1899 | Al Capone, American mobster who gained notoriety during the prohibition era and remained a dreaded crime figure in Chicago till his conviction by the FBI in 1931 |
| 4 | 1922 | Betty White, beloved American actress and comedian known for her work in the acclaimed sitcom, The Golden Girls |
| 5 | 1931 | James Earl Jones, American actor and voice actor, best known for voicing iconic villain Darth Vader in Star Wars saga and Mufasa in The Lion King |
| 6 | 1942 | Muhammad Ali, American boxer who is widely regarded as the greatest heavyweight boxer of all time |
| 7 | 1962 | Jim Carrey, Canadian-American actor and comedian known for his energetic slapstick performances in '90s films like Dumb and Dumber, Liar Liar, Ace Ventura and The Mask |
| 8 | 1964 | Michelle Obama, American attorney and author who was the first lady of USA from 2009 to 2017 with her husband, Barack Obama as President |
Related | Today in History (16 January)
Related | Today in History (15 January)
FAQ
What happened today in history (17 January)?
The first meeting of the United Nations Security Council and the Operation Desert Storm of the Persian Gulf War happened on this day (17 Jan).
Which famous personality was born on this day, 17 January?
American comedian and beloved actor Jim Carrey and the greatest heavyweight boxer of all time, Muhammad Ali, were born today, 17th January.