Today In History, 18 February: What Happened On This Day
What happened today in history (18 February): Ramakrishna Paramahansa, Alessandro Volta and Dr. Dre were born, Michelangelo, Timur and J. Robert Oppenheimer died, Royal Indian Navy mutiny happened, Adventures of Huckleberry Finn was published, Pluto was discovered, first snowfall in Sahara, and more.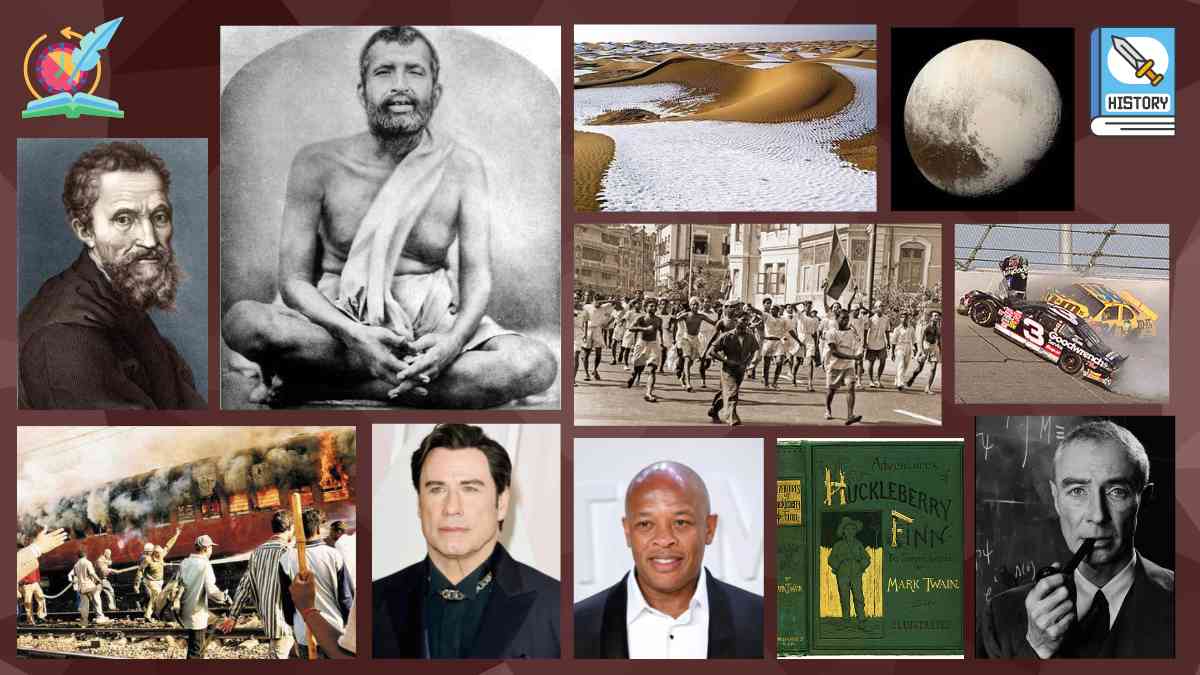 This day in history (18 Feb): Birth Anniversary of Ramakrishna Paramahansa
Today in History, 18 February: The Valentine's season is almost over now. The anti-Valentine's Week is going on, and today is 18 February, also known as Flirt Day.
This is targeted at those unlucky souls who spent Valentine's Day alone or became alone that day. It's good to move on and engage in some lighthearted and consensual flirting from time to time. But it's also important to keep expanding your mind.
On that note, learn about the historical significance of this day, 18 February here. It may not appear like it, but February 18 is an important day in world history. In this article, we've covered the major events that transpired on Feb. 18 in sports, politics and art, along with famous birthdays and deaths on this day.
Historical Events On This Day
In 1229, Frederick II, Holy Roman Emperor, signed a ten-year truce with al-Kamil, regaining Jerusalem, Nazareth, and Bethlehem during the Sixth Crusade.
In 1519, Spanish Conquistador Hernán Cortés, largely responsible for the colonization of South America, left Cuba for the Yucatan Peninsula, Mexico, with 11 ships and 500 men.
In 1861, Victor Emmanuel II of Sardinia became the first King of Italy.
In 1905, the India Home Rule Society was founded in London by Shyamji Krishnavarma.
In 1911, the first official mail flight took place from Allahabad, British India, to Naini, with French pilot Henri Pequet delivering 6,000 cards and letters on his Humber biplane.
In 1930, Pluto was discovered by 24-year-old American Clyde W. Tombaugh without any astronomical training.
In 1946, the Royal Indian Navy mutiny started in Mumbai against British commanders and soon spread to other parts of British India, with 20,000 sailors participating.
In 1971, India established its first satellite contact with Britain through the Arvi satellite station.
In 1979, the first snowfall occurred in the Sahara desert.
In 2007, 70 people died in the terrorist bombing of the Indo-Pak train Samjhauta Express.
In 2014, the Ukrainian Revolution began causing deadly clashes between police and demonstrators. 76 people were killed, and President Viktor Yanukovych was removed by the Parliament.
In 2021, the NASAs Perseverance rover successfully landed on Mars to seek signs of ancient life and collect rock samples.
Sports Events Today
In 1913, French artist Marcel Duchamp caused a controversy in New York due to his modernist painting "Nude Descending a Staircase."
In 1928, Sonja Henie of Norway won the women's figure skating gold medal at the St. Moritz Winter Olympic Games, her first of three consecutive titles in the event.
In 1981, 20-year-old Edmonton centre Wayne Gretzky, a future ice hockey legend, became the first player in NHL history to score five career hat-tricks before age 21.
Art and Culture Events Today
In 1885, American author Mark Twain's classic novel Adventures of Huckleberry Finn was published.
In 1903, the first African American musical to perform on Broadway, "In Dahomey," opened at the New York Theater, starring George Walker and Bert Williams with music by Will Marion Cook.
Notable Deaths On This Day
| | | |
| --- | --- | --- |
| Sr No | Death Year | Personality |
| 1 | 1294 | Kublai Khan, Mongol emperor known for founding the Yuan dynasty of China |
| 2 | 1405 | Timur, Turkish-Mongol ruler who founded the Timurid Empire and remained undefeated as a military commander |
| 3 | 1546 | Martin Luther, German priest, theologian and writer who caused the Protestant Reformation |
| 4 | 1564 | Michelangelo, Italian sculptor, painter and architect who is considered one of the greatest artists in history and designed the ceiling of the Sistine Chapel in the Vatican |
| 5 | 1851 | Carl Gustav Jacob Jacobi, German mathematician who made important discoveries in the fields of elliptic functions, number theory, ordinary and partial differential equations |
| 6 | 1957 | Joseph Gilbert Hamilton, American scientist and professor who pioneered the use of radioactive isotopes to treat human subjects |
| 7 | 1967 | J. Robert Oppenheimer, American physicist who is called the "Father of the Atomic" bomb for creating the first nuclear weapons during World War II |
| 8 | 2001 | Dale Earnhardt, American car racer who won 7 NASCAR championships, died in a crash at during Daytona 500 |
Famous Birthdays On This Day
| | | |
| --- | --- | --- |
| Sr No | Birth Year | Personality |
| 1 | 1516 | Mary I, queen of England and Ireland from 1553 to 1558 known for reversing the English Reformation and brutally persecuting religion dissenters |
| 2 | 1745 | Alessandro Volta, Italian physicist and chemist who invented the electric battery, discovered methane and was honored with the SI unit of electric potential |
| 3 | 1836 | Ramakrishna Paramahansa, Indian Hindu spiritual leader, philosopher and mystic who believed divine embodiment of the Supreme Being in all individuals and served as the teacher of Swami Vivekananda |
| 4 | 1898 | Enzo Ferrari, Italian race car driver, auto manufacturer and entrepreneur who founded the Ferrari car company |
| 5 | 1906 | Hans Asperger, Austrian psychiatrist known for his studies of autism in children which led to the a new form of autism being named after him as Asperger's Syndrome |
| 6 | 1931 | Toni Morrison, American writer and the first African-American woman to win the Nobel Prize for Literature for her famous works Beloved, The Bluest Eye and Song of Solomon |
| 7 | 1933 | Yoko Ono, Japanese singer and peace activist who is famous for her relationship with John Lennon and blamed for the breakup of The Beatles |
| 8 | 1949 | Gary Ridgway, American serial killer and sex offender responsible for murdering nearly 50 women |
| 8 | 1950 | John Hughes, American filmmaker who created some of the funniest and most memorable comedy films ever like Home Alone, The Breakfast Club and Ferris Bueller's Day Off |
| 10 | 1954 | John Travolta, American actor who roes to fame with the dance hits Grease and Saturday Night Fever but later ventured into action and dramatic categories with films like Pulp Fiction and Face Off |
| 11 | 1965 | Dr. Dre, American rapper and record producer who founded the rap group NWA and later Beats Electronics and has launched other popular rappers like Eminem and Snoop Dogg |
Related | Today in History (16 February)
Related | Today in History (17 February)