Today In History, 18 January: What Happened On This Day
What happened today in history (18 January): The birth of Kevin Costner, Dave Bautista and Montesquieu, the demise of Rudyard Kipling and Harivansh Rai Bachchan, the second German empire established, Jim Thorpe's Olympic medals restored, fastest ODI century in history, discovery of Hawaii, and more.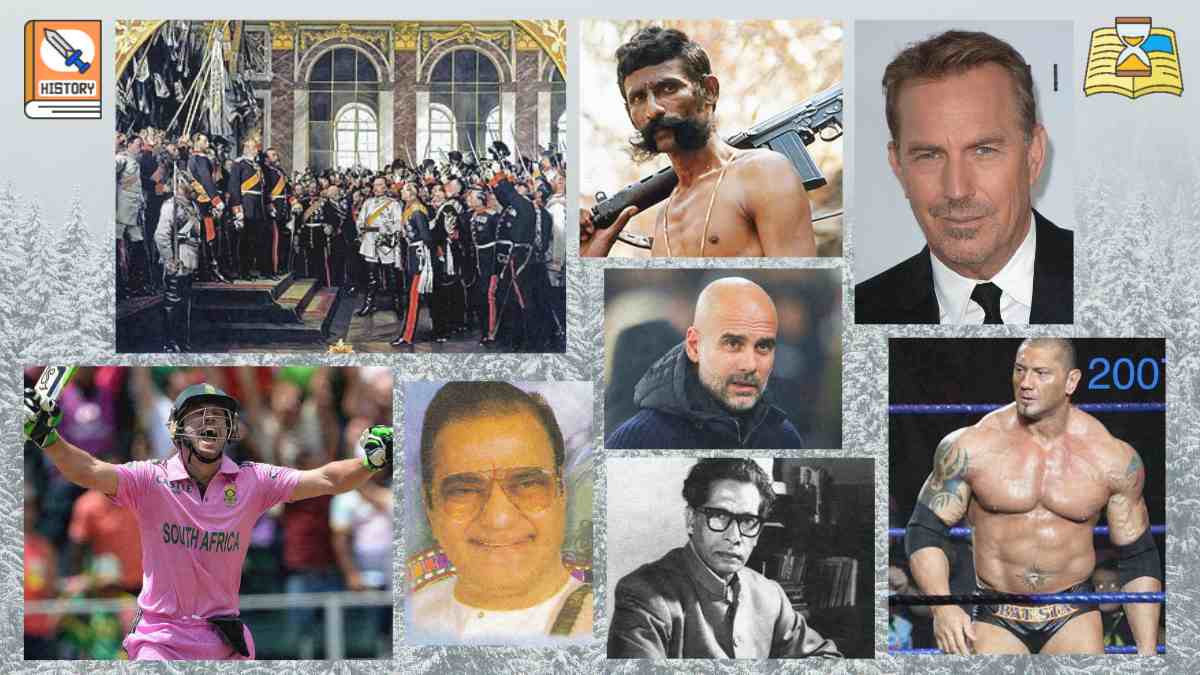 This day in history (18 Jan): Formation of the German Empire
Today in History, 18 January: 2023 has been a chilling year so far. With most of the world battling a bitter cold wave, let's not fall into the trap of slacking off on learning. It's essential to keep expanding our general knowledge.
Today is 18 January, another seemingly ordinary day in the winter month of January. However, 18th January holds a critical place in world history.
Read on to find out what major events happened on this day (Jan. 18) in sports, politics and art, along with famous birthdays and deaths in world history.
Historical Events On This Day
In 1586, a 7.9 magnitude earthquake devastated Honshu, Japan, killing 8,000 people and triggering a massive tsunami.
In 1778, English explorer and naval captain James Cook became the first European to discover the Hawaiian Archipelago.
In 1871, the German Empire was founded, and Wilhelm I was proclaimed Kaiser Wilhelm after the end of the Franco-Prussian War.
In 1896, the first X-ray generating machine was exhibited by Henry Louis Smith.
In 1911, American pilot Eugene Ely performed the first aircraft landing on a ship's flight deck, on the battleship Pennsylvania.
In 1919, the Paris Peace Conference began in Versailles, France, to formally end World War II and dictate terms for the defeated axis powers.
In 1919, the iconic luxury automobile company Bentley Motors Limited was founded in London by Walter Owen Bentley.
In 1967, Albert DeSalvo, the "Boston Strangler," was convicted of killing multiple women and sentenced to life imprisonment.
In 1993, Martin Luther King, Jr. Day was officially observed for the first time in the USA.
In 2002, the decade-long Sierra Leone Civil War was declared over.
Sports Events Today
In 1886, modern field hockey was born with the formation of the Hockey Association in England.
In 1983, the International Olympic Authority (IOC) restored the Olympic medals of American athlete Jim Thorpe after stripping him in 1913 for "breaking amateurism rules."
In 2015, South African cricketer AB de Villiers made the fastest century in ODI cricket, scoring a hundred in 31 balls in a match against the West Indies.
Art and Culture Events Today
In 1974, the popular television series "$6 Million Man," starring Lee Majors, premiered on ABC TV.
In 2008, popular Hollywood celebrity George Clooney was announced as a UN messenger of peace.
Notable Deaths On This Day
| | | |
| --- | --- | --- |
| Sr No | Death Year | Personality |
| 1 | 1936 | Rudyard Kipling, British author and poet, known for writing about stories of British India like the iconic children's book The Jungle Book and The Man Who Would Be King |
| 2 | 1949 | Charles Ponzi, Italian con artist who orchestrated one of the biggest get rich frauds in history, which was later named after him as "Ponzi scheme" |
| 3 | 1955 | Saadat Hasan Manto, Pakistani writer and playwright who mainly wrote in Urdu and is known for his many stories, essays, mostly opposing the partition of India |
| 4 | 1996 | N.T. Rama Rao, Indian actor, filmmaker and politician who enjoyed a successful career in Telugu film industry and later served as the Chief Minister of Andhra Pradesh |
| 5 | 2003 | Harivansh Rai Bachchan, Indian poet and writer who is one of the most prominent figures in Hindi literature and also the father of renowned Bollywood star Amitabh Bachchan |
Famous Birthdays On This Day
| | | |
| --- | --- | --- |
| Sr No | Birth Year | Personality |
| 1 | 1689 | Montesquieu, French philosopher whose theory of separation of powers has been implemented in many constitutions in the world |
| 2 | 1882 | A.A Milne, English writer who created the beloved children's characters Christopher Robin and his bear, Winnie-the-Pooh |
| 3 | 1904 | Cary Grant, English-American actor and popular Hollywood star in the early 20th century who starred in popular films like North by Northwest, Charade and To Catch a Thief |
| 4 | 1952 | Veerappan, Indian bandit, poacher and smuggler who terrorized the states of Karnataka, Tamil Nadu and Kerala for over two decades |
| 5 | 1955 | Kevin Costner, veteran American actor and film director who is a recipient of two Academy Awards and is known for western films and tv shows like Dances with Wolves and Yellowstone |
| 6 | 1969 | Dave Bautista, American actor and former professional wrester who is known for his dramatic and comedic roles in blockbuster films like Guardians of the Galaxy, Dune and Blade Runner 2049 |
| 7 | 1971 | Pep Guardiola, former Spanish football player and manager who coached famous clubs like Barcelona, Bayern Munich and Manchester City |
Related | Today in History (17 January)
Related | Today in History (16 January)