Today In History, 2 February: What Happened On This Day
What happened today in history (2 February): Shakira and Khushwant Singh born, Dmitri Mendeleev, Bertrand Russell and Chris Kyle passed away, Battle of Stalingrad ended, longest boxing match, band lifted on Nelson Mandela, Jeff Bezos announced his resignation as Amazon CEO, and more.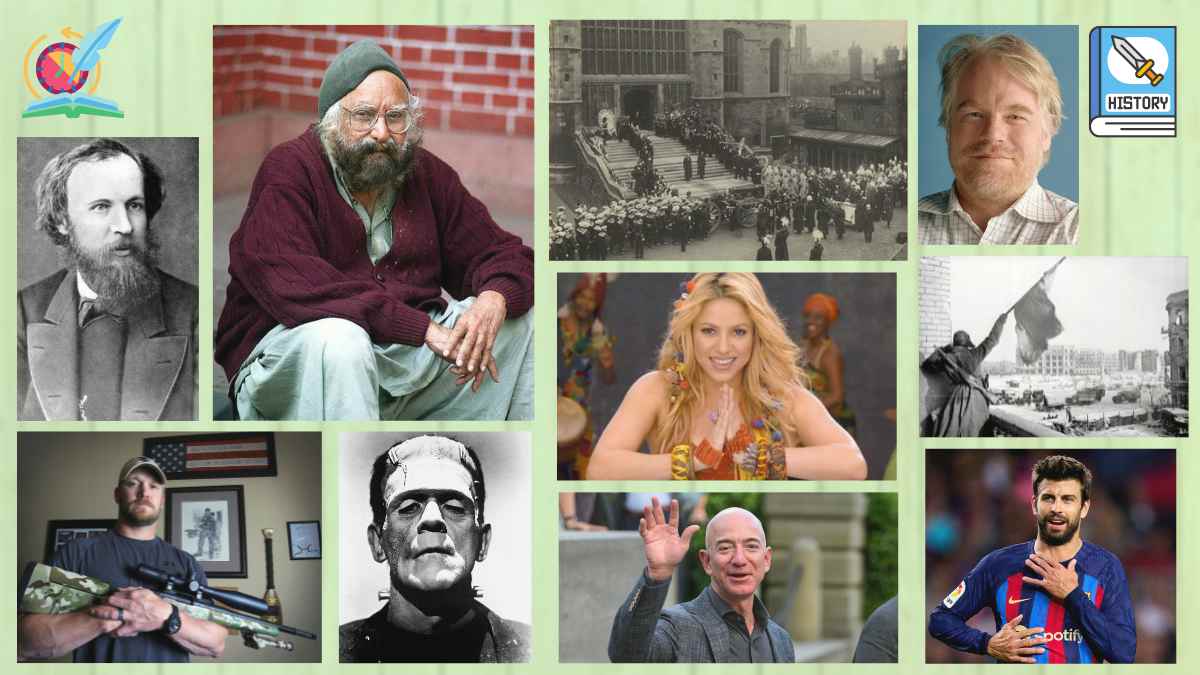 This day in history (2 Feb): Birth of Khushwant Singh
Today in History, 2 February: The month of love is here. Winter is behind us, and spring is almost upon us as we enter February. It's a beautiful month, but do you know its historical significance? Read on to find out.
Today is February 2nd. It may not appear so at first, but 2 February is a pivotal day in world history. Many significant events happened on this day (Feb. 2) in sports, politics and art, along with several notable birthdays and demises.
Historical Events On This Day
In 1653, the American territory of New Amsterdam was incorporated as a city and eventually became New York.
In 1709, British sailor Alexander Selkirk was rescued by explorer and pirate William Dampier after being marooned on a desert island for four and a half years, with his story eventually inspiring the novel "Robinson Crusoe."
In 1848, the US acquired Texas, California, New Mexico, and Arizona for $15 million after signing the Treaty of Guadalupe Hidalgo and ending the Mexican-American War.
In 1901, the state funeral of Queen Victoria of Great Britain took place and was one of the largest gatherings of European royalty in history.
In 1943, the German Sixth Army surrendered to the Soviet Red Army after the Battle of Stalingrad, marking a huge turning point in World War II.
In 1964, the popular action figure toy series GI Joe was launched by Hasbro.
In 1971, Idi Amin declared himself president of Uganda and ruled as one of the world's most brutal dictators for the next eight years.
In 1990, the ban on South African anti-apartheid activist Nelson Mandela was lifted by President F.W. de Klerk.
In 1995, the US space shuttle Discovery was launched.
In 2021, Jeff Bezos, American entrepreneur and founder of Amazon, announced his resignation as CEO.
Sports Events Today
In 1876, the National League of Professional Baseball Clubs was formed.
In 1892, the longest boxing match under modern rules took place in Nameoki, Illinois, between Harry Sharpe and Frank Crosby. It lasted 77 rounds, with Sharpe eventually winning by knockout.
In 2020, Serbian tennis star Novak Đjoković makes a comeback to beat Austrian Dominic Thiem (6-4, 4-6, 2-6, 6-3, 6-4) to win a record-extending eighth title at the Australian Open.
Art and Culture Events Today
In 1922, James Joyce's iconic novel "Ulysses" was first published.
In 1979, English musician Sid Vicious, bassist for the punk rock band Sex Pistols, died of a drug overdose.
In 2009, the popular reality show "RuPaul's Drag Race," hosted by actor, singer, and drag queen RuPaul, premiered on Logo TV.
Notable Deaths On This Day
| | | |
| --- | --- | --- |
| Sr No | Death Year | Personality |
| 1 | 1907 | Dmitri Mendeleev, Russian chemist and inventor who formulated the periodic table of elements |
| 2 | 1918 | John L. Sullivan, American boxer and the first heavyweight champion of gloved boxing |
| 3 | 1969 | Boris Karloff, English actor best known for playing iconic horror monsters in films like Frankenstein and The Mummy |
| 4 | 1970 | Bertrand Russell, British mathematician, logician and philosopher who is considered as the founder of analytic philosophy and won the Nobel Prize in Literature for his idealism and humanitarianism themed writings |
| 5 | 1974 | Chris Kyle, US Navy SEAL who is the deadliest and most prolific sniper in American history with over 150 confirmed kills during the Iraq War |
| 6 | 1996 | Gene Kelly, celebrated American actor, dancer, singer, filmmaker and choreographer known for his display of athleticism and energetic dancing in films like Singin' in the Rain and The Pirate |
| 7 | 2014 | Philip Seymour Hoffman, American actor who is considered one of the greatest actors of the 21st century for his versatile and intense performances in films like The Master, Capote and Synechdoche, New York |
Famous Birthdays On This Day
| | | |
| --- | --- | --- |
| Sr No | Birth Year | Personality |
| 1 | 1887 | Amrit Kaur, Indian activist and politician belonging to the royal family of Kapurthala. She was the first health minister of Independent Indian and also a part of the Constituent Assembly of India |
| 2 | 1905 | Ayn Rand, Russian-American writer and philosopher known for her best-selling novels "The Fountainhead" and "Atlas Shrugged" |
| 3 | 1915 | Khushwant Singh, Indian author, lawyer, diplomat, journalist and politician best known for his humour, secularism and the Partition inspired novel "Train to Pakistan" |
| 4 | 1941 | James Joyce, Irish author, poet and critic, considered one of the most influential writers of the 20th century due to his modernist works like "Ulysses" and "Dubliners" |
| 5 | 1952 | Park Geun-hye, first female President of South Korea who served from 2013 to 2017 |
| 6 | 1977 | Shakira, Colombian pop singer known for her charged performances and sex appeal in Latin America and rest of the world due to her hit songs like "Waka Waka" and "Hips Don't Lie" |
| 7 | 1987 | Gerard Pique, Spanish footballer who also played for the famed FC Barcelona La Liga club and is considered one of the best defenders of the era |
Related | Today in History (1 February)
Related | Today in History (31 January)