Today In History, 20 February: What Happened On This Day
What happened today in history (20 February): Rihanna and Kurt Cobain were born, Frederick Douglass and Govind Pansare died, World Day of Social Justice, Paricutin Volcano was formed, Metropolitan Museum of Art opened in NYC, John Glenn orbited the Earth, and more.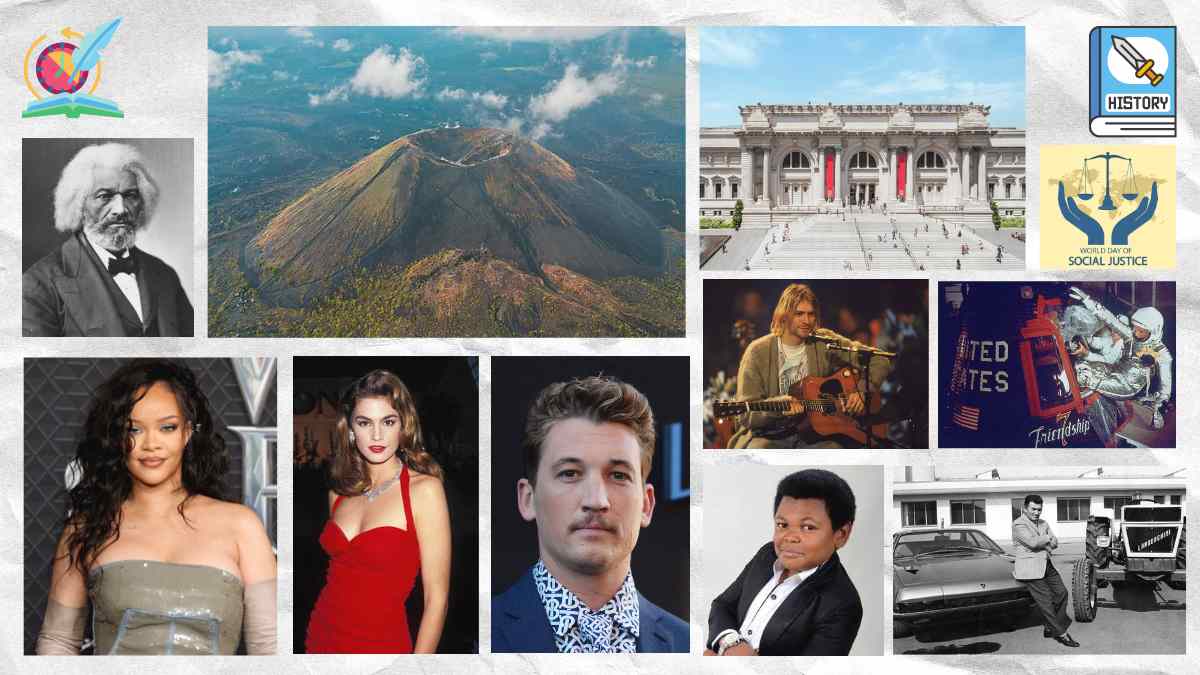 This day in history (20 Feb): A new Volcano was formed in Mexico
Today in History, 20 February: Winter is about to end, and so is the month of love. As we approach the final week of February, let's expand our general knowledge a bit.
Today is 20 February. Apart from being the Missing Day of the anti-Valentine's week, 20th February also holds a key place in history. Many significant events occurred on this day.
Keep reading to find out what happened on this day (Feb. 20) in sports, politics and art, along with famous birthdays and deaths in world history.
Historical Events On This Day
In 1547, Edward VI was crowned King of England after the death of his father, Henry VIII.
In 1872, the famous Metropolitan Museum of Art in New York City first opened to the public.
In 1935, Caroline Mikkelsen became the first woman to step foot in Antarctica.
In 1943, the Paricutin volcano was formed in the cornfield of a Mexican farmer and frequently erupted for 9 years.
In 1947, Lord Mountbatten was appointed the last viceroy of India to oversee independence.
In 1962, astronaut John H. Glenn became the first American to orbit the Earth during the Mercury-Atlas 6 mission aboard the spacecraft Friendship 7.
In 1987, Arunachal Pradesh and Mizoram became states of India.
In 1988, Peter Kallikow bought the New York Post from Rupert Murdoch for $37.6 million.
In 2003, a botched pyrotechnics display set The Station nightclub on fire during a concert by rock band Great White, killing 100 people.
In 2013, the smallest exoplanet, Kepler-37b, was discovered.
Sports Events Today
In 1998, 15-year-old American figure skater Tara Lipinski became the youngest Olympic figure skating gold medalist after winning at Nagano Winter Olympics.
In 2021, Naomi Osaka of Japan won her fourth major and second Australian title after beating American Jennifer Brady 6-4, 6-3 at the Australian Open.
Art and Culture Events Today
In 1816, Italian composer Rossini's famous opera "The Barber of Seville" premiered at the Teatro Argentina in Rome.
In 1877, Russian composer Pyotr Tchaikovsky's ballet "Swan Lake" premiered at the Bolshoi Theatre in Moscow.
In 1909, the Futurist Manifesto was published in the French journal Le Figaro by Filippo Tommaso Marinetti, celebrating speed, machinery, violence, youth and industry.
Notable Deaths On This Day
| | | |
| --- | --- | --- |
| Sr No | Death Year | Personality |
| 1 | 1790 | Joseph II, Holy Roman Emperor from 1765 to 1790 who abolished serfdom, established religious equality before the law, and granted freedom of the press |
| 2 | 1895 | Frederick Douglass, American social reformer, orator, writer and abolitionist who was born in slavery but fought to rid it from American through his writings and oratory |
| 3 | 1920 | Robert Peary, American explorer and naval captain who was the first person to reach the North Pole |
| 4 | 1993 | Ferruccio Lamborghini, Italian automobile designer, inventor, engineer and businessman who founded the sports car manufacturer Automobili Lamborghini after a feud with Enzo Ferrari |
| 5 | 2005 | Hunter S. Thompson, American journalist and author, known for creating gonzo journalism |
| 6 | 2015 | Govind Pansare, Indian left-wing politician and communist who wrote the best-selling Marathi biography of Shivaji |
Famous Birthdays On This Day
| | | |
| --- | --- | --- |
| Sr No | Birth Year | Personality |
| 1 | 1844 | Ludwig Boltzmann, Austrian physicist and philosopher known for developing statistical mechanics and statistically explaining the second law of thermodynamics |
| 2 | 1901 | Louis Kahn, Estonian-American architect considered on of the most important architects of the 20th century for designing the Kimbell Art Museum and Bangadesh National Museum |
| 3 | 1925 | Robert Altman, Five-time Academy Award-nominated American director known for his films M*A*S*H, The Player and Gosford Park |
| 4 | 1927 | Sidney Poitier, Bahamian-American actor who challenged racism to become the first black person to win the Oscar for Best Actor for his performance in the film Lilies of the Field |
| 5 | 1963 | Charles Barkley, one of the most popular American basketball players and a television personality |
| 6 | 1966 | Cindy Crawford, American supermodel and television personality |
| 7 | 1967 | Kurt Cobain, American musician and frontman of the alt-rock band Nirvana |
| 8 | 1982 | Osita Iheme, Nigerian actor and author famous for playing the comedic character Pawpaw in the film Aki na Ukwa |
| 9 | 1987 | Miles Teller, American actor who rose to fame for his lead role in the Oscar-nominated film Whiplash and also starred in Top Gun: Maverick |
| 10 | 1988 | Rihanna, Barbadian-American singer who is the best-selling female pop and R&B artist in history and is known for her hit songs "Diamonds", "Love the Way You Lie" and "Take A Bow" |
Related | Today in History (19 February)
Related | Today in History (18 February)