Today In History, 23 February: What Happened On This Day
What happened today in history (23 February): W. E. B. Du Bois, Michael Dell and George Handel were born, Madhubala and Carl Gauss died, world peace and understanding day celebrated, Rotary Club was founded, Gutenberg Bible was printed, US Flag raised in Iwo Jima, Osama bin Laden proclaimed fatwa against Jews and Crusaders, and more.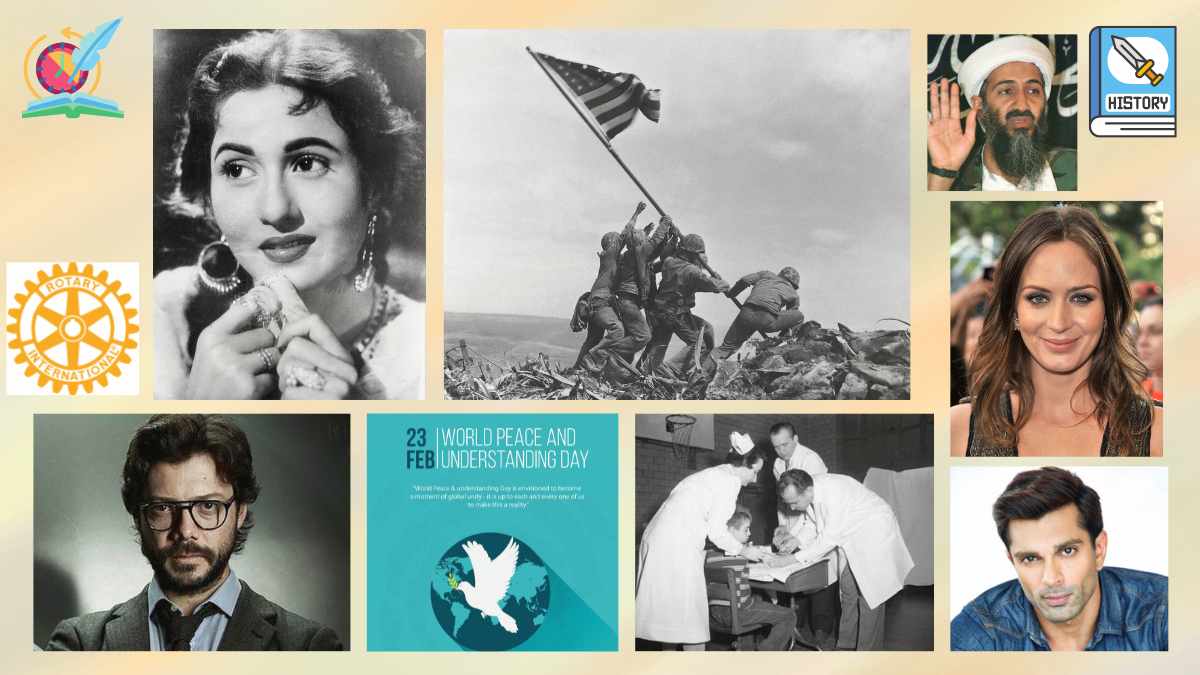 This day in history (23 Feb): The Death Anniversary of Madhubala
Today in History, 23 February: Just a few days are left before another month goes by. And not just any month, but February, the month of love. Days are passing by fast, so let's not waste time and learn about the historical significance of this day, 23 February.
It may not look like it, but 23rd February holds a pivotal place in world history. On this day in history, several significant events took place that shaped the course of human civilization. From the birth of iconic figures to important political decisions and scientific discoveries, 23 February has seen it all.
Check here the major events that took place on 23 Feb. in sports, politics and art, along with famous birthdays and deaths in world history.
Historical Events On This Day
In 532, Byzantine emperor Justinian I ordered the building of a new Orthodox Christian basilica in Constantinople, the Hagia Sophia.
In 1820, a plot to murder all the British cabinet ministers, the Cato Street Conspiracy, was exposed.
In 1836, The Siege of the Alamo began in San Antonio between American soldiers and Mexican forces during the Texas war for independence.
In 1905, the Rotary Club, the world's first service club, was founded in Chicago by Paul P. Harris.
In 1945, the capital of the Philippines, Manila, was liberated by combined Filipino and American forces.
In 1945, during the Battle of Iwo Jima in World War II, a group of United States Marines reached the top of Mount Suribachi on the island and were photographed raising the American flag.
In 1947, the International Organization for Standardization was founded.
In 1954, The first mass inoculation of children against polio with the Salk vaccine began in Pittsburgh.
In 1998, terrorist Osama bin Laden published a fatwa declaring jihad against all Jews, Crusaders and all Americans.
Art and Culture Events Today
In 1455, the Gutenberg Bible, the first Western book printed with movable type, was published.
In 1996, British filmmaker Danny Boyle's cult classic film, Trainspotting, starring Ewan McGregor and Robert Carlyle, premiered in the UK.
In 1999, Hip Hop artist Eminem released his first major record album, "The Slim Shady LP," which later won the Best Rap Album Grammy Award.
Sports Events Today
In 1958, five-time Argentine Formula One champion Juan Manuel Fangio was kidnapped by rebels involved in the Cuban Revolution, on the eve of the Cuban Grand Prix but was released the following day.
In 1968, Wilt Chamberlain became the first NBA player to score 25,000 points.
In 2019, Sri Lanka became the first Asian cricket team to clinch a Test series in South Africa after chasing down 197 in the second Test in Port Elizabeth.
Notable Deaths On This Day
| | | |
| --- | --- | --- |
| Sr No | Death Year | Personality |
| 1 | 1821 | John Keats, English Romantic poet who is known for his vivid and sensual imagery, his exploration of beauty and mortality, and his influence on the development of the Romantic movement with works like "Ode to a Nightingale" and "To Autumn" |
| 2 | 1855 | Johann Carl Friedrich Gauss, German mathematician, physicist, and astronomer who made significant contributions to many fields, including number theory, algebra, statistics, and astronomy |
| 3 | 1944 | Leo Baekeland, Belgian-American chemist who is best known for inventing Bakelite, the first plastic that was both heat-resistant and electrically non-conductive |
| 4 | 1969 | Madhubala, Indian actress who appeared in Hindi films during the 1950s and 1960s. She was known for her beauty, elegance, and versatility as an actress in films like Mughal-e-Azam and Chalti Ka Naam Gaadi |
Famous Birthdays On This Day
| | | |
| --- | --- | --- |
| Sr No | Birth Year | Personality |
| 1 | 1685 | George Frideric Handel was a German-British composer and musician who is best known for his operas, oratorios, and instrumental compositions |
| 2 | 1868 | W. E. B. Du Bois, American sociologist, historian, civil rights activist, and author who is known for his research on African-American social issues and his role in the founding of the National Association for the Advancement of Colored People (NAACP) |
| 3 | 1960 | Naruhito, the current Emperor of Japan since 2019 |
| 4 | 1965 | Michael Dell, American entrepreneur and businessman who is the founder, chairman, and CEO of Dell Technologies, one of the world's largest technology companies |
| 5 | 1975 | Alvaro Morte, Spanish actor who is best known for his role as Sergio "The Professor" Marquina in the Spanish television series Money Heist (La Casa de Papel) |
| 6 | 1982 | Karan Singh Grover, Indian model, actor and husband of Bipasha Basu |
| 7 | 1983 | Emily Blunt, British actress who has appeared in a wide range of film and television roles, including The Devil Wears Prada, Edge of Tomorrow and A Quiet Place |
Related | Today in History (22 February)
Related | Today in History (21 February)