Today In History, 24 February: What Happened On This Day
What happened today in history (24 February): Steve Jobs, Jayalalitha and Ibn Battuta were born, Sridevi and Osman Ali died, Battle of Karnal, Russia invaded Ukraine, Zimmerman plot exposed, first double century in ODI cricket, Nazi Party was founded by Hitler, and more.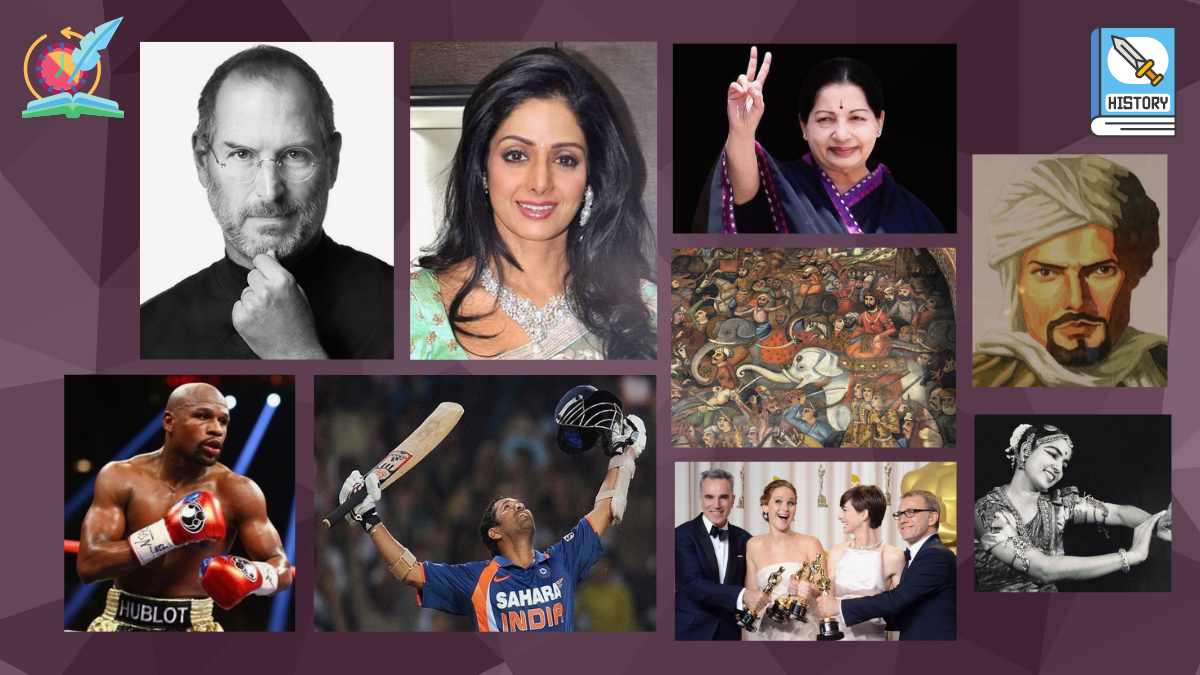 This day in history (24 Feb): The Birth Anniversary of Jayalalitha
Today in History, 24 February: A day gone by is an opportunity lost. 2023 is here, and most people have settled into it. Those who're still living in the past better wake up, as life only offers a few chances to explore and evolve.
Today is 24 February, another seemingly insignificant day in the month of February. However, February 24 holds a critical place in world history.
Read on to find out what happened on this day (Feb. 24) in sports, politics and art, along with famous birthdays and deaths in world history.
Historical Events On This Day
In 1525, the forces of Holy Roman Emperor Charles V defeated the French army of King Francis I in the Battle of Pavia.
In 1582, Pope Gregory XIII announced the Gregorian calendar.
In 1739, the Battle of Karnal took place between Iranian ruler Nader Shah and Mughal Emperor Muhammad Shah. Nader Shah inflicted a crushing defeat and plundered Delhi, severely weakening the Mughal Empire and paving the way for the British invasion.
In 1821, Mexico declared independence from Spain.
In 1917, the Zimmerman telegram was published in the US, exposing Germany's plans to get help from Mexico in World War I.
In 1920, the Nazi Party was founded by Adolf Hitler in Munich, Germany.
in 1946, General Juan Peron was elected the first President of Argentina.
In 1989, the oldest dinosaur fossil egg (150 million years) was found in Utah, USA.
In 1991, the ground phase of the Gulf War began with troops crossing the Saudi Arabian border and entering Iran.
In 2008, Fidel Castro, the revolutionary leader of Cuba, resigned as President after almost 50 years.
In 2022, Russia invaded its neighbour Ukraine, citing several false claims that Ukrainian President Volodymyr Zelensky was a neo-Nazi.
Sports Events Today
In 1980, the US ice hockey team clinched the gold medal with a 4-2 win over Finland at the Lake Placid Winter Olympics following the "Miracle on Ice" victory against the Soviet Union.
In 2010, Indian cricketer Sachin Tendulkar scored the first double century (200*) in One Day International cricket while playing against South Africa.
Art and Culture Events Today
In 1999, "My Heart Will Go On (Love Theme From Titanic)" won Song of the Year and Record of the Year at the 41st Grammy Awards.
In 2013, Jennifer Lawrence and Daniel Day-Lewis won the Oscars for Best actor female and male respectively, at the 85th Academy Awards.
In 2020, American film producer Harvey Weinstein, who was accused by numerous Hollywood celebrities of sexual harassment and assault during the #MeToo movement, was convicted of rape.
Notable Deaths On This Day
| | | |
| --- | --- | --- |
| Sr No | Death Year | Personality |
| 1 | 1810 | Henry Cavendish, English natural philosopher and chemist known for his discovery of hydrogen, which he called "inflammable air" |
| 2 | 1815 | Robert Fulton, American inventor and engineer credited with developing the first commercially successful steamboat |
| 3 | 1967 | Osman Ali, the last official Nizam of Hyderabad who seceded to India after Independence |
| 4 | 1986 | Rukmini Devi Arundale, Indian dancer, choreographer, and a pioneer of the classical dance form Bharatanatyam |
| 5 | 2001 | Claude Shannon, American mathematician and electrical engineer regarded as the father of digital circuit design theory and information theory |
| 6 | 2018 | Sridevi, Indian actress who worked in the Telugu, Tamil, Hindi, Malayalam and Kannada films like English Vinglish and Mr. India |
Famous Birthdays On This Day
| | | |
| --- | --- | --- |
| Sr No | Birth Year | Personality |
| 1 | 1304 | Ibn Battuta, Muslim scholar and explorer best known for his extensive travels throughout Africa, the Middle East, Asia, and Europe in the 14th century |
| 2 | 1500 | Charles V, Holy Roman Emperor (1519 - 1556) and King of Spain (1516 to 1556) |
| 3 | 1786 | Wilhelm Grimm, German author and one of the Brothers Grimm who collected and published fairy tales. |
| 4 | 1938 | Phil Knight, American entrepreneur and co-founder of Nike, Inc., one of the world's largest suppliers of athletic shoes and apparel |
| 5 | 1942 | Gayatri Chakravorty Spivak, Indian scholar, literary theorist, and feminist critic who is known for her work on postcolonialism, Marxism, feminism, and deconstruction |
| 6 | 1948 | Jayalalitha, Indian actress-turned-politician who served as the leader of the AIADMK party and Chief Minister of Tamil Nadu for more than fourteen years |
| 7 | 1955 | Steve Jobs, American visionary, entrepreneur and business magnate who co-founded the technology giant Apple Inc. and oversaw the launch of the iPod and iPhone |
| 8 | 1971 | Gillian Flynn, American author and screenwriter best known for her mystery novels Sharp Object and Gone Girl |
| 9 | 1976 | Jan Koum, Ukrainian-American entrepreneur and computer programmer who is the co-founder of popular messaging application WhatsApp |
| 10 | 1977 | Floyd Mayweather Jr., retired American professional boxer who holds a record of 50 wins and 0 losses and is considered one of the richest and greatest athletes ever |
| 11 | 1989 | Daniel Kaluuya, English actor known for his breakout performance in Get Out |
Related | Today in History (23 February)
Related | Today in History (22 February)