Today In History, 25 January: What Happened On This Day
What happened today in history (25 January): Volodymyr Zelenskyy and Virginia Woolf born, Al Capone and Ava Gardner died, first Emmy awards presented, first Winter Olympics held, Himachal Pradesh became a state, The Blair Witch Project premiered, Election Commission of India established, and more.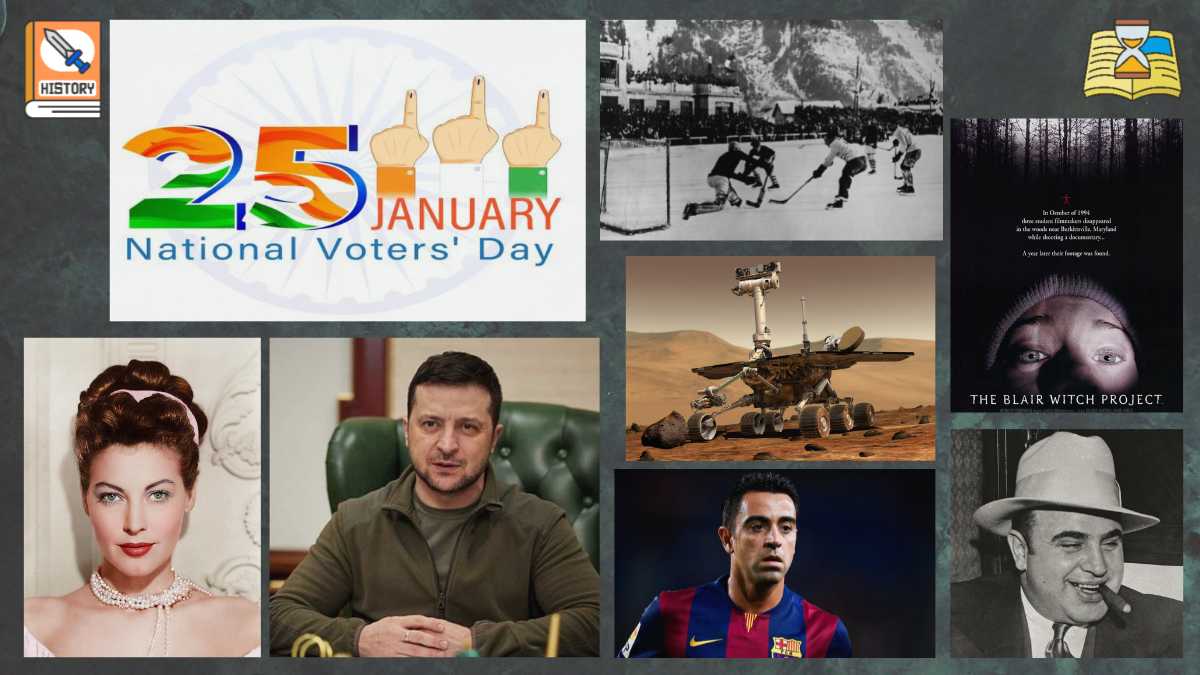 This day in history (25 Jan): The First Winter Olympics In History
Today in History, 25 January: 2023 is off to a wonderful start. Barring the cold, the year has brought peace and prosperity to most people. But let's not fall into the trap of slacking off on acquiring general knowledge.
Learning is a never-ending process, and on that note, we bring you the historical significance of the first month of the year.
Today is 25 January, a seemingly ordinary day at first glance. However, 25th January holds a pivotal place in world history.
Keep reading to find out what important events took place on this day (Jan. 25) in sports, politics and art, along with famous birthdays and deaths in world history.
Historical Events On This Day
In 41 CE, Cladius I became the emperor of Rome after the murder of his nephew, Caligula, and took the nation to new heights, conquering areas of North Africa and Britain.
In 1565, the Battle of Talkota took place between the Deccan Sultanate and Vijayanagara Empire, resulting in the latter's defeat and the fall of the last major Hindu kingdom in South India.

In 1950, the Election Commission of India was established.

In 1971, American cult leader Charles Manson and three of his followers, who carried out the grisly murder of pregnant actress Sharon Tate and four other people, were convicted.
In 1971, the union territory of Himachal Pradesh became the 18th state of India, with Dr Yashwant Singh Parmar as its first chief minister.
In 1980, Christian missionary and humanitarian Mother Teresa was awarded the Bharat Ratna for her work towards the betterment of the poor.
In 2005, NASA's Mars Exploration Rover, also called Opportunity, landed on Mars and functioned till 2018.
In 2011, the Egyptian revolution began in the country as a response against increasing police brutality.

In 2015, Miss Colombia Paulina Vega was crowned Miss Universe 2014.
Sports Events Today
In 1924, the first Winter Olympics in history were held in Chamonix, France. 16 events were organized from five sports but the host country France failed to win a single gold medal.
In 1939, American boxing legend Joe Louis knocked out John Henry Louis in round 1 in only the second World Heavyweight Championship fight between two black boxers.
In 1976, Indian cricketer Surinder Nath scored 124 runs in his test debut in a match against New Zealand.
Art and Culture Events Today
In 1949, the first Emmy Awards for best television shows were presented. However, there were only six categories and a limited audience.
In 1961, the Disney animated classic One Hundred and One Dalmatians was released in the US and introduced fans to the iconic villain Cruella de Vil.
In 1999, the horror film The Blair Witch Project, which sparked the trend of found-footage horror movies, premiered at the Sundance Film Festival.
Important Days
National Tourism Day (India)
National Voters Day (India)
Notable Deaths On This Day
| | | |
| --- | --- | --- |
| Sr No | Death Year | Personality |
| 1 | 1947 | Al Capone, American gangster who rose to notoriety during the Prohibition era and became one of the most famous figures in the history of organized crime |
| 2 | 1990 | Ava Gardner, American actress known for her lead roles in the films Mogambo, The Barefoot Contessa and The Killers |
| 3 | 2005 | Philip Johnson, American architect who is regarded as one of the best modern architects and designed the famous Glass House in New Canaan and the Lipstick Building in New York |
| 4 | 2017 | John Hurt, veteran English actor known for his distinctive voice and versatility, starring in movies like Alien, Midnight Express and The Elephant Man |
Famous Birthdays On This Day
| | | |
| --- | --- | --- |
| Sr No | Birth Year | Personality |
| 1 | 1824 | Michael Madhusudan Dutt, celebrated Bengali poet and playwright who is considered a pioneer of Bengali literature and wrote the book "Meghnad Badh Kavya" |
| 2 | 1882 | Virginia Woolf, English writer considered one of the most important modernist authors of the 20th century and wrote the popular books "Mrs Dalloway" and "A Room of One's Own" |
| 3 | 1938 | Etta James, American r&b singer and entertainer |
| 4 | 1978 | Volodymyr Zelenskyy, Ukrainian politician and former actor-comedian who became the sixth president of Ukraine in 2019 and served during the critical period of the Russian invasion |
| 5 | 1980 | Xavi, Spanish football player and manager who is considered one of the greatest midfielders of all time and currently manages his former club FC Barcelona |
| 6 | 1981 | Alicia Keys, American singer and actress who rose to prominence in the early 2000s with her soulful R&B tracks like "If I Ain't Got You," "Fallin'" and "Superwoman" |
Related | Today in History (24 January)
Related | Today in History (23 January)
FAQ
What happened today in history (25 January)?
On this day (25 January), the first Winter Olympics took place in France and the Election Commission of India was established.
Which famous personality was born on this day, 25 January?
Ukrainian actor-comedian and president Volodymyr Zelenskyy and American singer Alicia Keys were born today on 25 January.
What major events took place on 25 January?
NASA's exploration rover Opportunity landed on Mars and Mother Teresa was honored with the Bharat Ratna award.