Today In History, 26 January: What Happened On This Day
What happened today in history (26 January): Paul Newman and Jose Mourinho born, RK Laxman and Kobe Bryant died, republic day of India celebrated, constitution of India adopted, Bhuj earthquake, world's largest diamond discovered, Australia became a British colony, and more.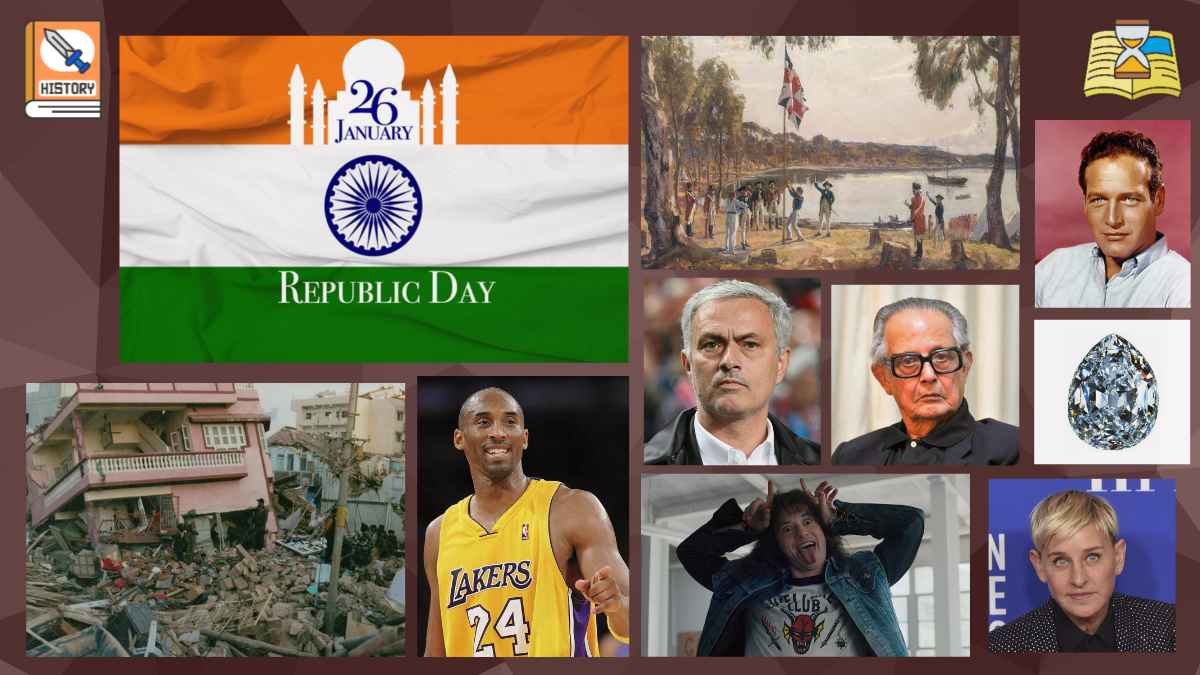 This day in history (26 Jan): Republic Day of India
Today in History, 26 January: The first month of the year nears its end, and it still feels like 2023 just began. January has passed by in a flash. Life moves fast, and time leaves everyone behind, but knowledge stays with you forever. On that note, let's expand our minds by learning the history of January.
Today is 26 January, another ordinary and mundane winter day. However, 26th January holds a critical place in world history.
Read on to find out what major events transpired on this day (Jan. 26) in sports, politics and art, along with famous birthdays and deaths in world history.
Historical Events On This Day
In 1340, English King Edward III was proclaimed King of France.
In 1788, British captain Arthur Phillip hoisted the Union Flag at Sydney Cove, New South Wales, marking the territory as a British colony, and the day has since been celebrated as Australia Day.
In 1887, construction began on the Eiffel Tower in Paris.
In 1905, the world's largest diamond, the Cullinan, weighing 3106 carats, was discovered in South Africa.
In 1930, the Indian National Congress declared 26 January as the day of "Poorna Swaraj," or complete independence.
In 1942, the first US military force headed to Europe during World War II landed in Northern Ireland.
In 1950, India became a republic after adopting the constitution, the world's longest, and achieved complete independence from Britain.
In 1950, Dr Rajendra Prasad became the first president of India, succeeding Chakravarti Rajagopalachari, the first and last Governor-General of independent India.
In 1963, the peacock was declared the national bird of India by the Government of India.
In 2001, a devastating earthquake (7.6 magnitude) struck Bhuj, Gujarat, killing around 13,000–20,000 people and causing substantial damage and injuries.
In 2004, President Hamid Karzai signed the new constitution of Afghanistan.
In 2009, Nadya Suleman gave birth to the world's first surviving octuplet babies.
Sports Events Today
In 1913, American athlete Jim Thorpe relinquished his two 1912 Olympic gold medals for participating as an amateur baseballer before the Olympics.
In 1966, Dutch speed skater Ard Schenk set the record for 1500m skating, becoming the first person to finish in under 2 minutes.
In 2019, Japanese-American tennis star Naomi Osaka became the world's No. 1 player after winning the Australian Open, beating Petra Kvitova of the Czech Republic.
Art and Culture Events Today
In 1926, John Logie Baird gave the first public demonstration of his revolutionary invention of television in his London laboratory.
In 1936, Soviet head Joseph Stalin viewed Dmitri Shostakovich's opera "Lady Macbeth" but left early along with his officials, and the play was later denounced in the press.
In 1988, famed English composer Andrew Lloyd Webber's musical The Phantom of the Opera, based on Gaston Leroux's novel, premiered on Broadway and went on to become the longest-running show in the history of Broadway.
In 2009, American actor and comedian Jamie Foxx released his single "Blame It (On the Alcohol)," featuring T-Pain, and the song went on to win the Billboard Song of the Year award.
Notable Deaths On This Day
| | | |
| --- | --- | --- |
| Sr No | Death Year | Personality |
| 1 | 1823 | Edward Jenner, English physician who developed the vaccine for small pox and is called "the father of immunology" |
| 2 | 1992 | Jose Ferrer, Puerto Rican actor and film director who is best known for playing the titular character in the film Cyrano de Bergerac and starring in Moulin Rouge and Dune |
| 3 | 2015 | R.K. Laxman, Indian cartoonist, illustrator and humorist best known for creating character The Common Man and daily cartoon strip You Said It in The Times of India |
| 4 | 2020 | Kobe Bryant, American professional basketball player who was a leading point scorer and won five championships playing for the Lakers |
Famous Birthdays On This Day
| | | |
| --- | --- | --- |
| Sr No | Birth Year | Personality |
| 1 | 1918 | B.D Sharma, first Chief Minister of Haryana and also the Governor of Odisha and Madha Pradesh |
| 2 | 1925 | Paul Newman, American actor, director, race car driver and entrepreneur who was one of the biggest draws in Hollywood in the 1960s and '70s, having starred in the films Butch Cassidy and the Sundance Kid, The Towering Inferno, and Hud |
| 3 | 1955 | Eddie Van Halen, American musician who served as the frontman, guitarist, keyboardist of the rock band Van Halen known for songs "Panama", "Jump", and "Eruption" |
| 4 | 1958 | Ellen DeGeneres, American comedian, television host, actress, writer and producer who headlined the Ellen DeGeneres Show from 2003-2022 |
| 5 | 1961 | Wayne Gretzky, Canadian professional ice hockey player who is considered the greatest NHL player ever due to his illustrious career and efforts to popularise the sport globally |
| 6 | 1963 | Jose Mourinho, Portuguese football manager and former player who served as the coach of the professional clubs Chelsea, Manchester United, and Real Madrid |
| 7 | 1994 | Joseph Quinn, British actor who skyrocketed to fame playing the lovable metalhead Eddie Munson in Stranger Things season four |
Related | Today in History (25 January)
Related | Today in History (24 January)