Today In History, 27 February: What Happened On This Day
What happened today in history (27 February): Sandeep Singh and Constantine I were born, Leonard Nimoy and Chandra Shekhar Azad died, World NGO Day, Bayern Munich was founded, Pakistan retaliated to Balakot airstrike, Godhra Train Burning incident happened, carbob-14 isotope was discovered, and more.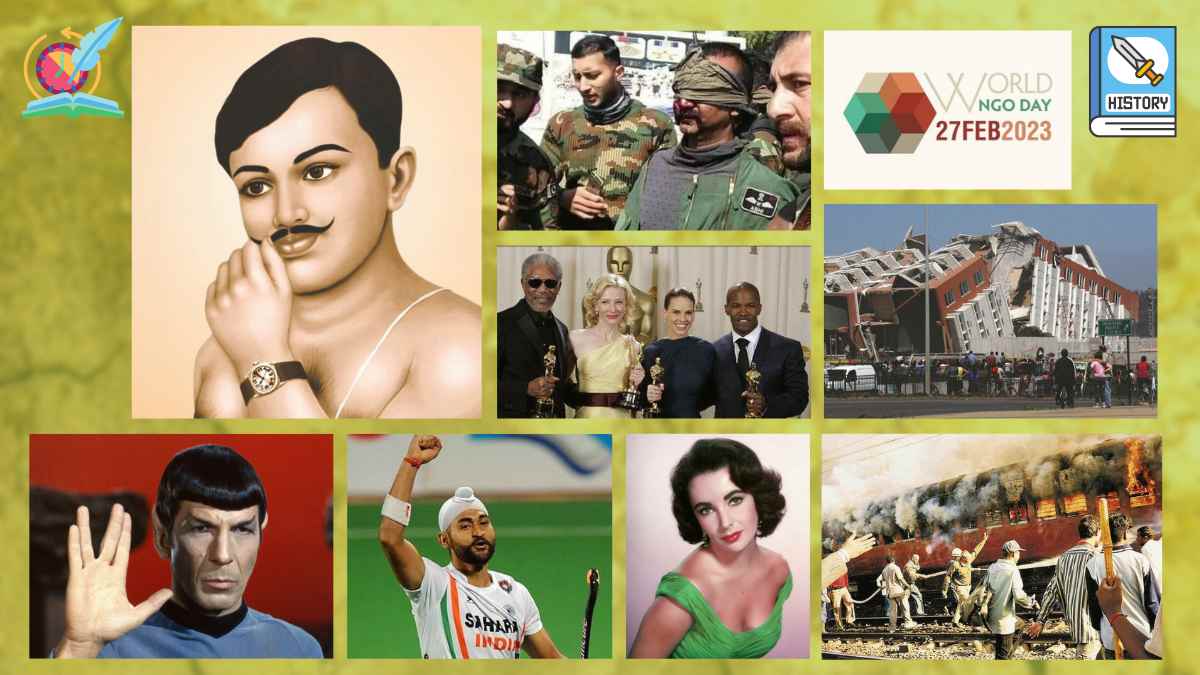 This day in history (27 Feb): The Death Anniversary of Chandra Shekhar Azad
Today in History, 27 February: Just a day is left before February ends and March arrives, sparking the Spring season. Let's continue the tradition of learning about the historical significance of the month of love.
Today is 27 February, another seemingly ordinary day on the surface. However, 27th February holds a key place in history.
Check what big events happened on this day (Feb. 27) in sports, politics and art, along with famous birthdays and deaths in world history.
Historical Events On This Day
In 1560, the Treaty of Berwick was signed between England and Scotland, ending the conflict known as the "Rough Wooing."
In 1844, the Dominican Republic gained its independence from Haiti.
In 1900, the German professional football club Bayern Munich was founded.
In 1933, the Reichstag, the German parliament building in Berlin, was set on fire.
In 1940, Martin Kamen and Sam Ruben discovered carbon-14, a radioactive isotope used in radiocarbon dating.
In 1951, the Twenty-second Amendment to the US Constitution was ratified, limiting the president to two terms in office.
In 1980, the Norwegian oil platform Alexander L. Kielland collapsed in the North Sea, killing 123 people.
In 1991, US President George H.W. Bush announced the Liberation of Kuwait in the Gulf War.
In 2002, 59 Hindu pilgrims were killed during the Godhra train burning incident.
In 2010, An 8.8 magnitude devastating earthquake struck Chile, killing more than 500 people and causing widespread damage.
In 2014, violent protests erupted in Venezuela, demanding the resignation of President Nicolás Maduro due to inflation and rising crime.
In 2015, Russian opposition politician Boris Nemtsov was assassinated in Moscow just hours after appealing to the public to march against Russia's war in Ukraine.
In 2019, Pakistan Air Force shot down Indian fighter pilot Abhinandan Varthman in POK and captured him in retaliation to the Balakot air strike.
Art and Culture Events Today
In 1693, the first women's magazine "Ladies' Mercury" was published in London.
In 1814, German composer Ludwig van Beethoven's iconic Symphony No. 8 in F major premiered in Vienna.
In 2005, Jamie Foxx won the Best Actor and Hilary Swank the Best Actress Oscar at the 77th Academy Awards.
Notable Deaths On This Day
| | | |
| --- | --- | --- |
| Sr No | Death Year | Personality |
| 1 | 1892 | Louis Vuitton, French fashion designer and entrepreneur who founded the luxury brand Louis Vuitton |
| 2 | 1928 | Fred Rogers, American television personality, musician, puppeteer, writer, and producer who created and hosted the children's television show "Mister Rogers' Neighborhood," from 1968 to 2001 |
| 3 | 1931 | Chandrashekhar Azad, Indian revolutionary who played a key role in the Indian independence movement against British colonial rule |
| 4 | 1936 | Ivan Pavlov, Russian physiologist and psychologist known for his work on classical conditioning |
| 5 | 2015 | Leonard Nimoy, American actor known for playing the iconic Star Trek character Spock |
Famous Birthdays On This Day
| | | |
| --- | --- | --- |
| Sr No | Birth Year | Personality |
| 1 | 272 | Constantine I, Roman Emperor who ruled from 306 to 337 and is known for his military achievements and founding the city of Constantinople (Istanbul) |
| 2 | 1912 | Kusumagraj, Indian poet, playwright and novelist who was a pioneer of Marathi literature |
| 3 | 1932 | Elizabeth Taylor, British-American actress who starred in numerous films throughout her career, including National Velvet, Cleopatra and Who's Afraid of Virginia Woolf? |
| 4 | 1952 | Prakash Jha, Indian filmmaker and actor known for his political films like Gangaajal and Aarakshan |
| 5 | 1986 | Sandeep Singh, Indian field hockey player and former captain of the National team |
Related | Today in History (26 February)
Related | Today in History (25 February)