Today In History, 27 January: What Happened On This Day
What happened today in history (27 January): Mozart, Titumir and Lewis Carroll born, Andre the Giant and Humayun died, Paris Peace Accords signed, Auschwitz concentration camp liberated, siege of Leningrad ended, iPad unveiled by Steve Jobs, Vietnam War officially ended, and more.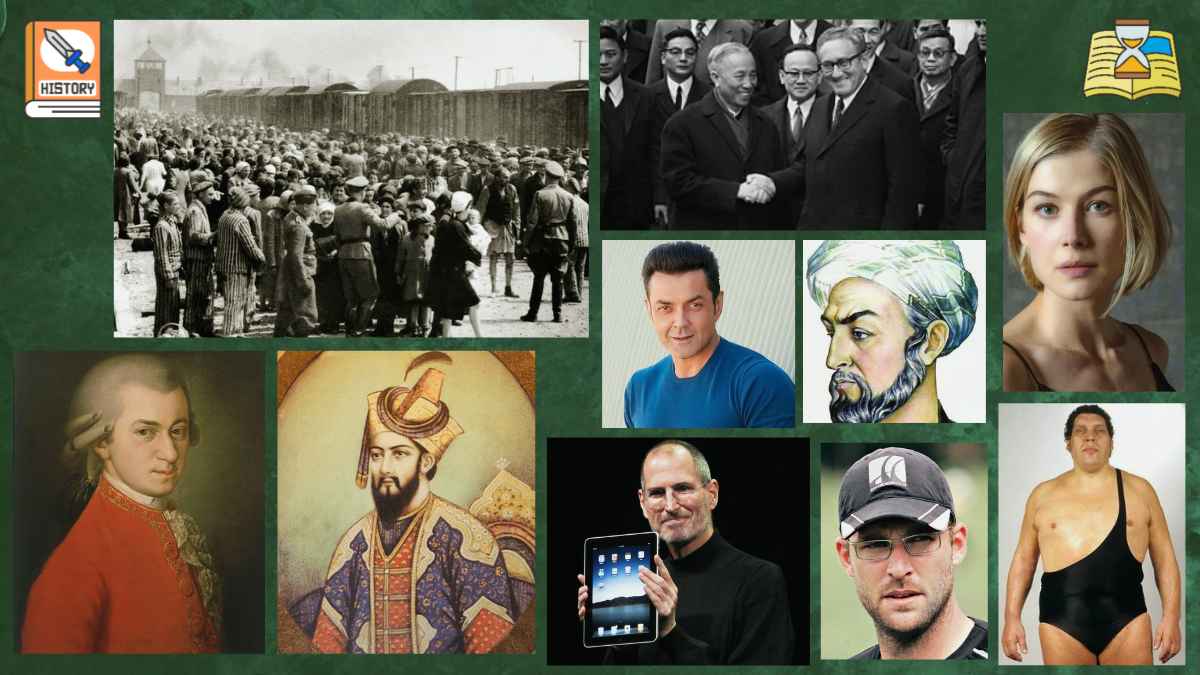 This day in history (27 Jan): Liberation of the Auschwitz Concentration Camp
Today in History, 27 January: 2023 has now settled in, and winter quickly declining. It has been a chilly year so far, and only now some respite is coming. But that is no reason to slip into the comfort zone and stop acquiring knowledge.
Today is 27 January. It may look like a lazy, mundane winter day, but 27th January holds a pivotal place in world history.
Check out which major world-altering events transpired on this day (Jan. 27) in sports, politics and art, along with famous birthdays and deaths in world history.
Related: Today in History, 23 January
Historical Events On This Day
In 1606, Guy Fawkes and others accused of the Gunpowder Plot to assassinate King James I of England were convicted and sentenced to be hanged, drawn and quartered.
In 1820, the continent of Antarctica was discovered by a Russian expedition led by Fabian Gottlieb von Bellingshausen and Mikhail Lazarev.
In 1880, American inventor Thomas Edison, who invented the light bulb, patented the incandescent lamp.
In 1926, Austrian-Irish physicist Erwin Schrödinger published his theory of wave mechanics.
In 1944, the Soviet Red Army lifted the siege of Leningrad (St. Petersburg), 872 days after it began, with the defeat of the German and Finnish forces.
In 1945, the Nazi concentration camp at Auschwitz, Poland, where over a million Jews were massacred, was liberated by the Soviet Red Army.
In 1948, the first magnetic tape recorders were sold.
In 1967, American astronauts Virgil I. Grissom, Edward H. White and Roger B. Chaffee died in a cabin fire aboard NASA's Apollo 1.
In 1967, during the Cold War, the Soviet Union, the United States, and the UK signed the Outer Space Treaty, banning the deployment of nuclear weapons in space and limiting the usage of the Moon and other celestial bodies for peaceful purposes.
In 1973, the Vietnam War ended after the US signed the Paris Peace Accord.
In 2010, the iPad was unveiled by Apple CEO Steve Jobs.
Sports Events Today
In 1954, American boxer Archie Moore concluded his trilogy with Joey Maxim after beating him for the third time and retaining his world light heavyweight title.
In 2007, American tennis star Serena Williams beat Russia's Maria Sharapova to win the Australian Open tournament.
Art and Culture Events Today
In 1951, Leonard Bernstein's musical "Peter Pan," starring Jean Arthur and Boris Karloff, closed at the Imperial Theater after 320 performances.
In 1963, legendary Indian playback singer Lata Mangeshkar sang the patriotic "Aye Mere Watan Ke Logo" during the tumultuous period of the Sino-Indian War.
In 1976, Laverne & Shirley TV spinoff from Happy Days, starring Penny Marshall and Cindy Williams, premiered on ABC TV.
Notable Deaths On This Day
| | | |
| --- | --- | --- |
| Sr No | Death Year | Personality |
| 1 | 1556 | Humayun, the second Mughal ruler who became famous for acquiring status, wealth and adventure during his reign but also vastly expanding his territory to span almost entire India |
| 2 | 1901 | Giuseppe Verdi, Italian opera composer and one of the greatest musicians in history who composed the famous operas "Rigoletto" and "Il trovatore" |
| 3 | 1922 | Nellie Bly or Elizabeth Cochran Seaman, American journalist, industrialist and inventor who took cues from Jules Verne's Around the World 80 days, and finished the routed in 72 days. |
| 4 | 1993 | Andre the Giant, French professional wrestler and actor known for his humongous physique |
| 5 | 2010 | J.D. Salinger, American author best known for his acclaimed novel The Catcher in the Rye. |
| 6 | 2018 | Feodor Ingvar Kamprad, Swedish billionaire business magnate known for founding the popular multinational retail brand IKEA |
Famous Birthdays On This Day
| | | |
| --- | --- | --- |
| Sr No | Birth Year | Personality |
| 1 | 1756 | Wolfgang Amadeus Mozart, Austrian music prodigy and composer who is widely regarded as the best and most influential classical composer ever |
| 2 | 1782 | Titumir or Syed Mir Nisar Ali, Indian freedom fighter and Muslim nationalist who led one of the first armed revolts against the British Raj |
| 3 | 1832 | Lewis Carroll, English author, poet and mathematician who is best known for his iconic fantasy book Alice's Adventures in Wonderland |
| 4 | 1850 | Edward Smith, English naval captain who served on the RMS Titanic, which hit and iceberg and sank to the bottom of the Atlantic sea |
| 5 | 1859 | Wilhelm II, German Emperor and King of Prussia who served as the last German Kaiser from 1888 till his abdication at the end of World War I in 1918 |
| 6 | 1940 | James Cromwell, American actor and activist known for his tall stature and the popular films, Babe, The Green Mile and The Artist |
| 7 | 1969 | Bobby Deol, Indian actor who is the son of legendary Bollywood hero Dharmendra and the younger brother of Sunny Deol |
| 8 | 1979 | Rosamund Pike, English actress known for playing versatile roles in films like Gone Girl, Hostiles, A Private War and for playing the bond girl in her debut film Die Another Day |
| 9 | 1979 | Daniel Vettori, New Zealand cricketer, coach and former captain of the national team |
Related | Today in History (25 January)
Related | Today in History (26 January)