Today In History, 4 February: What Happened On This Day
What happened today in history (4 February): Rosa Parks and Oscar De La Hoya born, Madhusudan Das and S.N. Bose died, Facebook was founded, World Cancer Day, Chauri Chaura incident occurred, Satya Nadella was appointed Microsoft CEO, Sri Lanka gained independence, and more.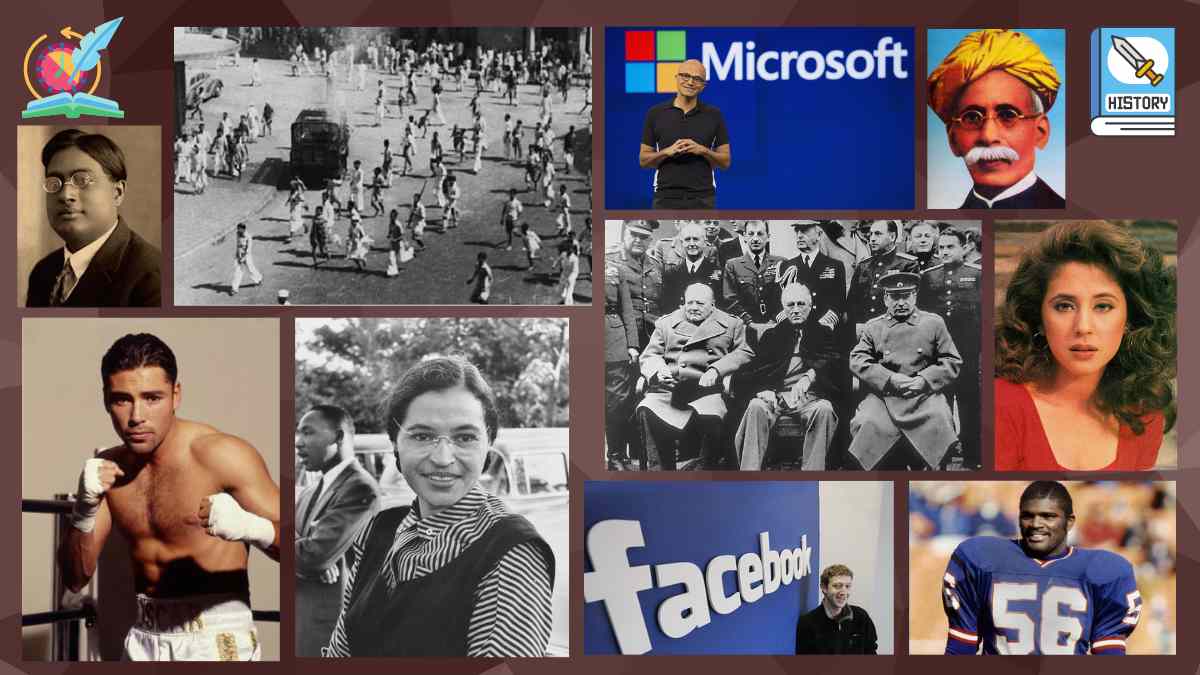 This day in history (4 Feb): Chauri Chaura Incident Occurred In Gorakhpur
Today in History, 4 February: We're into the second month of 2023, and it still feels like the year just began. But it's time to accept reality, or the days will continue to glide by. One must always keep learning and gaining knowledge.
Today is 4 February, a seemingly ordinary winter day on the surface. However, 4th February is a significant day in history.
Keep reading to find out what significant events happened on this day (Feb. 4) in sports, politics and art, along with famous birthdays and deaths in world history.
Historical Events On This Day
In 1703, the 47 ronin (masterless samurai) of Japan committed ritual suicide (seppuku) after avenging the death of their master.
In 1789, George Washington was unanimously elected as the first President of the United States by the U.S. Electoral College.
In 1922, the Chauri Chaura Incident took place in the Chauri Chaura town of Gorakhpur, wherein protesters retaliated to the police firing during the non-cooperation movement by setting fire to a police station and killing 22 policemen.
In 1945, the Yalta Conference began in Crimea during the final stages of World War II, with Franklin D. Roosevelt, Winston Churchill, and Joseph Stalin meeting to decide the defeat of Germany.
In 1948, Ceylon, now called Sri Lanka, gained independence from Britain.
In 1992, Hugo Chavez led a coup d'etat against Venezuelan President Carlos Andres Perez.
In 2004, one of the most popular social media platforms, Facebook, was launched by Mark Zuckerberg and Eduardo Saverin.
In 2014, Satya Nadella was appointed the CEO of Microsoft.
Sports Events Today
In 1972, Dutch speed skater Ard Schenk won the 5,000m at the Sapporo Winter Olympics along with the 1,500m and 10,000m gold medals.
In 1997, American footballer and NFL running back O.J. Simpson was found liable for the deaths of Ron Goldman and Nicole Simpson in a civil suit.
Art and Culture Events Today
In 1938, the iconic play "Our Town" by Thornton Wilder opened on Broadway.
In 1970, the biographical war epic Patton, based on US General George S. Patton during World War II, premiered.
Notable Deaths On This Day
| | | |
| --- | --- | --- |
| Sr No | Death Year | Personality |
| 1 | 1928 | Hendrik Lorentz, Dutch physicist who won the Nobel Prize in Physics in 1902 for discovery and explanation of the Zeeman effect |
| 2 | 1934 | Madhusudan Das, Indian lawyer and social reformer who worked towards the unification and recognition of Orissa |
| 3 | 1974 | Satyendra Nath Bose, Indian mathematician and physicist known for his collaboration with Albert Einstein on quantum mechanics and developing the foundation for Bose statistics and theory of Bose condensate |
| 4 | 1987 | Liberace, American pianist known for his extravagant costumes and showmanship as a musician |
| 5 | 1987 | Carl Rogers, American psychologist who developed the humanistic approach to psychology focusing on the intimate person-to-person relationship between client and therapist |
| 6 | 1995 | Patricia Highsmith, American author known for her best-selling psychological thriller novels like The Talented Mr. Ripley and Deep Water |
Famous Birthdays On This Day
| | | |
| --- | --- | --- |
| Sr No | Birth Year | Personality |
| 1 | 1902 | Charles Lindbergh, American aviator and military officer who made the first solo transatlantic flight, nonstop from New York City to Paris |
| 2 | 1913 | Rosa Parks, American activist whose refusal to giver up her bus seat to a White man sparked the civil rights movement in the US |
| 3 | 1938 | Birju Maharaj, Indian dancer, composer, and singer who is considered one of the greatest Kathak dancers of India |
| 4 | 1940 | George A. Romero, American filmmaker who pioneered the horror, especially the Zombie genre with his Night of the Living Dead series |
| 5 | 1948 | Alice Cooper, American rock singer known for his gimmicky performances and the songs "School's Out" and "Poison" |
| 6 | 1959 | Lawrence Taylor, American footballer considered the greatest linebacker in NFL history |
| 7 | 1973 | Oscar De La Hoya, American boxer considered one of the best athletes of the sport and world champion in six weight classes |
| 8 | 1974 | Urmila Matondkar, Indian actress known for her roles in hit films like Satya, Rangeela and Bhoot |
Related | Today in History (3 February)
Related | Today in History (2 February)