Today In History, 5 February: What Happened On This Day
What happened today in history (5 February): Cristiano Ronaldo, Neymar and Bhuvneshwar Kumar born, Mir Jafar and Christopher Plummer died, first synthetic plastic invented, Modern Times premiered, first naval air mission was conducted, and more.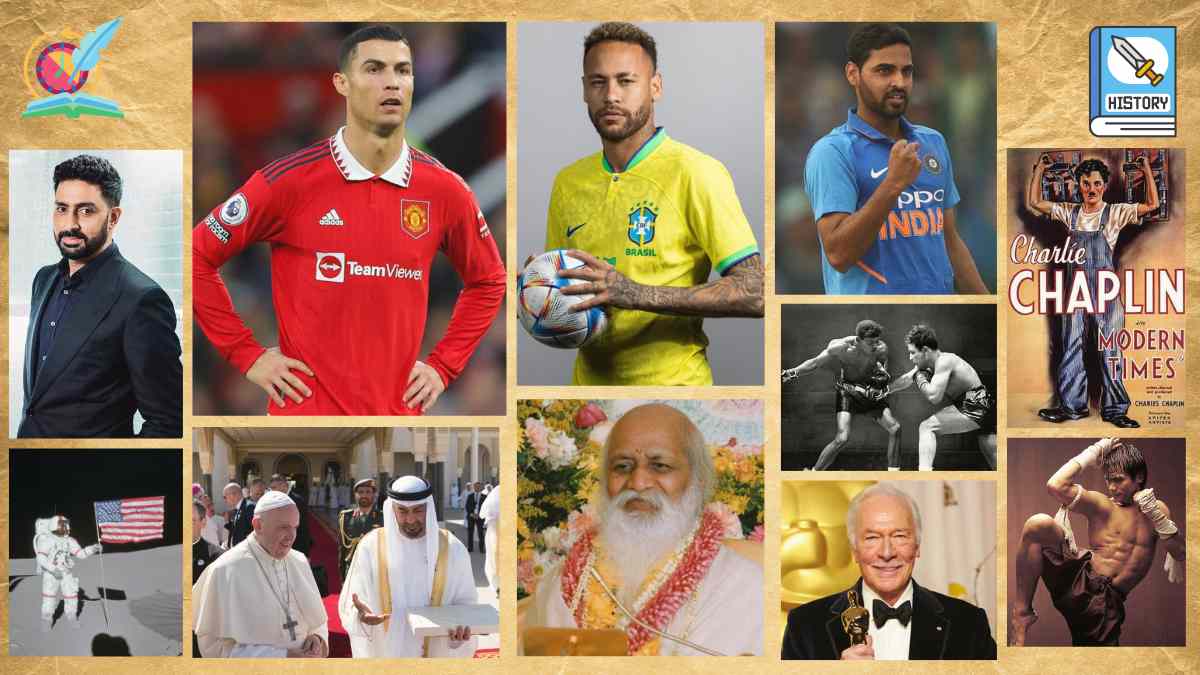 This day in history (5 Feb): Birthday of Cristiano Ronaldo and Neymar
Today in History, 5 February: 2023 continues to race by. February has begun, and some people are still living in the previous year. But we're here to wake you up from your slumber. It's time to expand your general knowledge by learning the historical significance of February.
Today is 5 February, another mundane-appearing winter day. However, 5th February holds a pivotal place in world history.
Dive in to find out what big events took place on this day (Feb. 5) in sports, politics and art, along with famous birthdays and deaths in world history.
Historical Events On This Day
In 1597, a group of early Japanese Christians, known as the "26 Martyrs," were killed by the new government of Japan for being seen as a threat to Japanese society.
In 1783, a series of devastating earthquakes hit Calabria, Italy, killing over 30,000 people.
In 1852, the New Hermitage Museum in St. Petersburg, Russia, one of the largest and oldest museums in the world, opened to the public.
In 1907, Belgian chemist Leo Baekeland announced the creation of Bakelite, the world's first synthetic plastic.
In 1913, the first naval air mission in history was conducted by the Greek aviators Michael Moutoussis and Aristeidis Moraitinis during the Balkan Wars.
In 1917, the current constitution of Mexico was adopted.
In 1971, Apollo 14, the third US manned mission to the Moon, landed successfully.
In 2014, Google Vice President Susan Wojcicki was named the CEO of YouTube.
In 2019, Pope Francis became the first Pope in history to visit and perform a papal mass in the Arabian Peninsula while on his visit to Abu Dhabi.
Sports Events Today
In 1943, American boxer Jake LaMotta, who was the subject of Martin Scorsese's Raging Bull, handed future Hall of Famer Sugar Ray Robinson his first defeat.
In 1989, Kareem Abdul-Jabar became the first NBA player to score 38,000 points.
In 2017, Tom Brady led the New England Patriots and overcame a 25-point deficit to win the first overtime game in Super Bowl history.
Art and Culture Events Today
In 1887, Giuseppe Verdi's first opera in over 15 years, "Otello," premiered at La Scala in Italy.
In 1919, the Hollywood film studio United Artists was founded by Charlie Chaplin, Douglas Fairbanks, Mary Pickford, and D. W. Griffith.
In 1922, the popular Reader's Digest magazine was first published.
In 1936, Charlie Chaplin's iconic comedy film Modern Times was released.
Notable Deaths On This Day
| | | |
| --- | --- | --- |
| Sr No | Death Year | Personality |
| 1 | 1765 | Mir Jafar, Indian military general and traitor who betrayed the Nawab of Bengal Siraj ud-Daulah during the Battle of Plassey, allowing the British to occupy Bengal |
| 2 | 1881 | Thomas Carlyle, Scottish essayist, historian and philosopher who is best known for his 1837 book The French Revolution: A History |
| 3 | 1993 | Joseph L. Mankiewicz, American filmmaker who directed classics like Cleopatra, All About Eve and Julius Caesar |
| 4 | 2008 | Maharishi Mahesh Yogi, Indian yoga guru who developed and popularized Transcendental Meditation |
| 5 | 2020 | Kirk Douglas, celebrated American actor and Hollywood icon known for his leading roles in films like Spartacus and Paths of Glory |
| 6 | 2021 | Christopher Plummer, Canadian actor known for his seven decades stint in films, plays and television |
Famous Birthdays On This Day
| | | |
| --- | --- | --- |
| Sr No | Birth Year | Personality |
| 1 | 1915 | Robert Hofstadter, American physicist who won the 1961 Nobel Prize in Physics for his studies on electron scattering |
| 2 | 1934 | Hank Aaron, American baseball player considered one of the greatest hitters in the sport |
| 3 | 1943 | Nolan Bushnell, America businessman and inventor considered the "father of electronic gamin" for founding Pong and Atari, Inc. |
| 4 | 1943 | Michael Mann, American filmmaker known for his unique visual appeal and thriller films like Heat, The Insider and Collateral |
| 5 | 1976 | Tony Jaa, Thai martial artist, actor and choreographer known for his Ong-Bak film series |
| 6 | 1976 | Abhishek Bachchan, Indian actor who is the son of Bollywood icon Amitabh Bachchan, and is known for his films Yuva and Dhoom |
| 7 | 1985 | Cristiano Ronaldo, Portuguese footballer who is considered one of the greatest players of the sport and the one of the highest goal scorers in the world for both Portugal and La Liga clubs Manchester United and Real Madrid |
| 8 | 1990 | Bhuvneshwar Kumar, Indian cricket swing bowler and a leading wicket taker for the national team |
| 9 | 1992 | Neymar, Brazilian football player known for his speed, on-field theatrics and goal scoring ability |
Related | Today in History (4 February)
Related | Today in History (3 February)